My final steps on the field of lost dreams
So it really is just over.
Four years, three seasons, and so many unfinished memories. Is there really not going to be a happy ending here?
The other night I drove by the LHS fields to see them lit in honor of the class of 2020. I drove through the entrance of Plateau and made my way around the driveway of the school. 
I saw other cars like me enjoying the lights and mourning the remains of what was supposed to be our most special moments of high school. 
I then parked my car overlooking the lacrosse field where I had spent so much of my time at LHS. I stared blankly as the emptiness filled my body.
And then, I cried. 
I couldn't stop. The sobbing was uncontrollable. I couldn't help but feel like everything our class has worked for has been taken from us, and there isn't much anybody can say or do to make this better.
And as I sat there with sad eyes and an unhopeful heart, I saw a pair of headlights pull up into the empty parking lot in the space beside me. I snapped my head up only to find my best friend with the same sorrowed expression on her face. 
We got out, practicing social distance of course, and walked down to the darkened field where we once shared many memories together. 
Four years of busting our butts every day. Lifting in the weight room three times a week, at practice every day, and putting in the extra hours on our own to get that little bit of extra playing time. 
At the time we were told all our hard work was going to pay off, and maybe it did for a while. 
Maybe we did get that slot on the varsity roster and maybe we did earn that spot on the starting line up, but what we didn't know was that our time was limited.
They always say your time in high school will fly right by, but what they didn't tell you was that life could be this cruel and this unfair. 
We started as just underclassmen. We had gotten to know the senior class each year, and watched them as they enjoyed their final season with the team. We hyped them up every year on senior night, decorated their lockers, and mourned their last game when we watched as they took in every last moment on this very field. 
And we followed their footsteps. Each day at practice we learned from the seniors to put in the work and walked in their shadows as they taught us what it means to be a Lancer. 
After our junior season, we were ready for our senior year. We were ecstatic to play with our best friends one last time before all parting ways, and we were determined to win that State Championship. 
And now our hearts are broken. 
Our dream of taking the field one final time to play has been stripped away from us. And no matter what we do next, no matter how close or far we all go, no matter if we play in college or not, that piece that has been taken away from us will always be missing. 
So if you aren't a senior, then take our advice: enjoy your time. 
At any moment the thing you love could be taken away. Appreciate every moment as if it's your last because sometimes it's easy to assume there will be many more moments just like it. 
Enjoy the first day of tryouts even when the conditioning is tough and you feel like you're going to pass out from exhaustion. Be grateful for it. 
Enjoy every win and every loss. Whether you just beat an undefeated team or you lost a game you were supposed to win and your coach is screaming at your huddled up team. 
Enjoy the power plays with your teammate. 
Enjoy the times you score and the times you get scored on.
Enjoy it all. Because hear us when we say, it won't always be there. 
After a few minutes of reminiscing, my teammate and I crossed our home field one last time, though not how we imagined it. We walked up the hill to where our cars were parked beside each other, and took a long glance behind us. 
At that moment, it felt as if we were holding on to our last piece of something that was already broken. 
"I don't want to leave because that means it's really over," she said. 
I gave a saddened smile and nodded in agreement. We held our gaze at the barren field for just a few seconds longer, realizing that it would be the last time we stepped foot on it as Lancer athletes. We turned back around, got in our cars and drove away. The field became more and more distant in the rear view mirror as all the memories it held flooded through my mind.
Leave a Comment
About the Contributor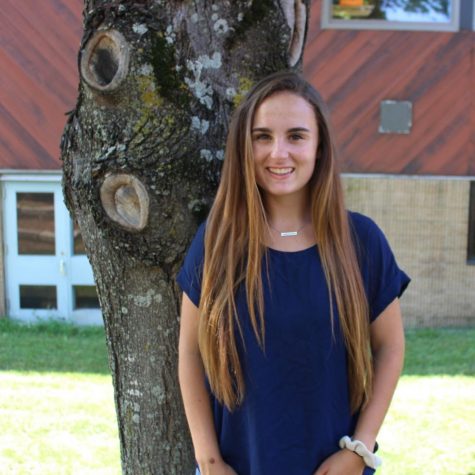 Kait Bedell, Editor-in-Chief
Kait loves to keep busy with her many hobbies of lacrosse, field hockey, drawing, guitar, and of course, writing. On the rare occasion her schedule is freed up, she is usually spending that time with family and friends or sprawled out on the couch watching her favorite shows.