Lennon Stella releases debut album, 'Three. Two. One.'
As the daughter of a singing-songwriting duo, Lennon Stella was born to be a musician. She started as one half of Lennon and Maisy, a duo with her sister, but has since gone solo. Her debut single as a solo artist, "Bad," was a taste of what was to come on Stella's debut EP (Love, me): an indie-pop sound with R&B elements. 
Stella's debut album, however, is a departure from her classic style. Released April 24, 2020, Three. Two. One. is a pop record, through and through. I'm all for it now, but I was originally opposed.
Lead single "Kissing Other People" had my attention from the start, mostly because its pulsing synths and subdued guitar were very similar to Love, me. "Golf on TV" and "Jealous" followed, but I didn't like either of them upon first listen.
It wasn't until the album release that I realized how wrong I was. The former is a sweet love song, from the vintage-sounding piano to the heartfelt, albeit cheesy, lyrics, as Stella sings, "Some people wanna switch it up / Like just one love could never be enough / But some people watch golf on TV / And neither of those things make sense to me." The latter, a track about moving on faster than one's former partner, has a freshness to it, and it's not the only one.
"Bend Over Backwards" baits you with a somber beginning that explodes into a catchy mix of calculated percussion and watery guitar. "Pretty Boy" has a tropical feel to it, one that makes me feel like this song would be playing while I'm on the beach at sunset, which is cemented by the calm guitar and syrupy vocals. "Fear Of Being Alone" describes exactly what the title implies: holding onto a lackluster relationship over the fear of being alone. But, instead of the mournful, anxiety-ridden song one might expect, "Fear Of Being Alone" is (for lack of a better term) a bop—a danceable yet sad bop. 
On the other hand, "Older Than I Am" is the heartbreaking ballad I expected from "Fear Of Being Alone." Stella cries out, "Why am I always the one making decisions? / How do I handle the pressure? / I do my best to fake it / But honestly, I hate it… Sometimes, I wish I could do something stupid / Be kinda reckless while I can… But I'm older than I am," and wow, suddenly I can't stop crying. Plus, the addition of strings really pounded that final nail in the coffin of my emotional sanity. With that said, "Older Than I Am" is the only song on Three. Two. One. that Stella doesn't have a writing credit on, which is ironic for the amount of raw emotion her vocals carry on this track. 
Also emotional are the two songs about Stella's relationship with her sister. "Weakness (Huey Lewis)" is a seven-minute twofer that features Maisy, Stella's sister. The first part is acoustic, poignant, and it gives me chills when Stella and Maisy begin to harmonize about their strong bond. However, the track quickly transitions to feel like an alternate universe; Stella's vocals, split into two by a vocoder, point at outside factors for damaging their relationship and the duo's split. "Save Us" follows "Weakness (Huey Lewis)," and it serves as the end to this story. It, too, is dreamy and somber, but Stella promises her sister, "I love you, always, forever / Near and far, closer together / Everywhere, I will be with you / Everything, I will do for you." 
And, to be honest, I feel the same way about this album. Three. Two. One. is a nearly perfect debut with only a few blips in the road, like closing track "Goodnight" (which feels out-of-place) and the forgettable "Since I Was a Kid." As a whole, the production is tight and consistent, but there were some noticeable issues with the vocal mixing, especially on "Older Than I Am." Additionally, some of the songwriting felt a little basic, and there wasn't much growth from Love, me.
However, Stella delivered in most aspects. Fantastic and cohesive, layered and passionate, Three. Two. One. is a 9/ 10 and a strong contender to be at the top of my year-end lists.
Listen to Three. Two. One. below!
Leave a Comment
About the Contributor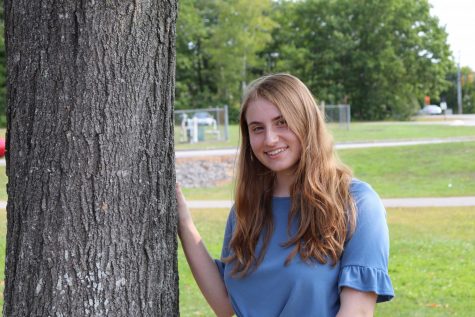 Anna Drabik, Executive Arts and Entertainment Editor
A frequent concert-goer and a nervous wreck (some of the time), Anna is looking forward to continuing to write music and concert reviews this year for The Lancer Spirit. She also enjoys working out, sleeping, and watching Jane the Virgin, her favorite TV show, on Netflix.