An open letter to the Class of 2020 from Ms. Giguere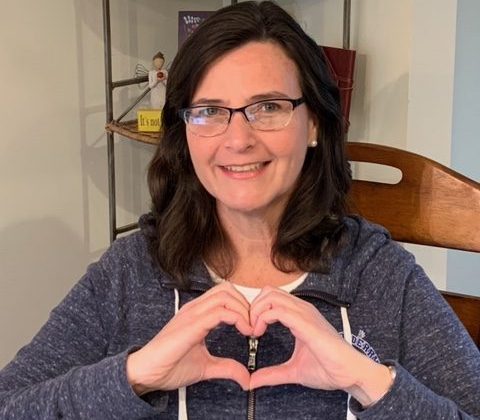 Members of the Class of 2020,
What I didn't know back on March 13th was that for the rest of the school year, we wouldn't share the same space in Room 627 reading, writing, discussing, and laughing.
What I didn't know was that I wouldn't be able to wish you a "Good Morning" while on bus duty in the cafeteria or ask "How are you?" when we had a brief moment to catch up in the hall.
What I didn't realize was how much I would miss those unexpected moments when you would stop in and have lunch with me, when you would pop your head in my door and ask if I would be at your event that afternoon, when you would show up after school to let me know that you had been accepted to college, and we would chat about your future, and yes, even when you came in to ask if I could print your paper for another English class because you had forgotten to do so.
Regardless of the circumstances that brought you to me, I LOVED seeing you, however brief our moments to talk or reconnect were. Never did I realize how much I would miss being in your physical presence.
What I also didn't realize was how you felt about me.
Let's be honest here for a moment—I know that I am a teacher who expects quite a bit from her students, and over the years, I have heard that seeing my name appear on student schedules can cause a bit of angst and trepidation, but what I have read in your Dollars for Scholars letters of recommendation is that once a student steps into 627 and accepts the challenge to be the best student they can be, they are grateful they took the risk and didn't run to guidance for a schedule change.
Whether I am the teacher who gave you your first C on a paper, or the teacher who would not allow you to "pass" on contributing to a Socratic seminar discussion, I hope you know my heart is in the right place. My goal is to be honest with you about where you stand in my classroom, to make you a better reader and writer, and to help you recognize that your thoughts and your voice are integral to our collaborative success.
I know these challenges are not easy for many students, but I remain by your side to support, encourage, and ensure your success along the way.
In the past, students have shown their appreciation in the form of a card, letter, gesture, or conversation, and I have treasured each and every one of these moments. However, the collective outpouring of love and appreciation the Class of 2020 has shown me over the past few weeks has been overwhelming.
Honored, humbled, speechless…I struggle to find the right words to convey to you just how much it means to have been selected as Teacher of the Year and to have received the Yearbook Dedication.
What saddens me is not being able to put my arms around each and every one of you to say thank you—thank you for your hard work and dedication, and thank you for believing in me and in the purpose of our journey together.
What you have taught me is the power of resilience, an attribute both teachers and students need in order to be successful.  Not every lesson is executed as planned, and not every assessment turns out the way we had hoped, but that does not mean either of us EVER gives up. Perhaps this lesson demonstrates its relevancy, now more than ever, because we are no longer together in the classroom.
What you have shown me is that those small moments we share have power, and we need to value each and every one of them.
So forgive me if I keep you just a little longer the next time we chat, or if my embrace is just a bit tighter the next time it is safe to hug you because I want to cherish those moments and hold them deep within my heart.
Thank you, Class of 2020.  I love you, and I look forward to celebrating your moment in July!
–Kelly Giguere