LHS graduation on July 29… Better date than never
After months of uncertainty LHS seniors were able to walk across the stage at graduation. LHS held the class of 2020 graduation on July 29.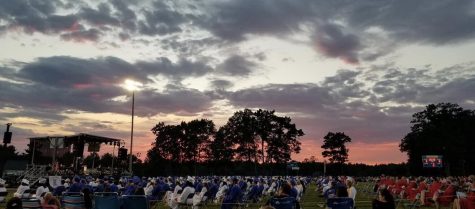 The ceremony took place on the LHS football field allowing guests and graduates to social distance.  Lancer seniors were gathered together to celebrate their achievements over the course of their high school career.
This year's graduation also included the baccalaureate. Baccalaureate is normally a separate ceremony celebrating students that earn scholarships. Director of School Counseling, Maureen O'Dea announced scholarships and recognitions.
As the ceremony progressed class advisors Ashley Tebbetts and Holly Lafore, Valedictorian William Kemball-Cook, and 2020 Class President Kerry Daley gave speeches.
 Senior Chris Tutt was one of the 325 students that graduated. Tutt was grateful for the opportunity to experience this right of passage.
"The speeches were fantastic," Tutt said. "[They were] very well thought out, and brought a new perspective of what the "new norm" is like and how uncertain everything is," Tutt said. "However, despite the uncertainty we have to persevere. Shoutout to all of the people who spoke."
Various seniors provided live music throughout the ceremony performed by Carter Crowley, Max Henson, Luke Pascarelli, Janiah Bergendahl, and Madison Rearick.
Since the last day of school on March 13, uncertainty has become the norm for LHS students. The uncertainty and buildup of the graduation added to the authenticity of the moment.
"After a long four and a half months of total uncertainty and not being able to see my classmates and teachers, graduation was so much more special than I ever could have imagined," Tutt said. 
Although the wait was difficult, Tutt said he felt as though "the wait just built up anticipation and made everyone feel more connected when we finally graduated."
The class of 2020 graduated at LHS surrounded by staff, family, and friends. The night concluded with the presentation of diplomas and changing of the tassels. 
" Graduation was very bittersweet for me," Tutt said. "Although it marked the end to such an amazing time at LHS, it also marks the beginning of a new chapter. Not just for me, but for all of my classmates. We're all going to go our separate ways and do different things in life, but we will always be connected through a bond so tight… the LHS Class of 2020. Once a Lancer, Always a Lancer."