Summer 2020: In Review: Part Four
2020 may be a terrible year, but the same simply cannot be said about the music that's been released so far. New music is a great distraction from the COVID craziness that has consumed 2020, so over the course of the next five days, I will be reviewing my top five favorite albums from this summer in a countdown from number five (the "worst" of the group) to number one (the album of the summer). All of the music included in this five-part series was released from May 29, 2020, to Aug. 28, 2020, and this is part four.
#2) folklore – Taylor Swift
Of all the things that have resulted from quarantine boredom, Taylor Swift's folklore is, by far, the best. While everybody else was baking banana bread or finally catching up on a show they started but just never had time to finish, Swift was writing her best album. 
And, when I say writing, I mean writing. The storytelling on folklore top-notch. For example, the piano-led "exile (ft. Bon Iver)" is a heartbreaking tale of two ex-lovers who, even after cutting contact, can't seem to communicate and resolve their animosity towards one another. Brilliantly, the bridge is the sonic equivalent of an argument, as Justin Vernon (lead vocalist of Bon Iver) and Swift sing over each other: "I couldn't turn things around (You never turned things around) / 'Cause you never gave a warning sign (I gave so many signs)." Also, Swift literally created a love triangle between three imaginary teenagers, and she managed to tell their story in just three (incredible) songs, each from a different character's perspective.
Aside from fictional characters, Swift touches upon the pandemic, her love life, and her current state of mind. Concerning the former, Swift compares the COVID-19 pandemic to a war zone on the somber "epiphany." Second, "invisible string" is a love letter to Swift's boyfriend, Joe Alwyn; over the plucky guitar, Swift expresses her gratitude for all her failed relationships that eventually brought her to Alwyn, citing that, "Hell was the journey but it brought me heaven." Finally, "mirrorball" is Jack Antonoff and Swift at their absolute best. The ethereal guitar—perfect for a late-night drive—reels the listener in, its nostalgia completely captivating. The lyrics are haunting, as Swift equates herself to a mirrorball that reflects all the personalities around her to fit in and entertain. 
Besides the ease with which she tells stories, what makes Swift such a great songwriter is her ability to make the listener feel exactly what she wants them to. Honestly, "august" must be the song that plays when one arrives at the gates of Heaven because this track makes me nostalgic for something I've never experienced. When I listen to "the last great american dynasty," I feel like I'm walking through the town square of Gilmore Girls's Stars Hollow in November, when the orange-colored tinsel, random hay bales, and pumpkin decorations are scattered about. Additionally, "this is me trying" was practically created to find its home on a movie soundtrack. With the melancholic organ and chill percussion that almost feels like an afterthought, you simply can't convince me that "this is me trying" wouldn't play during the emotional climax of a coming-of-age movie.
I guess my only complaint about this album is that it wasn't released in the fall—folklore is the musical epitome of sweater-weather, pumpkin-flavored foods, and the changing leaves. But, in order to win a Grammy award for this year's cycle, all music for consideration had to be released before Aug. 31, and I can definitely say that folklore is certainly worthy of the Grammy Award for Album of the Year.
9 / 10
Listen to folklore below!
Leave a Comment
About the Writer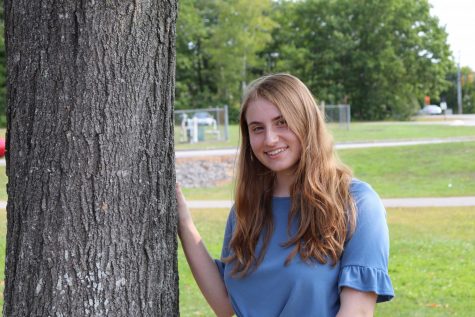 Anna Drabik, Executive Arts and Entertainment Editor
A frequent concert-goer and a nervous wreck (some of the time), Anna is looking forward to continuing to write music and concert reviews this year for The Lancer Spirit. She also enjoys working out, sleeping, and watching Jane the Virgin, her favorite TV show, on Netflix.