K-pop girl group ITZY finished their four weeks of promotion for their newest single, "Not Shy," just a few days ago. During these promotional weeks, the girls of ITZY—Yeji, Lia, Ryujin, Chaeryeong, and Yuna—performed "Not Shy" on several different music shows, with each performance (or "stage") featuring various matching outfits. The fashion choices made by ITZY speak almost as loudly as their music, and I thought it would be fun to do something different: instead of reviewing their music, I'll provide commentary on their fashion choices for each of the promotional "stages." I've ranked the performance outfits from worst to best, and this article will be split into two parts, with the first discussing the bottom eight performance outfits, and the second, the top eight outfits. This is part two.
Before I get started, a quick disclaimer: I'm not a fashion expert by any means, and I know that fashion is 100% subjective. These rankings are solely my opinion, and they are based purely upon the outfits and how much I like each of them—or, in some cases, dislike them.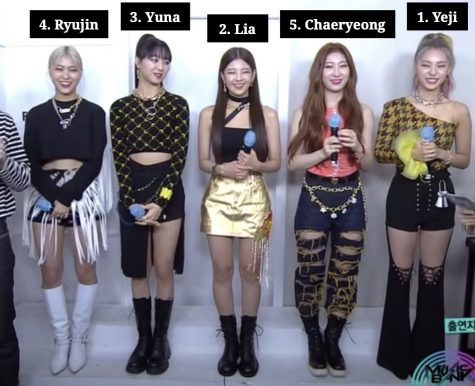 Chaeryeong's outfit… Umm, I understand what the stylist's intended outcome was, but they really missed the mark on this one. The coral-colored shirt makes her stick out, and not in a good way; it matches Lia's outfit but none of the other ones, and the white, lace-up detail is, quite frankly, ugly. I do like the gold chains and belt, and the jeans are super unique, but altogether, this outfit is chaotic and easily the worst of the bunch. 
The stylist also didn't do a great job with Ryujin's outfit. It's not that the outfit looks bad—in fact, it's quite the opposite. I love the long-hanging fringe on her top, it adds texture and looks great on stage. The shorts look cool, and even if the outfit is a little out-of-place, it certainly beats Chaeryeong's. The issue comes from the fit, specifically with Ryujin's boots being too big. If you watch the performance, you can see Ryujin's feet seem to be sliding around in the shoes, and during the interview, she had to catch her balance a couple of times. To make matters worse, this isn't even the first time Ryujin has been put in shoes that don't properly fit her. For how demanding and difficult ITZY's choreography tends to be, dancing in shoes that don't fit is dangerous and poses a big risk of falling, twisting or breaking an ankle, or worse, so I would like to hope that the stylist(s) don't make this hazardous mistake again.
That issue aside, I really like the remaining outfits. I'm a tad confused about whether Yuna's bottom is a pair of shorts with a cape tucked in or a skort, but even if it looks a little awkward, Yuna pulls it off nicely. Lia's outfit is extraordinary, from the flower embroidery and crystal tassels to the gold skirt and uniquely-designed top. Yeji's outfit, too, is great; the details seem carefully curated, like the single bright yellow cuff, and overall, it just looks incredible. I had a difficult time choosing between Lia and Yeji's outfits, but Yeji was first because, in my opinion, her outfit fits the concept of "Not Shy" more than Lia's.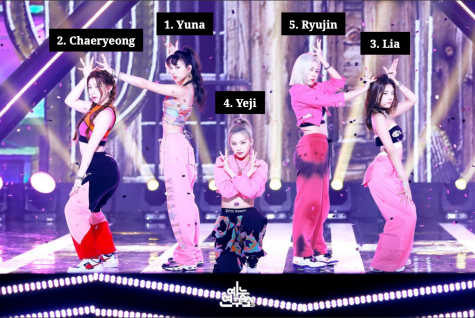 My ranking of this stage is very similar to the last one in that I don't care much for the bottom three outfits, but I had a very difficult time choosing between the top two. Yuna's bedazzled, personalized pink sweatpants are iconic, and the colorful top she's wearing is eye-catching and easily separates her from the others. Plus, her chunky sneakers perfectly complement the rest of the outfit, but they aren't distracting, like Yeji and Ryujin's. Not to mention, Yuna absolutely rocks the ponytail-and-bangs combo. 
But, Chaeryeong poses some seriously stiff competition. Her outfit is so well put together; the color-blocking perfectly matches the (sick) sneakers she's wearing, the braids look amazing, and honestly, this might be my favorite Chaeryeong look from the era. However, I ended up ranking Yuna first because her outfit, to me, is the perfect encapsulation of her personality and her style, which is youthful, vivacious, and sweet.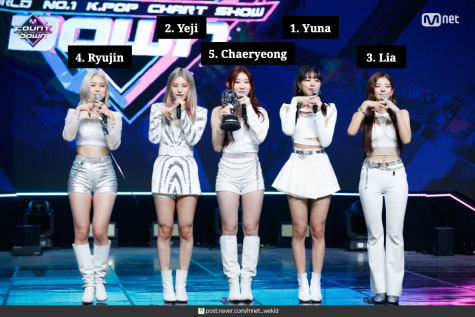 For as sparkly as this stage is, Chaeryeong and Ryujin's outfits just didn't shine as much as the others, especially because we've seen the pair in similar outfits before. Lia, too, had a very similar outfit back at #9, but Lia's outfit for this stage was able to do something the other two girls' outfits couldn't: individualize itself through the details. Though the cut of Lia's top is a little strange, I find myself liking it more each time I see it; combined with her pants and silver boots, this outfit really won me over.
Yeji and Yuna's outfits, however, are masterpieces. Yeji looks sophisticated yet chic. The oversized-blazer-as-a-dress trend really complements her figure, and the sequins on the blazer look professional and refined. The jewelry brings some funkiness to the outfit, but it's still mature enough to look right, and that's a difficult balance to strike.
With that said, I couldn't take my eyes off of Yuna during this performance, and it's entirely because this outfit is such a breath of fresh air. I love Yuna's top for its intricacy, with the strategic cut-outs and mock neck. Her pleated skort is creative and adds texture for its contrasting flow (skirt) and boxiness (shorts), which I love. Yuna's outfit, as a whole, is original and elegant.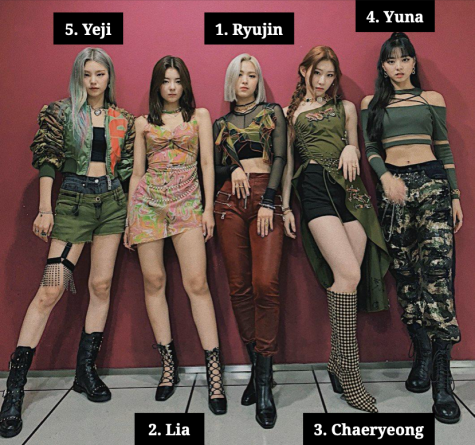 Yeji, Yuna, and Chaeryeong were done dirty with this stage, mostly because the pops of color in Ryujin and Lia's outfits set them far apart and above the others. Really, the bottom trio's outfits are all good. I despise Yeji's double denim shorts, but the camo-print bomber jacket and the garter belt with the dangling beads look cool and definitely fit the military-uniform-but-make-it-fashionable vibe. Yuna's outfit is perfectly cohesive, and even though Chaeryeong's boots clash with the rest of her outfit, I love the glittery details and draping of Chaeryeong's long, flowy top. 
With that said, Lia and Ryujin's outfits completely outshine the others. I saw some people complaining that Lia's outfit didn't match the theme, but I would argue that her look is an unexpected, original, and unique take on the concept that's a little bit more feminine than the others, so Lia stands out, but in a good way. The colorful, marbled print of Lia's dress draws the eye, but the smaller details are what really pulls the outfit together, from the pearl strings to zipper cutouts to gold chains as straps. 
As lovely and creative as Lia's outfit is, Ryujin's look easily takes the cake. The red leather pants; the sheer, layered top; the sleek black boots; the zipper details; and did I mention the red leather pants? I'm obsessed.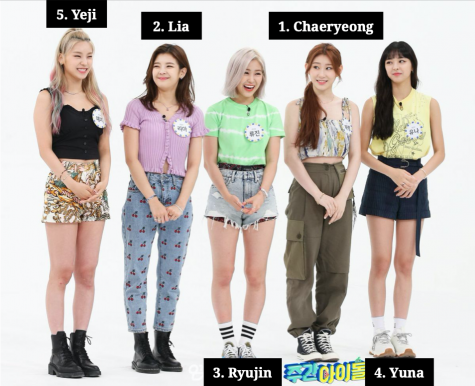 Since this is a variety show and not a performance, I'm not sure whether ITZY was styled or if they picked their own outfits. Regardless, I love all of these outfits, which is why I decided to include them in this article, despite the fact that they weren't used in an official performance. Ranking these was difficult, to say the least. Yeji, Yuna, and Ryujin are the bottom three because their outfits just aren't as intriguing as the remaining two, but I still really like them. Lia's outfit is cute and trendy, from the lavender cardigan to cherry-embroidered jeans (which I desperately want for myself), but Chaeryeong's outfit is right up my alley. The high-top Converse, green cargo pants, and patterned crop top look incredible on Chaeryeong, especially with her red hair; I will definitely be recreating something similar to this from my own closet.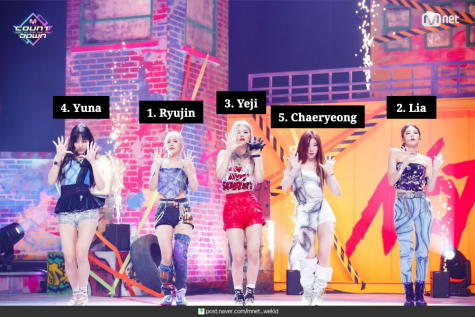 My rankings of these outfits switch on the daily—seriously, I just flipped Chaeryeong and Yuna's placements a second ago—because I love how these looks are unconventionally coordinated. For a lot of the other stages, what ties the outfits together is a single, uniform color or pattern incorporated throughout the looks. Here, however, it's the minute details and textures that subtly create a sense of uniformity, such as the wavy pattern of Chaeryeong's dress that matches Yuna's bodysuit, Lia's jeans, and Ryujin's top. These elements are small but easily noticeable, and they ensure that, even with a quick glance, the outfits don't look mismatched, but each girl still shines.
Bold and fierce is Yeji's outfit, with the loud, red leather shorts and "I'M NOT SORRY" proudly written in red sequins on her top, which both epitomizes the theme of "Not Shy" and parallels similar elements in Yuna, Lia, and Ryujin's outfits. Lia's outfit is visually pleasing, with the thick silver jewelry, matching patterns between the jeans and bustier top, and pops of purple from head to toe, literally. Yuna's outfit, too, is stunning; I love the ruffle attached to the chunky black belt, which seamlessly melds the top and sequined shorts. 
Ryujin's outfit, however, lives rent free in my mind. The creativity here never ceases to amaze me, as it seems like the shorts and suspended pant legs seem to be made from two different pairs of jeans. I love the angled shape, ruffled texture, and tied ribbons of Ryujin's top, plus her shoes are perfectly matched. This outfit is simply impeccable and easily my favorite from this era.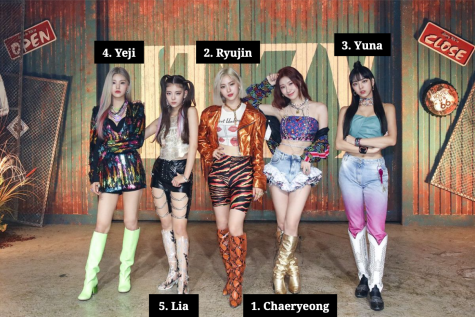 Remember when I said that Chaeryeong's pink outfit in #7 was my favorite of hers from this era? Yeah, that was a lie. I love this outfit more than I love myself. There's so many components to Chaeryeong's outfit, but oddly enough, they all work together really well. One might expect that the hoards of jewelry, multiple patterns, and general lack of a color scheme—like gold boots and silver jewelry—would clash hard, but they're actually hardly clashing. 
Yuna and Ryujin also look fantastic. I love how Yuna's outfit is a color gradient, from the turquoise bandeau top to the blue, purple, and pink on her jeans. Her black and white cowboy boots are a stark but appreciated contrast from the rest of the outfit, and the half-up-half-down hairstyle with a bun looks great on Yuna. Similar to Chaeryeong, Ryujin's outfit features multiple different patterns that all work together. Despite the fact that snakeskin boots, tiger print bike shorts, and a shiny, tasseled jacket sound like a recipe for disaster, Ryujin pulls it off.
Lia, however, does not pull off bike shorts, but it's not her fault. Generally, leather bike shorts are questionable, and when they've been modified to include chains? And they're paired with clear plastic boots and a blue arm warmer? It's a no from me. 
Okay, listen, I genuinely love every single one of these outfits. They're not 100% cohesive, but they still look good together. I mean, there's a reason these outfits were chosen for the promotional pictures. 
Lia may be in fifth place, but her outfit is the one that lingered most in my mind. The hot pink dress is unforgettable and well accompanied by the dark blue boots. I just wish that the belt and the earrings matched, as silver and gold clash. I love the pattern of Yuna's jumpsuit, and Ryujin's outfit comes together so nicely, with the sparkly shorts, billowing sleeves on the bodysuit, and tasteful cowboy boots. 
Meanwhile, Chaeryeong looks absolutely stunning in the dress she's wearing. The crystal tassels create movement, and along with the simple black boots, this look is elegant and eye-catching—a perfect mixture. Yeji's outfit is just as captivating and lively, due to the vibrant mixture of pastel colors on this two-piece set. I love the playfulness of the outfit, from the purple combat boots to the sequins and feathers. Also, the colors really complement Yeji's hair, of which the bottom strands are dyed pink, green, and blue. 
Overall, these outfits were exceptionally well-done. In fact, this entire era definitely is the best styling ITZY has ever had. The majority of the outfits looked great and matched the concept, even if they were, at times, a little basic. ITZY's styling has only been getting better with time, so I can't wait to see what will come next for them.