My 15 favorite songs of 2020
According to most criteria, 2020 has been an awful year, and that's not an opinion, but a universally agreed-upon fact. We experienced the unfortunate loss of several key figures (such as Chadwick Boseman, Ruth Bader Ginsberg and Alex Trebek, to name a few), the wildfires in Australia and California, the strong political tensions, a collapsing economy, and y'know, a pandemic.
Music, however, is the one bright spot of 2020. From the artists who found inspiration in quarantine to those who pushed through with pre-planned releases, 2020 has been an excellent year for music, which I'd like to discuss today as I list my 15 favorite songs of 2020. 
Before we start, a quick disclaimer: This is simply a collection of my favorite songs released this year, not a ranking (because I'm too indecisive for that). If you don't agree with me, that's totally okay! Music is completely subjective, and everyone has their own taste in what they like to listen to! 
Note: All of the songs here were released from Dec. 1, 2019 to Nov. 30, 2020.
---
Honorable Mentions: Maggie Lindemann's "Knife Under My Pillow" — Kim Petras's "Malibu" — CHUNG HA's "Stay Tonight" — The 1975's "Tonight (I Wish I Was Your Boy)" — Camila Cabello's "Used to This"
---
#1) "Adore You" – Harry Styles
What do you get when you combine a robust bassline, honeyed guitar and idyllic harmonies?
Pop perfection by the name of "Adore You." I'm not sure if it's the screeching electric guitar solo or exhilarating chorus or underlying groove to it all, but this track is addicting. For a song about the stage of infatuation in a relationship, I'm certainly as obsessed with this song as Styles is with the person he's singing about.
---
#2) "A** Like That" – Victoria Monét
JAGUAR is one of my favorite projects of the year, mostly for its luscious, richly-layered production and overarching exploration of how femininity and empowerment are intertwined, and "A** Like That" is the perfect culmination of those two elements. In fact, "A** Like That" may just be my song of the year. The cheeky writing is a total contrast to the sophisticated instrumental, but it works seamlessly into a truly magical, mesmerizing song that I could listen to for hours on end. 
---
#3) "august" – Taylor Swift
This one is going to be short because, sincerely, I cannot describe "august" in the way it deserves to be described. There's nothing I could say to properly, articulately encapsulate how superb this song is, but I'll give it my best shot: "august" an enchanting mix of poignant, gripping story-telling, sentimental guitars, simple percussion, wistful vocals and peaks of saxophone that make me want to cry for how beautifully drenched this track is in a feeling of yearning, nostalgia and sadness. Swift's ability to create these magical, impassioned songs—an entire album of them, in fact—is nearly unparalleled for how incredibly strong both the lyrics and the instrumentals are, and that is true artistry.
---
#4) "Babylon" – Lady Gaga
When Lady Gaga commands, "Strut it out, walk a mile / Serve it, ancient-city style," you don't ask questions. Especially not when there's also a choir, an exhilarating bassline that's nearly bouncing off the walls and riffs of saxophone—you just don't.
---
#5) "Cowboy Blues" – Kesha
Kesha cemented her place in the music industry through her instantly recognizable "white-girl" rap and infectious, wild party tunes, like "Tik Tok" and "Die Young." However, with her most recent records, Kesha has branched into new genres and shown a newly vulnerable side of herself that both displays her writing and vocal chops but still retains that unique Kesha feel that made her so popular in the first place. As an example, look no further than "Cowboy Blues": a reflective, ukulele-led track wherein Kesha maintains a charming candor as she jokingly asks, "Do you ever lie in bed with your three cats / And get obsessed with some boy you met / One time, three years ago in Nashville?"
---
#6) "Crystal Clear" – Hayley Williams
Hayley Williams has been through hell and back. Her rocky relationship with Chad Gilbert. The major, public falling out with two former members of Paramore that ended in court. Her debilitating struggles with depression and anxiety. Like I said, Williams has been through the ringer, and Petals for Armor is the angsty, emotional, cathartic tale of that "lot." 
"Crystal Clear" is the touching finale to Williams's story of learning to love (both herself and others) again, as she delicately decides, "This time I want to stay right here / I want to make it crystal clear / That I won't give into the fear." In addition to melancholic production, Williams's passionate vocals convey the heartbreakingly earnest lyrics in a way that never fails to make tears spring to my eyes. Williams may be a famous celebrity 14 years older than me, but "Crystal Clear" makes me feel proud to see her bloom—pun fully intended.
---
#7) "Drive" – Ashton Irwin
Dedicated to Irwin's girlfriend, "Drive" is a thoughtful declaration of support and love after her father's passing; Irwin promises, "I'll be with you when the world is falling down… The future's not so clear, I'll help you see / There's so much more to life than you and me." Besides the loving, superb lyrics, there's a nostalgic, midnight-drive-in-the-rain feel to "Drive." I don't know if it's the propulsive bass and sweetly-singing synth or the early-2000s pop-punk influences, like the overpowering electric guitar solo and copious vocal layers, but what I do know is that I absolutely love this track.
---
#8) "Hallelujah" – HAIM
Women in Music, Part III is a wonderful blend of organic, refreshing instrumentation, intricately-written melodies and eloquent lyrics that I really can't pick a favorite song from. I'd tell myself: Okay, executive decision, let's go with "3 AM." But, then, my brain responds: What about "I Know Alone"? Or "FUBT"? Or "Leaning on You"? Or any of the other 12 songs on WIMPIII? 
It wasn't until I fell down a YouTube rabbit hole and landed on HAIM's piano-based rendition of "Hallelujah" for BBC Radio when I made my decision. "Hallelujah" is a beautiful track about love and loss, and this live version just takes this track to another level that I didn't think was possible. The raw vocals, tender piano and emotional harmonies bring home the message and clearly demonstrate the reason why HAIM is such a fantastic band: their chemistry and love for music and each other.
---
#9) "I Can Break Your Heart Too" – The Aces
The Aces have mastered the art of the mismatched lyrics and melody combo on the hypnotic "I Can Break Your Heart Too." The aqueous guitar and casual percussion lull the listener into a false sense of security, while Cristal Ramirez (lead vocalist) and Katie Henderson (lead guitarist) oh-so-sweetly harmonize, "All the games you play are boring / If you're calling, I'm ignoring / 'Cause you're just not as important / As you think you might be."
---
#10) "Levitating" – Dua Lipa
"Levitating" wonderfully lingers like the smell of a campfire or a strongly-scented candle—it's just that catchy. The production is tight and detailed, with the intoxicating bassline, ringing synths and dictatorial swings of sweet guitar that, combined with the lively background vocals, flirty lines from Lipa and cheerful claps, truly makes me feel like I'm levitating.
---
#11) "Older Than I Am" – Lennon Stella
"Older Than I Am" is not the most eloquently-written or sonically brilliant song on this list by a long shot, but that's what makes it so good. The lyrics are raw and unembellished, as if they've been ripped directly from Stella's diary. The music is simple, with just somber piano and a subtle string arrangement. The finishing touch is Stella's vocals, in which you can hear the pain and grief as she mourns the loss of her childhood. Stella cries out, "Sometimes, I wish I could do something stupid / Be kinda reckless while I can… But I'm older than I am," and… I don't think I've ever heard a song more pertinent to myself than this one. Truthfully, "Older Than I Am" makes my heart hurt, but I'm grateful that someone else has been able to put it into words.
---
#12) "Star" – LOONA
Hailing from K-pop girl group LOONA, "Star" is the absolutely stellar English version of "Voice." The snappy percussion, resolute bass and soft-but-shining keyboard marvelously highlight the wishful vocals and magical vibe. While English versions of K-pop tracks tend to feel gimmicky or cluttered, "Star" is very much an exception.
---
#13) "SUPERBLOOM" – Misterwives
"SUPERBLOOM" is pure happiness pared down into a three-minute song. It's funky and spunky, with vintage-tinged piano, a tittering tambourine, jubilant flares of trumpet and soulful vocals that, similarly to a delicious pastry, bake into an exultant, feel-good dessert that you can't help but gorge yourself on. After a hard day, week or—with the way 2020 has gone—year, "SUPERBLOOM" is the congratulatory bop we all need, as lead singer Mandy Lee proudly exclaims, "I deserve congratulations / 'Cause I came out the other side… I'd never thought that I'd survive / If you tell me I won't make it / That's when I… Superbloom."
---
#14) "Wannabe" – ITZY
All rise for ITZY's best title track. "Wannabe" is confident, chic and practically made for a fashion show; as the cool-sounding synth frolics about the fresh beat and occasional bursts of guitar, it's easy to picture models strutting down the runway, just as Yuna does in the music video. 
Yet, the excellency of "Wannabe" goes far beyond just the music. The social impact of "Wannabe," especially the choreography, is undeniable; Ryujin had anyone even remotely interested in K-pop attempting the shoulder move, and the music video remains their most viewed. 
All this to say, despite still being rookies in the K-pop industry, ITZY have already developed a unique identity and niche for themselves that, in its popularity, shows just how much the world needs them. The importance of songs about empowerment and self-love, of difficult, impressive choreography from a girl group and of confident, expressive women in a male-dominanted industry and world simply cannot be understated; for that, "Wannabe" is one of my favorite songs of the year.
---
#15) "XS" – Rina Sawayama
A lesson in economics has never sounded as fun as it does on "XS," an ingenious blend of R&B, pop and rock elements that Britney Spears, circa 2003, would've been jealous of. The production is insane; though the eerie twirls of piano and haunting violin are nearly indiscernible compared to the swoops of heavy, abrasive electric guitar and accented hits of triangle, the entire barrage of instruments that constitute "XS" work together masterfully. Sawayama's sassy vocals, however, are what sell (*wink*) the concept, as she excitedly delivers an eloquent critique on how capitalism promotes overconsumption and an obsession with wealth. 
See what I mean by ingenious?
Leave a Comment
About the Contributor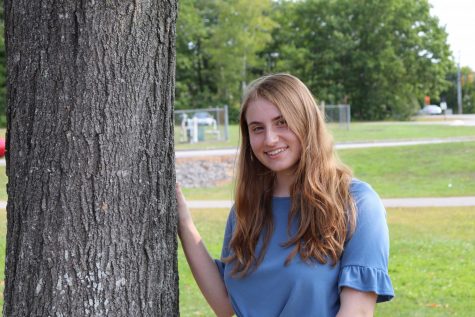 Anna Drabik, Executive Arts and Entertainment Editor
A frequent concert-goer and a nervous wreck (some of the time), Anna is looking forward to continuing to write music and concert reviews this year for The Lancer Spirit. She also enjoys working out, sleeping, and watching Jane the Virgin, her favorite TV show, on Netflix.