(G)I-DLE come back better than ever with 'I Burn'
(G)I-DLE are one of the most unique K-pop groups in the industry right now. 
Not only do each of their releases eloquently explore different genres, highlight their impeccable vocals and showcase incredible versatility, but the genius(es) behind said releases are the members of (G)I-DLE themselves. 
Uncommon amongst K-pop, and especially rare for girl groups, (G)I-DLE's self-composing concept is extraordinary and, for the amount of music they churn out each year, absolutely fantastic. Leader and main rapper Soyeon has participated in the writing of all but two of (G)I-DLE's tracks, and she has composition credits on over half of the group's songs. Vocalists Minnie and Yuqi also have taken part in writing and creating songs, talents they just began exploring on (G)I-DLE's newest mini-album, I Burn.
And, when I say talent, I mean it, especially for Minnie. In the few songs she's taken part, whether it's writing lyrics or composing the melody, she raises the bar, and then the next time she's in the studio, leaps miles above it. Her work always manages to brilliantly walk the line between playful and serious, and her two tracks on I Burn are no exception.
There's a cheekiness to "MOON," from the meek electric guitar to enunciated vocals that plead, "Do not come near me, oh, moon / So I can turn my smile off for a moment… [Darkness] please hide me."
"DAHLIA," however, effortlessly managed to pluck the crown off the head of "Maybe" to reign as (G)I-DLE's best b-side. It's sensual and captivating, unfolding and rushing over the listener's ears in a wave of warm synths, exhaltory vocals and a nostalgia-tinged guitar riff that's easy to hear on loop and never tire of. If Minnie's typical bubbly-yet-dark sound wasn't already enough, her writing, in its fondness and total acceptance, is beautiful and heartwarming; the girls declare, "No matter what they say, / I choose to love you anyway / 'Cuz you're my dahlia."
As for Yuqi, "LOST" is, as much as I hate to say it, my least favorite on this mini-album. Acoustic-guitar-pop is not my favorite genre, especially when it's mixed with elements of trap and influences from the early 2010s. But, I appreciate it for how canonically Yuqi it is—upbeat, earnest and full of life. 
On the contrary, "Where is love" is a well-done, summer-y callback to the early 2010s—a Calvin Harris cut from 2014, if you will. The stirring bassline, lighthearted percussion and tropical, lively synths create this carefree atmosphere that calls for a specific setting. It's golden hour, and you're driving along the coastline with the windows down; the breeze is in your hair, and the sun warms your cheeks. Or, you're partying around a bonfire at the beach, drinking something fruity out of a coconut while the last bits of pink and red fade from the horizon. "Where is love" is the soundtrack to these aestival scenarios. 
"HANN (Alone in winter)" is, as the title demonstrates, on the opposite side of the seasonal spectrum. Dominated by haunting piano, flourishing string arrangements and the eerie howling wind, this orchestral piece paints a melancholic, wintry picture that I can only hope to hear play during the immediate post-breakup scene of a drama.
"HWAA," too, sounds snowy and melodramatic. Largely relying on ambience and mood, "HWAA" is a vocal-heavy track that features a minimalistic moombahton beat and traditional Korean instrumentation. In one word, "HWAA" feels bittersweet, with its darker composition and imagery contrasting the soft, rosy vocals and messages of moving on/starting anew. 
The bittersweetness of "HWAA" extends beyond the music. Though "HWAA" may, musically, not be my favorite title track from (G)I-DLE, its comprehensive aesthetic and visuals both make it more favorable in my eyes and resolve my greatest issue with I Burn: the inconsistency.
As I've established, there are distinct seasonal tones to each song on this mini-album, and thus, I Burn feels confusing and incoherent rather than a collective, well-executed project. It's jarring to go from the elegant, wintry "HWAA" to mischievous, cool-toned "MOON," or party-like "Where is love" to passionate "DAHLIA" in just a few minutes. 
Through meticulously-designed outfits and beautiful stage sets, the live performances of "HWAA" have tackled this issue with ease. One day, the girls will be dancing in dainty white dresses, glittery jewelry and straightened hair atop a stage covered in smoke and surrounded by fake snow banks; the next, they're bathed in red light as they twirl around in all black outfits, serving I-killed-my-husband-and-now-I'm-at-his-funeral-ready-to-fake-cry-for-my-inheritance realness, in their knee-high boots, elegant makeup and pearl embellishments. Their ability to switch between such different concepts and aesthetics while performing the same song illustrates a clear artistic direction (G)I-DLE chose to take.
In other words, I Burn is intentionally (and ingeniously) "incoherent," and I love it for that; (G)I-DLE just keeps on getting better and better.
7 / 10
Leave a Comment
About the Contributor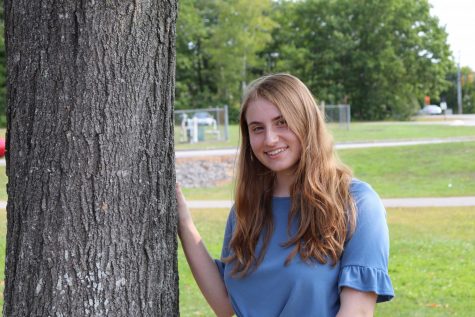 Anna Drabik, Executive Arts and Entertainment Editor
A frequent concert-goer and a nervous wreck (some of the time), Anna is looking forward to continuing to write music and concert reviews this year for The Lancer Spirit. She also enjoys working out, sleeping, and watching Jane the Virgin, her favorite TV show, on Netflix.