How Ashley Holt became the dancer she is today
Junior Ashley Holt isn't ready to end her dance career after high school. Spinning her way through life is what has gotten Holt through rough times since a very young age. 
It didn't all start with a passion of dancing for Holt. She started off as a gymnast at Granite State Gymnastics in Hooksett at four years old and continued until the age of 10. 
"I was put on the competitive gymnastics team when I first started," Holt said. "Because I was so young, it was a lot to handle and I felt like I was getting pushed too hard."
After being a gymnast for six years, Holt wanted to do something different where she didn't feel overwhelmed. Her younger sister, Maddie, was already in dance and had many competitions. Continuously going to these dance competitions, Holt was inspired to start dancing herself.
"I would watch the older girls dance their hearts out at Maddie's comps," Holt said. "It was at that moment I knew I wanted to be a dancer. I wanted to be recognized by all of the amazing choreographers and make a life out of it."

Holt started going to dance classes after she made her final decision of quitting gymnastics. She took private tap lessons to help herself catch up to all of the other girls. However, she tried other types of dancing when she found that tap dance just wasn't for her.
"After doing tap for a bit, I started doing lyrical and contemporary dance and fell in love right away," Holt said. "Both of these dance types are emotional and tell a story and that's what I love about them."
To this day, lyrical and contemporary dances are still her favorite. When dancing on stage Holt can express herself through the story she is trying to tell. Because of how emotional these dance types are, it is easier to portray the meaning behind the song.
"Dance is like an escape from the world," Holt said. "It's almost like a second language to me because when I am dancing, I am in my own world. All of my worries sort of fade away and I completely let go, even when I'm nervous for a competition."
Preparing to go on stage is nerve-racking for Holt, since there are so many emotions going through her head. Even after going through the experience of a competition many times in the past, she still gets butterflies. 
"The adrenaline I feel before a competition is something I hate looking forward to," Holt said. "The pressure and anxiety of being judged by all of the other amazing dancers makes me nervous sometimes, but I know that I have put in so much effort to be the best that I can be."
Although Holt gets cold feet before a competition, she knows she has her friends and family to support her through everything.
"My parents and Maddie have been there for me since day one and always push me to be my best," Holt said. "I know I can count on them whenever I need a little pick-me up." 
Dance is a very big part of Holt's life and she doesn't want to let go of it. It has had positive and negative impacts on her life that has made her the person and dancer she is today. 
"Dance has made me a stronger person both physically and mentally," Holt said. "It's something that pushes me to keep trying and to never give up, no matter how hard something gets."
View Comments (1)
About the Contributor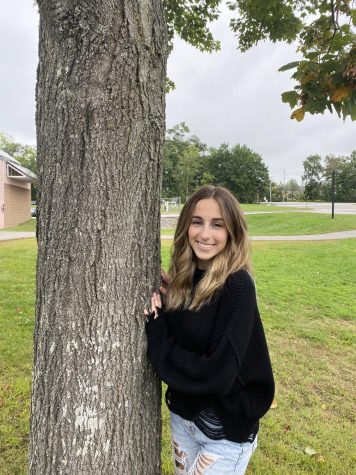 Abby Foley, Executive Features Editor
Senior Abby Foley has been on the Lancer Spirit Staff for three years, and has worked her way up to being the Executive Features Editor. In her free time, Abby enjoys hanging out with her friends, and playing with her dog.