Senior speaks out about activism
After George Floyd's death, senior Bella Bouchard could no longer stay quiet. Bouchard felt it was "imperative" to start speaking out about issues facing the world. As a result of her decision to speak up, she has formed a legacy for herself at LHS. Her legacy began when she helped co-start the Young Democrats of LHS Club.
"I saw the video of Floyd being killed unjustly," Bouchard said. "It put things into a whole different perspective. I was horrified and shocked. I knew I had to help take part in speaking out against these injustices." 
After making the choice to speak out, Bouchard became more involved in her community. She co-formed Young Democrats of LHS alongside Erin Strike as a place to discuss current issues and injustices. Additionally, Bouchard is a chapter leader for the Londonderry Chapter of High School Democrats. Along the way, Bella has met many individuals, becoming a prime role model. Students who know Bella describe her as "motivated and inspiring."
"[Bouchard] is passionate in her beliefs," sophomore Rae Pizzi said. "She inspires all of her peers and it is clear how much she cares about the world around her. I am so lucky to have the chance to know her."
Throughout her life, Bouchard has had an interest in politics. It didn't just begin with the murder of George Floyd. Bouchard has been politically aware ever since she was a little kid. Her grandmother is an immigrant, which prompted an interest in immigration issues. Bouchard's interest in politics grew "significantly" in 2018 as a result of the Lancer Walkout, which was held in solidarity with gun violence victims shortly after the Parkland shooting. 
"I got educated on gun control and decided to educate myself on other issues," Bouchard said. "That acted as a gateway to more issues that I would soon be into."
Having taken AP Government her junior year, Bouchard became all the more interested in politics. This class "incited" Bouchard's desire to "speak out even further." Additionally, Bouchard found a 2020 presidential candidate with whom she aligned best to her newfound ideals.
"I began to support Bernie Sanders and went to three Bernie rallies," Bouchard said.
Sanders was an ideal choice for Bouchard, as they have similar political ideologies. Bernie's stances on "legalization of marijuana, strict gun control, environmental policies, and rehabilitation vs. incarceration for nonviolent offenses" best represent Bouchard's views.
"Sanders' care for the people and his new ideas were really what got me interested," Bouchard said. "I used to be more liberal-leaning, but after being introduced to Sander's policies, I have become a  little more left-leaning than before. [Sanders] stands for policies that I stand for, which is why I supported him in the 2020 Presidential Primary."
After Sanders dropped out of the Presidential Democratic Primaries in April of 2020, Bouchard and her constituents rallied in support for former Vice-President and now President of the United States, Joe Biden. 
Although Biden was not Bouchard's first choice, she believes he is "ideal" and "well-fit" to lead and unite the country. 
"Biden's calmness and sense of charisma when he talks is somewhat hopeful and inspiring to me," Bouchard said. "At a time when our country is so divided, he doesn't add fuel to the fire, but instead he chooses to find a way to unite us despite our differences. I really enjoy hearing him and his empathy towards others. It's refreshing and reassuring." 
Bouchard hopes to "convey the same sense of respect and dignity" to others when she speaks out. Public speaking can become difficult for Bouchard at times. Educating herself through AP Government, political documents, and other general resources helped Bouchard further develop and enhance her liberal beliefs, despite living in a more conservative town.
"It definitely is harder to speak out, because I get shot down quick. That won't stop me, however. You can't make change where everyone believes what you believe," Bouchard said. "A part of the reason why I co-founded [Young Democrats of LHS] was to allow people who had similar beliefs as me to be able to voice their opinions freely."
The Young Democrats of LHS's main focus for this current semester is to volunteer and aid the Biden-Harris 2020 Campaign. Current events, social, economic, and international issues are discussed in this club, as well as leadership goals for future political issues. Bouchard's commitment to politics "motivates" her constituents.
"When I asked her to start the club with me, she was totally willing and started emailing right away," Strike said. "She's very motivated and inspired to put in work It's been really nice to have her help with something that encourages others to use their voices. [Bouchard] inspires us all."
As of right now, post-election topics are being discussed the most for the Young Democrats of LHS. There, topics of unity, leadership and concerns of hyperpartisanship are discussed. Bouchard has strong feelings toward the current political climate and how future leaders could rectify the storm.
"It is extremely divisive right now," Bouchard said. "Both sides are being attacked, with no one side wanting to listen to each other. I think it is important that we come together and find common ground in order to move forward, irrespective of political beliefs. That is the only way we can heal this nation and move past all of this harsh rhetoric."
While Bouchard leans left, admiring Sanders as mentioned earlier, she also greatly respects many prominent Republicans and Republican groups. Her admiration of bipartisanship is what allows her to look up to people on both sides of the aisle.
"Mitt Romney, John McCain , Brad Raffensperger, and the Lincoln Project are amongst the Republicans I have great respect for," Bouchard said. "They place the country over the party and lead with dignity, as well as class."
Bouchard has channeled her passion into clubs and chapters that inspire others to speak out as well. From Bouchard's work, many students have found their voices. They have become "excited" to incite change and create progress in the world around them Bouchard has left her mark as a "hard-working" and "rational" student at LHS, impacting the community for the "better." 
"After I graduate high school, I plan on becoming a psychiatric nurse," Bouchard said. "I'd love to use my medical knowledge to fight Big Pharma and help solve the Opioid Crisis crippling this nation. I definitely won't stop fighting for justice after high school. This is just the beginning."
Leave a Comment
About the Contributor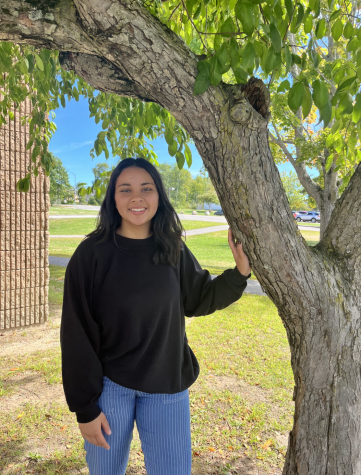 Alisha Khalil, Online Chief
Senior Alisha Khalil has been on staff for 3 years. Starting as a reporter her sophomore year, she is now The Lancer Spirit's Online Chief, Political Analyst, and News Editor. She started The Lancer Spirit's first Political news column. In her free time, Alisha enjoys making coffee and listening to music.