Lancer Music floods the All-Eastern lineup after a decade long dry spell
Each year students across the region are selected into state and nation-wide ensembles as a reflection of their talents. While LHS has had a dry spell with acceptances for almost a decade, this year three students were chosen to perform in the 2021 Biannual All-Eastern Honors Ensemble: seniors Emily Thomas, Dylan Solano, and junior Jason Cain. 
"Typically only one [student] every couple of years is selected. It doesn't happen all the time," Band Director Serge Beaulieu said. "New Hampshire only gets 2% of the All-Eastern Ensembles [participants], that alone is pretty impressive that we got three students from our high school to make All-Eastern [this year]."
Thomas and Cain will be in the mixed choir ensemble, while Solano will perform in the jazz band. These three were chosen from over 1200 junior and senior student nominees across all of New England as well as five other states, Washington D.C, and a contingency in Europe. Out of the 1200 nominees, about 500 students were selected for the program. Mr. Beaulieu, Mr. Mundy, and Mrs. Loschiavo nominated the students from LHS.
"[Mr. Mundy and Mrs. Loschiavo] and I nominated [Solano, Thomas, and Cain] and then sent those nominations to the All-Eastern Committee, and they decide who they are going to choose based on all of the qualifications of all the students," Beaulieu said. "We list off what they made for All-State and what their scores were and all of that."
Cain has performed in a few New Hampshire All-State festivals over the last two years in the program. In Cain's freshman year, he received the top score for tenor voice in the All-State Jazz Band, and again this year but in two different festivals. This led to his nomination for All-Eastern. 
"Around this time, Mr. Beaulieu contacted me, asking if I would accept his nomination for All-Eastern," Cain said. "[Beaulieu] figured based on my luck for the past two years, I had a good shot."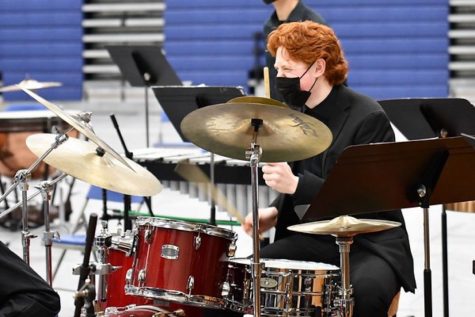 Solano has also performed in a variety of All-State festivals. His sophomore year, Solano participated in Jazz All-State with the Honors Choir. Junior year he played with the All-State Jazz Band, and this year he will play in the All-State Honors Band, the NH Classical All-State Orchestra, and the All-Eastern Jazz Ensemble. 
"All-State is a great experience," Solano said. "I have met so many great friends and learned so many new things through these festivals."
Since her freshman year, Thomas has performed in the New Hampshire All-State festival, this year being her fourth performance. The last two years she has been chosen to perform in the Jazz All-State Festival and the Chamber Ensemble her sophomore year. 
"I will perform with [the New Hampshire All-State] group again in April to round out my senior year," Thomas said. 
After being nominated, the New Hampshire Music Educators Association (NHMEA) released the students' score sheets from previous All-State festivals to the National Association for Music Education (NAfME). These sheets were then compared to other nominees throughout the state.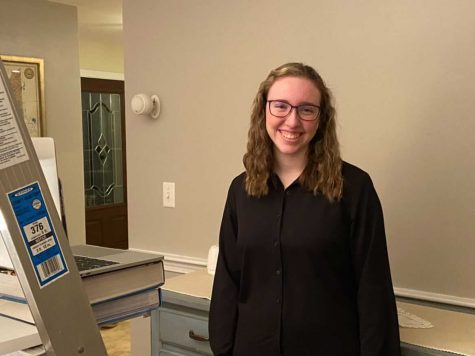 COVID-19 has brought challenges to virtually every department at the school, but with the implementation of masks and social distancing, the music department has had to adapt in many ways. They are used to being fully in-person to get out their information and practice, something that hasn't been feasible this year. 
"I think that the number one rule is to just persevere and know that we are all going through the same thing," Solano said. 
But these teachers have been able to adapt to the new challenges and produce music as they have in past years. 
"I hope that people, specifically music educators around the country see this as a signal that even in times of crisis, we can come together and perform, even if it looks significantly different," Cain said. "I hope people see this and think of the evergreen spirit of music. No one can stop us until the conductor cues us to stop. We are stubborn and we're going to do what we do best, even if we can't do it in person."
The audition process has been altered a bit due to the restrictions surrounding COVID-19, as well as the festival process. Even the amount of performance pieces have been cut down to only two.
"We had to send in videos for the auditions, and are participating in Zoom calls for the festivals," Cain said. "And send in a recording of us singing our choral parts for an edited video of the virtual choir."
Usually, all musicians would travel to the same place and all rehearse together. But this year, the musicians will participate in a variety of workshops, masterclasses, and their final performance which will be released this April, all of which will be virtual.
"Although the festival will be virtual, I am looking forward to learning from the best of the best and meeting new friends from all over the Northeast," Thomas said. 
The festival this year would have been in New Jersey and the performers would have traveled there in March to prepare with their groups. 
"[Going to New Jersey] can't happen this year, but honestly, what's really going to pay off is being able to hear the final product," Cain said.
For a senior like Solano, having everything be moved to a virtual performance has been difficult.
"Although I am glad [All-Eastern] is at least continuing, it really hurts to see me make the top three music festivals in the state my senior year, but not actually get to go to any of them," Solano said. 
The disappointment of the virtuality of this year's festival doesn't only come from the seniors. 
"It's sad that I can't interact as much or really get to hear each other, but at least I still get to be a part [of] something way bigger than I can even fathom," Cain said. 
Although these performers won't be able to physically be together, they have come together this year in other festivals through social media group chats to make each other feel included. 
"[The Jazz All-State] groupchat made it feel like I was there," Cain said. "It's the little things like getting to know everybody that are going to be more challenging, given public health circumstances."
The directors of the All-Eastern Ensembles will be diligently checking in on the performers, requiring them to submit weekly videos of them singing an assigned portion of the music. After virtual rehearsals, the musicians will have a week to submit a final video of their performance, then all the videos will be compiled into a professionally edited concert.
There is a lot more responsibility that comes with the All-Eastern acceptance than the All-State acceptances all three of these performers have obtained already.
"Being in the All-Eastern Mixed Choir means that I have to handle the responsibility with [the] utmost priority, as it's a huge honor at a beyond-state level," Cain said.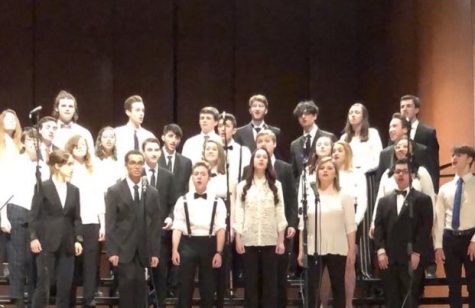 For students like Cain, acceptance into the Honors Ensembles is another step they have taken throughout their high school musical career, as they have taken part in many All-State performances. 
"From when I started All-State my freshman year, I prepared audition pieces, aspiring not only to be selected but to receive a high score," Cain said. 
As a reward for all their hard work, being accepted into the All-Eastern Ensembles came with other perks. 
"The scholarship opportunities and the chance to put something like this on my college resume will help me get into a really good music college," Cain said. 
All that comes with this performance isn't just on paper, some of it was more of a boost in morale.
"Being a part of something like this is life-changing, and really exposes me to a national stage," Cain said. 
Even with all of their work over the years, the acceptances came as an emotional time for each of the three musicians. 
"When Mrs. Loschaivo shared the news with me, I definitely cried," Thomas said. "For many of us, senior year is not what we had hoped for, but there are always silver linings. I want to do my best at making Londonderry proud."
Although this is not Cain's senior year, that didn't make the acceptance any less special. 
"I was nothing short of ecstatic when I figured out that I was selected," Cain said. 
For others, their selection was a surprise, no matter their talent.
"At first, when I found out that I got in, I didn't believe it because I knew there were so many other drummers that tried out," Solano said. "I didn't expect to get selected at all, but I was extremely happy when I did."
Given the high prowess that the music department at LHS has, it has been very rewarding to those who attend our school. 
"I am so lucky that I go to a school that has one of the best music programs in the whole country and those are experiences that can never be taken from me," Cain said. 

The teachers in the Londonderry Music Department have had an impact on their students. 
"Music has been such an important part of my life," Thomas said. "I have been so lucky to work with Mrs. Loschiavo and the Londonderry Music Department gives its members so many incredible opportunities."
From the beginning, the music directors have been there for their students to help them achieve their every dream.
"From when I first started the music program, [the music directors] were always nothing but encouraging and supportive, always giving feedback and advice," Cain said. "They always found a way to really get my dream as big as possible."
The support does not end when these students get their diploma, Beaulieu has given his performers guidance and contacts for their future plans.
"Mr. Beaulieu earlier this year asked me what I wanted to do going into college. I told him that I wanted to go into music composition," Cain said. "Within minutes, he gave me the email address of a guy who ran music composition lessons."
The Londonderry Music Department has helped shaped these musicians from the moment they entered the program, to the performer and person they are today. Performers that have gotten accepted into a nationally advertised festival. 
"The music department at LHS is one of the most impactful things that has ever happened to me," Solano said. "Through this program, I have met so many lifelong friends and learned so much about myself. Both of these things I would have never accomplished without this program. As a player, LHS has pushed me to new limits with all of their opportunities they have for their students."
The appreciation isn't just a one-way street, after being able to watch their students over the years, teachers are just as happy with the program they run. 
"It is always very satisfying, especially as a music teacher because you get to see your students year after year, to see them grow as musicians, and to make it into these kinds of ensembles. I am extremely proud of these students," Beaulieu said. "I speak on behalf of Mr. Mundy and Mrs. Loschiavo that we definitely are happy that we got these students into these ensembles, it will be interesting to see what kind of experience they get."
"
I want to thank Mr. Beaulieu, Mr Mundy, and especially Mrs. Loschiavo for their dedication to the LHS music department and for giving me a place to call home. "
— Emily Thomas
Leave a Comment
About the Contributor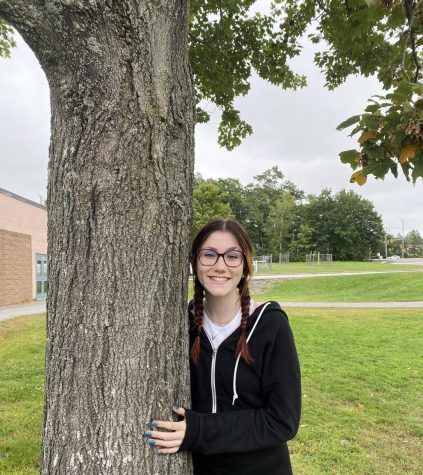 Audrey DeAngelis, Assistant Editor in Chief
Audrey is in her third year on staff, starting as a reporter her sophomore year. Her first year as an editor, Audrey was Online Chief and is very excited to be Assistant Editor-in-Chief this year. Next year, Audrey plans to study forensic science and pursue a Master's degree in chemistry in hopes of becoming a crime scene investigator.