Health Care Hero: Angela Donahue
Angela Donahue relays her experiences working as a floor nurse during the COVID-19 pandemic.
Unlike most little girls, I didn't grow up idolizing Hannah Montana or Selena Gomez or dreaming of being some famous actress. 
The person I have idolized, and always will idolize, is my mom: Angela Donahue. 
My mom has not only been taking care of myself and two siblings throughout our whole lives, but she has devoted years to helping the sick and elderly. This has never been more important than it is now during the COVID-19 pandemic. 
Working to be a nurse since she was 16, Donahue has spent her whole career helping the sick and elderly. Taking care of patients has always been her passion, but with COVID-19, it's become an exhaustion on her everyday life. 
"It's not an easy job," Donahue said. "Most people try to say that nurses are just sitting at the desk, but I would say that 90% of the time I'm with my patients.  [But with COVID-19] it's overall just a mental and emotional exhaustion." 
For the past eight years, Donahue has worked at a local hospital on the Medical Surgical unit, also known as the "Med Surg floor." This is a wing of the hospital that takes moderately ill patients who usually are sick or have come out of surgery. Being a floor nurse (a nurse that physically cares for a patient), my mom sees the brunt of these COVID-19 cases.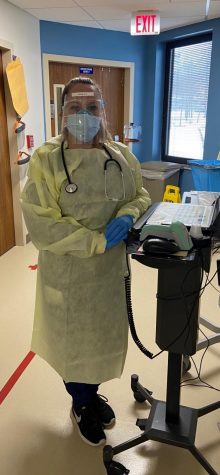 This floor has 22 beds, nearly a quarter of which are filled with COVID-19 positive patients. With every bed full, the staff doesn't discriminate over who gets assigned to which patient. This can leave a daunting workload on certain members of the staff.  
"You could be the COVID nurse, which is exhausting, especially if you have been working a couple days in a row," Donahue said. "They give you the same patient assignment for continuous care so you can do all the COVID [patients] for two or three days [in] a row which is just mentally and physically exhausting."
When working as a floor nurse, you can get up to four to five patients as a normal case load. Then adding into the mix multiple COVID patients can leave an even experienced nurse like Donahue spread thin. 
"People have all different ways to deal with the stress," Donahue said. "I try to leave work and try not to think about [the stresses of COVID nursing]."
This exhaustion comes warranted with all of the preparations needed to take care of these patients. Every time Donahue goes into a COVID-19 positive room, she has to gown up and wear multiple face covers including the N95 and a face shield. Along with proper gowning, she also needs to be properly donning (taking off gown and face coverings) off the equipment so there is no cross contamination between COVID-19 positive and negative patients. 
"I try to compile my care in that room to give them everything they need, because I don't want to cross contaminate and give it to a non-COVID patient that I have as well," Donahue said. "It's kind of nerve wracking because you feel responsible for the other patients you're taking care of."
Gowning and donning can take a lot of time from patient care. Donahue's biggest concerns are when patients who are in COVID rooms need to get help right away, but are unable to because of proper COVID-19 regulations. 
"It's really nerve wracking when you have a patient who has dementia or somebody who is impulsive, they can try to get up and do things and fall and hit their head [or] break a hip, so we have an alarm on these people that will go off," Donahue said. "But because they are [a] COVID [patient] we have to gown up and that takes time from helping these patients who could have gotten hurt. So [you're left fearing]  'what am I going to walk into'." 
"
I don't think the public realizes that this is their worst day, if they're in the hospital this is one of their worst days in their lives. When people are miserable, they treat people miserably."
— Angela Donahue
COVID-19 hasn't just changed how they treat positive patients, but every person that walks through the doors as a patient has to be swabbed and tested if they are going to be admitted as an inpatient. 
"You're not making any friends doing that, but it still has to be done," Donahue said. "Somebody has to do it." 
Making friends has never been a real objective in the hospital even before COVID-19 came to the States.
"If they're here, they are sick, there's something that happened to them," Donahue said. "When people are miserable they treat people miserably. So sometimes we have patients who are just rude, demanding, and not considerate."
Donahue understands these patient's miserable attitudes since they are impatient from pain and expect everything as soon as they ask. 
"They tend to take it out on the people that are in front of them, which is the nurse or the [Licensed Nursing Assistant]," Donahue said. "Even though you're doing everything you can to help them and advocate for them to the doctor of what they need or what they're asking for." 
Usually by the end of the patient's stay at the hospital they apologize to her and the other nurses for their past abuses, but it doesn't tend to help ease the overall hurt they feel. Despite apologizing, when patients are being overall rude to the people who try their hardest to help them Donahue says, "It still makes you feel unappreciated."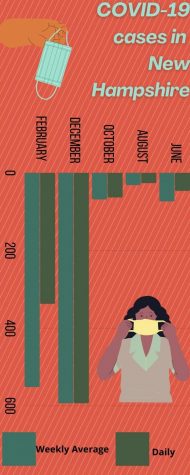 "They believe that everything is quick and it's not, everything takes time," Donahue said. "And I don't think the public realizes that we're really just the middleman. It's out of our hands."
Being the middleman seems to never be an easy thing, but despite that, Donahue still puts her all into helping and making her patients feel at ease. 
"You just have to be careful and mindful," Donahue said. "But also give them the respect they need because they are human beings and they are sick." 
With the stress of dealing with rude, unappreciating patients along with the complications of manuevoring with the rules of COVID-19, working under these conditions has become an everyday norm of hospital nursing for Donahue. It only got worse when Donahue's employers began declining all vacation time since early winter to ensure staff will still be able to take care of patients.
"It's tough when they ask you to work. You do your regular hourly week and every week they ask you to do more and more so it's exhausting and then you don't have time to go 'I'm excited for this vacation coming up,' so there's really no incentive to work," Donahue said. "It just seems endless, almost like a wheel that never ends." 
Without vacations, Donahue loses the motivation to continue day in and day out taking care of patients on a loop.
"It's rough, it's exhausting, I mean people need to have mental health breaks," Donahue said. "People need physical breaks and something to look forward to. It's hard because other lines of work aren't stopping other people's vacations yet in my employment as a healthcare provider I'm not given that incentive." 
Without vacation time, Donahue finds it hard to be able to take the vaccine. Multiple other colleagues that work with her have become bedridden for three to four days after taking the vaccine. They show signs that are similar having COVID, but because it's not a live virus in the vaccine you cannot get it yourself. But because she no longer has vacation time, she is unable to take time off after taking the vaccine to recuperate if needed. 
"I'm waiting to see what the outcomes are for the initial Pfizer and Moderna," Donahue said. "I do know that I have had a couple coworkers that have not had some great reactions to it."
Losing vacation time wasn't the only disappointment presented to the nurses coming after COVID-19. Hazard pay was given out by the government, but not a single person in Donahue's hospital saw it. 
"We're the ones being exposed to these people constantly all day long," Donahue said. "Nobody in my hospital was given that 300 dollars a week stipend, but police officers and firefighters were. I completely understand they don't know what they are going to walk into, but neither do the ED nurses." 
"
This is the field I chose, and I love what I do. They come in looking terrible and within two to three days they leave and look like a whole new person. And it's so good to see them leaving, at this point they're happy to leave and thankful. "
— Angela Donahue
Despite being constantly exposed, Donahue knows that it's even harder on the patients and their families. Without visitors being allowed in the hospitals, family members are constantly calling for news on their loved one while patients are left only with the staff and their TV.
"It's tough because it's so sad for the patients because they don't have their loved ones coming in and taking their mind off the hospital," Donahue said. "Now all they have to distract themselves is to watch TV or stare at the walls." 
She finds it incredibly sorrowful when COVID-19 patients seem to decline and need to be sent to the ICU (Higher level of care). 
"Unfortunately people are dying from Covid, sometimes you get patients and you just see them get sicker and sicker," Donahue said.
Even with the sad moments that come with floor nursing during COVID-19, Donahue would not change her profession even if she could. 
"This is the field I chose, and I love what I do," Donahue said. "I love working in the hospital and taking care of patients. I don't want to work in management, I don't want to work in a doctor's office." 
Being able to help a person hands-on is something that Donahue loves to do. Being a floor nurse is her passion. My mom's love and passion for helping others is what makes her such an amazing nurse and is her driving force to continue helping and taking care of sick people.
"I like the physical, hands on helping my patients and seeing them come in and not feeling that well and seeing them so much better when they leave," Donahue said. "It's so fulfilling."
Leave a Comment
About the Contributor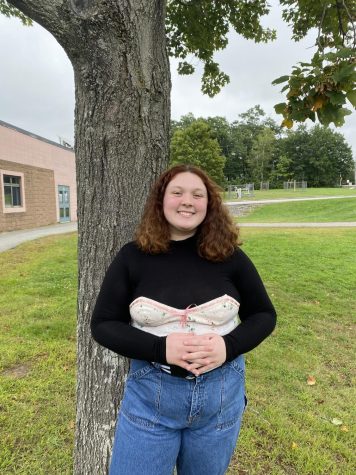 Kaylie Donahue, Magazine Chief
With a love for design and anything involving the arts, Kaylie is prepared for her second year on The Lancer Spirit as the Magazine chief. When she's not working on making the school's magazine beautiful, she will commonly be found at home helping her parents around the house and babysitting her younger siblings. Other than helping around the house, Kaylie enjoys crafting and exercising as common past-times; making something from her own hand from start to finish is what she prides herself on.