Women to Watch 2021: Mrs. Tebbetts
Coaching Unified soccer is more than just teaching kids to play a sport. According to teacher and Unified Soccer coach Ashley Tebbetts, her favorite part is "seeing the relationships that are formed on the team."
With the help of Tebbetts Unified Soccer has become a space for everyone to make connections that will last a lifetime.
"This team encourages one another, and they support one another," Tebbetts said. "This team is inspired by their teammates, and they genuinely enjoy spending time with one another. The sportsmanship that I am able to see towards one another and towards the teams that we play fills my heart with joy and pride."
Junior and Unified Soccer helper, Olivia Windisch has had the opportunity to make these connections during her time on the team.
"Mrs. Tebbetts always makes sure to create an inclusive and open environment which makes it so easy to create connections with others," Windisch said. "This is one of the many reasons why I love unified so much."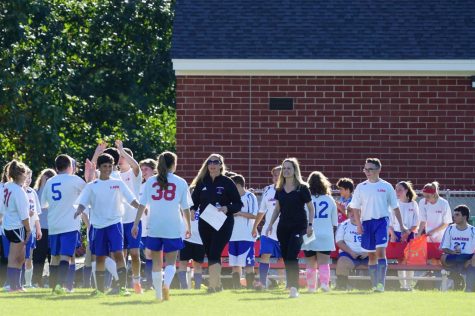 However, Tebbetts' team has influenced her just as much as she has influenced them. 
"I have learned that I will continue to be inspired by the incredible players that surround me when I am coaching Unified," Tebbetts said. "I am fortunate to have the opportunity to watch the athletes and their peer helpers overcome challenges, form meaningful friendships, and lead in a way that shows maturity beyond their years." 
Unified Soccer has had so many successes including a state championship win, but according to Tebbetts "those moments stand out in my memories as accomplishments, but they are not my proudest moments." More so than winning a state championship, Tebbetts is proud of who her athletes and helpers are becoming as people. 
"My proudest moments are when students athletes have stand out leadership moments on the field, and on the sidelines," Tebbetts said. "My proud moments are also when I see our players show respect for officials, and when they celebrate one another's success with high fives and enthusiastic cheering. My proud moments are when I see a player from our team display sportsmanship towards our opponent, and when I see our team sit down and have a pizza party with the other team after a game. My proud moments are when I see Unified athletes and typical peers positively interact with one another in the hall, when I see everyone dressed up and dancing at Unified semi formal events. Unified at LHS is a community, a family, and an organization that I am proud to be a part of."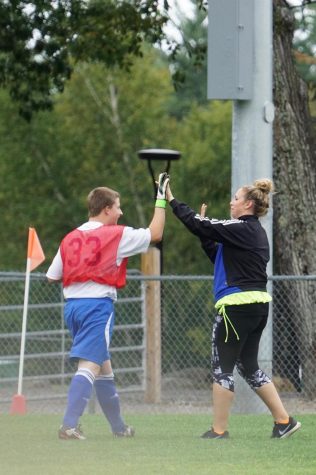 Not only does she teach and coach Unified Soccer at LHS, Tebbetts also began coaching Londonderry's Unified Top Soccer program in 2016. This is a place where athletes and helpers from grades k-8 can also experience Unified soccer.
 Varsity coach and Londonderry Soccer Club president Todd Ellis reached out to Tebbetts about starting the program. At the time Ellis had a son on the Unified soccer team. Ellis said Unified was a wonderful opportunity for his son, and after watching senior night take place he wished that the opportunity for Unified soccer would have begun earlier for his son. 
The following fall Unified recreational soccer for grades 2-5 was piloted and extended to middle school the next year. Ellis knew Tebbetts would be the perfect person for the job as coach.
"She is organized and committed to helping those kids," Ellis said. "Mrs. Tebbetts has had an impact on all of my children by being a teacher, adviser or coach. Her greatest impact is that she is a good listener and truly cares about all of her students, athletes and helpers."
Starting these two programs has been a result of Tebbetts taking some of her best memories and turning them into opportunities to help others. 
"Inclusion and equal opportunity has always been important to me," Tebbetts said, "and I feel blessed to be a part of two programs that support these characteristics."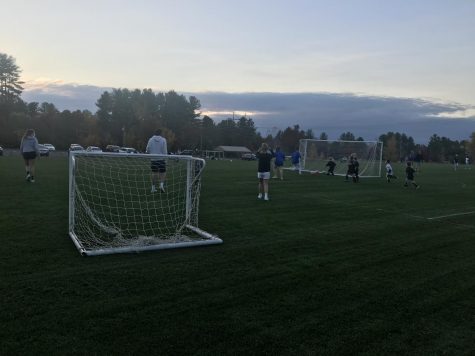 Growing up, Tebbetts had the opportunity to play three sports, and she said some of her "fondest memories" from her childhood and high school years were from the teams that she was a part of. 
"I am proud to be a part of a program that can offer that opportunity to all of our students," Tebbetts said.
Windisch is one student who has taken this opportunity and said she is "continually inspired" by Tebbetts.
"Mrs Tebbetts has always been someone that I can look up to," Windisch said. "She has so much going on in her life but she always takes the time to put effort into everything she does which is so inspiring. Her  hard work and dedication to creating a space where everyone feels accepted and loved is something that not many people can achieve. I truly believe she has created a lasting impact on LHS and our community."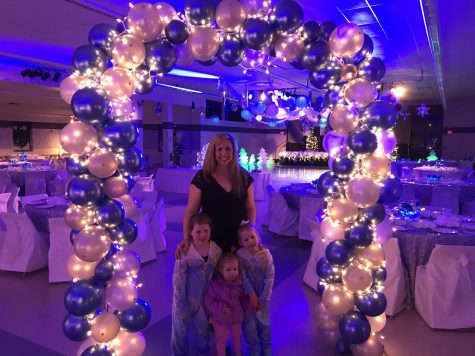 For Tebbets, giving back to the community has always been a priority. Her desire to establish inclusivity and equal opportunity has left our town with two amazing programs that do just that. 
"I enjoy giving back to the community because I am proud to live and teach in Londonderry," Tebetts said. "My daughters are currently inclusion peers at Moose Hill, and they play Unified top soccer for our town recreational team.  Personally and professionally I see firsthand how beneficial an inclusive program can be for both special education players/students and their peer partners/helpers."
View Comments (2)