School board meeting addresses back to school policies
As Londonderry schools resume session after summer break, the school board reconvened to brief parents on opening day events and procedures that were carried out throughout the first week of school.
At the School Board meeting on September 7, opening day briefs were given by the principals of all Londonderry district schools as well as the director of Moose Hill. 
Londonderry High School's principal, Jason Parent, started off his remarks thanking the custodial staff, as well as the summer I.T. interns for their help in distributing laptops to the freshmen and sophomore classes.
As Mr. Parent reviewed LHS's opening day, he informed the board of the general feeling within the school campus.
"The kids were just tremendous. [They were] Really excited to be back and it felt like Lancer Nation again," Mr. Parent said.
Dates of upcoming events at LHS were also revealed at the meeting:
School PIcture Day: Tuesday, September 14th

High School Parent's Night/Open House: Thursday, September 23rd at 6 pm

Mack Plaque at Pinkerton Academy on the weekend of the 24th and 25th of September
Mr. Parent ended his briefing once again by thanking his constituents.
"I can't say enough about our students and staff. They've surely been fantastic. It's been a great start to the school year," Parent said.
After Mr. Parent, as well as the Southern N.H. Poured Concrete Construction Inc. President and Girls' Varsity Lacrosse Coach, Bob Slater, made closing remarks, public commentary was permitted at exactly one hour into the meeting.
Comments regarding the "Mask – optional" policy in Londonderry schools were made.
The first resident commentator, Paul [unintelligible] felt that the "mask-optional" policy was "the right thing to do", respecting those who choose to wear a mask as well as those who don't.
Right after, Ryan [unintelligible], a medical doctor who works in primary care and takes care of COVID-19 patients took the floor to share his thoughts and concerns regarding the current mask policy in Londonderry schools. 
"I have a unique and intimate perspective on the impacts of COVID-19 and its implications on public health," Dr. Ryan said. "I am not alone in my medical knowledge. Nearly all of my colleagues share the same understandings and perspectives on the pandemic. We all stand united on the importance of masking in schools."
Dr. Ryan cited American medical associations such as the American Pediatric Association, American Academy of Family Physicians, and Infectious Diseases Society of America. Dr. Ryan attempted to provide rationale behind his concern to mitigate any sort of bias. 
"This advice is not political, it is not meant to take away an individual's freedom," Dr. Ryan said. "It is a scientifically proven way to reduce the spread of this virus and reduce our collective suffering"
Following Dr. Ryan's comments, R.N. Allison Parker announced her plans to run for school board candidate to "offer the lens through which she is viewing these challenges." 
As a registered nurse and nurse practitioner with 20 years of maternal child health and psychiatric health, R.N. Parker used her experience from board meetings at the hospital as a metaphor regarding the role of adults during this pandemic.
"Decisions on how to safely and effectively care for human beings were not based on debating the individual liberties of clinicians," R.N Parker said. "It's about the patient. And here, it's about the kids. Check your egos and politics out the door. We can truly do better."
After the floor was opened back up and the school board took some questions about quarantine and regulations for school board candidacy, Speaker Amy Finamore made a motion to conduct interviews next Monday evening.This will be  a special meeting with the top 3 chosen candidates of their [school board member's] choice. The current board members will present those names to the district clerk and the district clerk will then inform the chosen candidates to arrive at the LHS cafe at 7 pm on Monday to get interviewed.  
There were a few contentious moments between residents and the school board, particularly when discussing COVID-19 funds and SR3.
Nearing the end of the meeting, nurse practitioner, Sharon [unintelligible] voiced her concerns bluntly to the school board when asking about COVID-19 testing and liability yelling, "You all should be fired (except for Bob)".
There were more timid moments during the meeting, especially when discussing topics such as going touchless and being more technology-based as a district.  
A majority of the school board meeting was focused on the ongoing COVID-19 pandemic, with focuses surrounding mask policies, COVID-19 testing, and vaccination status. A few questions regarding funding and town elections were sprinkled in throughout the duration of the meeting.
Leave a Comment
About the Writer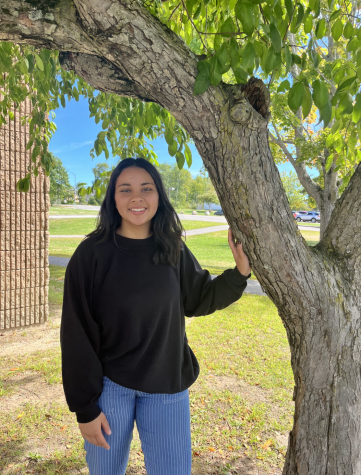 Alisha Khalil, Online Chief
Senior Alisha Khalil has been on staff for 3 years. Starting as a reporter her sophomore year, she is now The Lancer Spirit's Online Chief, Political Analyst, and News Editor. She started The Lancer Spirit's first Political news column. In her free time, Alisha enjoys making coffee and listening to music.