Kanye's new album- a hit or miss?
Kanye's new album "Donda" was recently released and it seems to be a hit or miss. 
Reviews like Pitchfork believe the album "lacks connective tissue" and refers to it as a "data dump" (Pitchfork Reviews). 
Others, like Collegiate Times, think "Donda" "makes for a creative departure from mainstream rap music" and is a new way of rap (Collegiate Times). 
The album was supposed to drop on July 23, then got pushed back to August 9, and finally released three weeks later on August 29. 
The album is a memorial for Kanye's mother, Donda, who died in 2007. It features a song named after her and a chant of her name as the first track. 
When first listening, I thought this was a little weird. However, after learning it was supposed to be Donda's heartbeat as she died, I had a new appreciation of it. 
The album also gives listeners a view of Kanye's life, clueing in on his recent divorce with Kim Kardashian. Throughout the album Kanye also mentions things like "I'm losing my family," and voices of his children. 
The rest of the album has a unique feel. His songs are soulful and the lyrics are well thought out to fit his style. 
The album has a distinct vibe that is really the hit or miss part. For me, I really like this euphoric and soulful style from Kanye, which was first seen in his 2016 album "The Life of Pablo" and his 2018 album "ye". 
Some of my personal favorites of the album are "Jail," "Jonah," "Hurricane," "Moon," "Ok Ok," and "No Child Left Behind." 
The album also features a part two of a few of the songs including "Jail," "Ok Ok," "Junya," and "Jesus Lord." 
Other artists can be seen featured on the album like Lil Baby, Pusha T, Playboi Carti, Travis Scott, Roddy Rich, Don Toliver, and more. Having these features makes the album bring back Kanye's typical style, while still giving off a different vibe. 
Overall, the album is something I find myself always putting on. Kanye's distinctive style really shined through in this memorial. His lyrics werre heartfelt and each song has a meaning. 
However, I do understand how it might not be seen as spectacular. The album feels a little rushed, and even a little long. 
In the end, I think "Donda" is something the rap/hip-hop genre can benefit from, due to Kanye's specific sound. The album will continue to be played in my car at all times, but if you prefer to put on "Certified Lover Boy" I guess that's fine too.
Leave a Comment
About the Contributor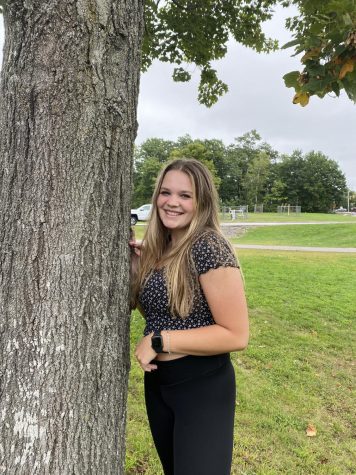 Laura Haas, Online Chief
Senior Laura Haas is continuing her fourth year on staff. Beginning as a news editor, Laura has made her way to a chief position. When not in journalism, Laura plays volleyball all year round.