Boys' soccer brings home Mack Plaque win, heads into rest of season with high hopes
[foogallery id="34340″]
Boys soccer has been dominating the field in their 2021 season with a record of 6-3. The team had a successful Mack Plaque game versus Pinkerton with a score of 1-0.
Senior Tyler Kraft had been waiting for his moment to shine during his senior year Mack Plaque game. 
"On a personal level, this game meant a lot to me," Kraft said. "Since freshman year we haven't lost to Pinkerton. Winning the Mack Plaque game this year was extremely exciting, we finally had fans again and it was a really cool environment to play in."
Senior Liam White has looked up to the seniors before him for the past three years and now had his chance to play in his own senior Mack Plaque game. The environment of the game gave the boys a boost as they didn't have fans last year due to COVID-19.
"[Mack Plaque] is a big game; I remember watching this game a couple of years ago and wanting to play so badly," White said. "It just means so much to win a game in front of all the fans and being a senior makes it even better."
Even though winning a Mack Plaque game is a monumental accomplishment, the boys still have many games ahead before playoffs. The team chemistry that they have built over the years has brought the boys a step above their competition. Many of the Lancers have been playing together for years which has benefited them on many levels.
"A lot of us grew up playing together when we were younger and we have definitely benefited from that," Kraft said. "Knowing your teammates well makes a huge difference in a game."
Growing up together has given the team a strong foundation for their senior season.
"Playing with the guys since the youth level has been very instrumental in the season because we all know each other's strengths and weaknesses and we use that to our advantage," White said.
As the season continues and playoffs are fast approaching the team is continuing to set goals for themselves. 
"The goal for the rest of the season is to win games, the more games we win, the more home games we will have in the playoffs," Kraft said. "We are undefeated at home this year so far so home games would be extremely beneficial to success in the playoffs." 
Looking ahead in the season the team's skill and understanding of each other will be their biggest assets. 
"Something special about our team is that everyone wants to see each other succeed. It's not who scores the most goals on the team, it's about winning," Kraft said. "It's a super fun team to be around and everyone is always laughing and having a good time."
Leave a Comment
About the Writer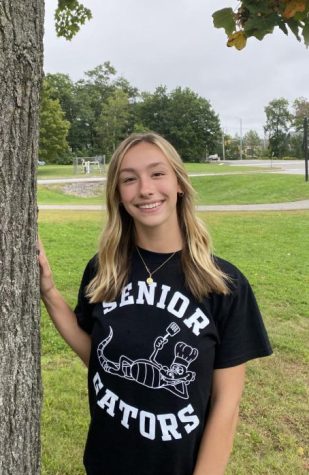 Olivia Windisch, Sports Chief
Olivia has been on staff with The Lancer Spirit for three years. Olivia is a huge sports girl; when she isn't on the field, court, or track with the Unified family, she spends her time cheering on Lancer Nation. Olivia is also involved in many clubs at LHS and enjoys spending her time volunteering. If there was an award for loudest fan... Olivia would win it.