Revised universal mask mandate at LHS
Due to substantial community spread of COVID-19 in Londonderry, the School Board voted 3-2 on a motion to require masks for all schools at the most recent meeting on November 9, 2021.
School Board Chair Amy Finamore said at the time of the school board meeting, all schools had met "the thresholds for mandatory universal masking."
"We were seeing in-school transmission and rising caseloads," Finamore said. "Many parents reached out to the school board asking us to require masks. Further, as a school board, we must put student achievement at the center of our decisions. Students missing school due to either viral symptoms or a positive COVID-19 case is not good for their academic experience or academic achievement."
According to School Board member Greg DePasse, the board looked to the NH Department of Health and Safety's guidelines to make this motion.
"Whenever community spread reduces from 'Substantial' and we don't have a designation from NH Public Health of 'Multiple Clusters' nor 'Larger Outbreak,' then the universal masking ends," Depasse said.
Finamore said she has "long advocated for mandated masking in substantial spread," which is supported by "highly accredited public health organizations" such as the CDC, American Academy of Pediatrics (AAP) and Children's Hospital at Dartmouth (CHaD). 
"These medical institutions recommend requiring masks for K-12 students who are indoors, due to COVID-19's high rate of transmission," Finamore said.
The recent motion passed by the school board to implement universal masking modifies the last column in the reopening plan, which was put in place in August. The revised matrix (slide 18) does not modify any other aspects of the 2021-2022 school re-opening plan.
Londonderry schools have taken numerous measures to reduce transmission of COVID-19 including increased ventilation, air purifiers, UV light cleaning, and increased physical distancing when possible, with the long term goal of academic continuity.
Finamore believes that adding a universal mask mandate would be effective in reducing transmission and number of absences, which "can help support students (academically)."
"Together, these [measures] create a multi-layered mitigation plan with the goal of reducing transmission, allowing our students to remain in person throughout the entire year," Finamore said.
Leave a Comment
About the Writer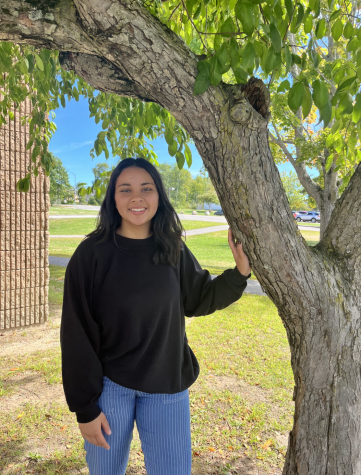 Alisha Khalil, Online Chief
Senior Alisha Khalil has been on staff for 3 years. Starting as a reporter her sophomore year, she is now The Lancer Spirit's Online Chief, Political Analyst, and News Editor. She started The Lancer Spirit's first Political news column. In her free time, Alisha enjoys making coffee and listening to music.