Lancer hockey prepares for a fresh start this upcoming season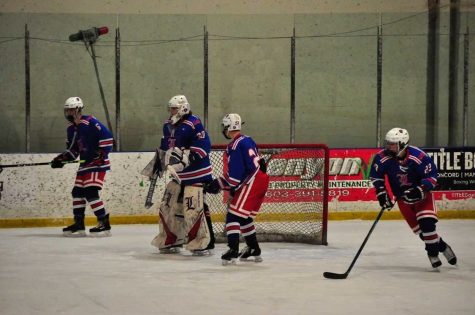 As the winter sports teams get ready to begin their 2021-2022 season, the boys' hockey team has one thing on their mind: winning. Coming off of a losing season last year, they hope to start fresh and redeem themselves this season. 
The boys are preparing to play against their toughest competition and believe they will be ready for whatever comes their way.
"Our biggest competition this season is probably going to be between Concord or BG," senior Matt Palmer said. "Every year they bring a lot of talent, speed, and physicality to their gameplay." 
Senior Brandon Savage also views Pinkerton as strong competition this year. 
"I think our biggest competition coming into the season is PA because they knocked us out of the playoffs last year, so I think everyone will be ready to play them," Savage said.
In preparation for their upcoming games, the boys have put work into strength and conditioning with trainer Michelle Hart-Miller.
"We've been lifting and training with Michelle throughout the summer and fall building up strength and agility to keep up with [the] demand of the long season," Palmer said.
Outside of the weight room and off the ice rink, the team has also been working to build their connection with each other. 
"Normally we would have spaghetti dinners coming up to a game but Covid put an end to that. We are looking to get into more activities as a team this year with [fewer] restrictions," senior Jake Holdsworth said. 
Although the boys may be focused on winning this season, they have found a balance between work and play, allowing them to grow even closer. 
"Whether it is throwing the body around in practice, hyping each other before a big lift, or playful banter amongst ourselves when adjustments need to be made, we strive to win games and to enjoy the moment," Palmer said. 
For any sports team, last year's Covid-19 restrictions threw a lot of curveballs at the players., but the team has used those moments as ways to learn. 
"Last year there were multiple hiatuses in our season thanks to Covid, which caused us to lose valuable time that could have been spent working on systems, team bonding, and conditioning," Savage said. "Moving forward this season I hope we don't run into those same issues, but, as we learned last year, our situation with Covid is always in flux and we can only worry about what we control."
This year's roster is heavily filled with seniors who "know their roles on the ice", Holdsworth believes this will bring an advantage to the team. 
"I think this year there is going to be more heart and drive in the games because it could be the last time many of us play hockey," Holdsworth said. 
Going into their final high school hockey season, the feeling seems to be described as "bittersweet."
"Hopefully [this season] will be an opportunity for us to make our mark as one of the top teams in the state," Palmer said. "But there is also another part of me that knows that this will be the last time I'll ever play alongside the boys I've grown up skating with since I was six years old, which is certainly hard to internalize."
However, other players like Savage are looking forward to their final high school hockey season. 
"I am extremely excited because I've built such a strong connection with all of my teammates since freshman year and I know all the seniors and the rest of the team want to give it everything they have this year," Savage said. "I think we will have a memorable season. On the other hand, I'm going to miss playing for this school, so I look forward to soaking in everything on one last ride with my brothers."
This sport has been a way for the boys to meet lifelong friends and bond in a way that being on the same team allows. 
"With this being my last season playing Lancer hockey all I can look back on were the good times we had," Holdsworth said. "From freshman year to now everyone has been so connected and many new friends were made along the way. I'm so grateful to have had this opportunity to be connected with all these great people and get to play the sport I love."
As these seniors get ready to play their final games at LHS, they are hopeful for what the next year's team will bring to the rink. 
"Sophomore Matt Boyon, who just came off a long recovery from a torn ACL and Meniscus is certainly someone also to watch out for," Palmer said. "His work ethic and drive to get better [are] very notable."
In addition to Boyon, there are other hopefuls for the upcoming team. 
"One player to look out for this year in my opinion is Jayden Hamilton, he's a sophomore, with good size and the skills we need," Savage said. "Seeing him play so far I can tell he will be a threat this season."
Holdsworth believes there aren't just one or two players other teams should watch out for. 
"I wouldn't say there is one player to pick out of the group," Holdsworth said. "Everyone has their talents but our first line is something special. They always find a way to connect a pass and make big plays when needed. They are going to be a big threat this year."
No matter what grade, the boys seem to have one common goal coming into the winter season. 
"Put simply, our goal this season is to win," Palmer said. "Whether it is between PA, Salem, Windham, BG, Concord, Exeter, or Bedford, everybody on the team wants to put the past in the rear-view mirror and to succeed."
Leave a Comment
About the Contributor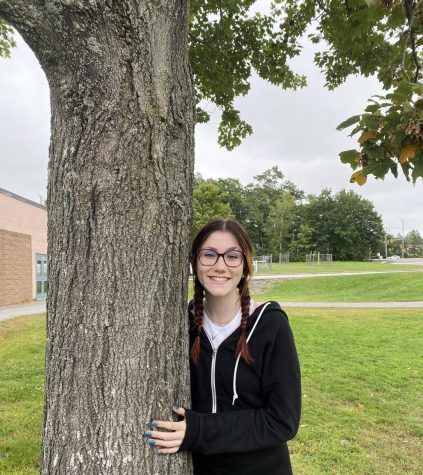 Audrey DeAngelis, Assistant Editor in Chief
Audrey is in her third year on staff, starting as a reporter her sophomore year. Her first year as an editor, Audrey was Online Chief and is very excited to be Assistant Editor-in-Chief this year. Next year, Audrey plans to study forensic science and pursue a Master's degree in chemistry in hopes of becoming a crime scene investigator.