Lancers share memories behind their favorite Christmas ornaments
The holiday season brims with memories; the cherished, even the unpleasant. And some of these memories are preserved through ornaments hanging on a Christmas tree. Here are the tales behind some Lancer's favorite tree decorations.  
Sophomore Mackenzie Gainey's Ornament
Sophomore Mackenzie Gainey, whose father works in the army, finds comfort in a simple but meaningful ornament. 
"The ornament that my family has is the African symbol of eternal family," Gainey said. 
Because her father has been sent to Africa "for various reasons," Gainey believes that this specific ornament is an important aspect of her family's Christmas, as it can help put them in a positive mindset even when things get tough.
"I typically associate [the ornament] with my dad and his career," Gainey said, "and it also demonstrates that we'll be able to be together forever. We'll always be a family."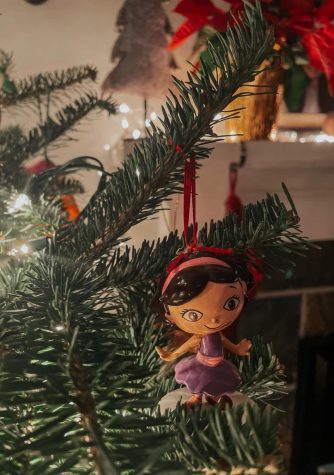 Sophomore Brooke Secor's Ornament
Sophomore Brooke Secor finds that some of her biggest childhood memories stem within a Little Einsteins ornament. 
"When I was little, I used to love the Little Einsteins tv show," Secor said. "My mom looked everywhere because she wanted Little Einsteins character ornaments. But she couldn't find any, so she bought little figures at the store and made them into ornaments for me."
Secor said that the fact that her mom made the ornaments herself, "to make my Christmas special," reminds her to stay in a positive mindset during the holidays. 
"When I see this ornament it reminds me to just be myself, and be grateful for how lucky I am to have parents that love me so much," Secor said. 
Sophomore Amara William's Ornament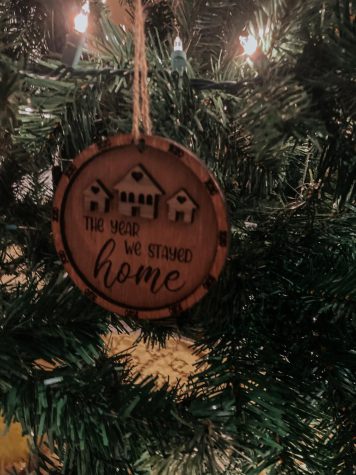 Sophomore Amara William's favorite ornament, surprisingly, has to do with the memory of a not so easy Christmas. 
"We have an ornament that represents COVID," Williams said, "so we can remember our COVID Christmas."
Williams said her family's COVID Christmas was "very different," from past Christmases, as her family wasn't able to do the things they normally would. 
"We were at home when we normally go and see family," Williams said. "Instead, it was zoom time with family."
But even through the misfortunes of missing out on seeing her loved ones, Williams said that she learned a lot during this particular Christmas. 
"Yes it was hard, but it ended up showing me how much family was important to me," Williams said. "I now have an even bigger appreciation for them."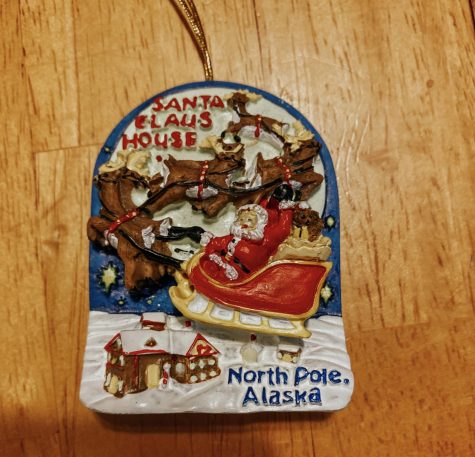 Senior Ahna Gainey's Ornament
Senior Ahna Gainey said that her favorite ornament "makes me feel nostalgic."
"Looking at it makes me want to travel somewhere new," Gainey said. 
Gainey was given this ornament by her mom's best friend while they visited her in Alaska. And though Gainey doesn't "remember much" of this trip, she remembers the warmth she was shown even in the cold weather. 
"I remember having fun with my mom's friend, and she was always very nice," Gainey said. "She's almost like an aunt."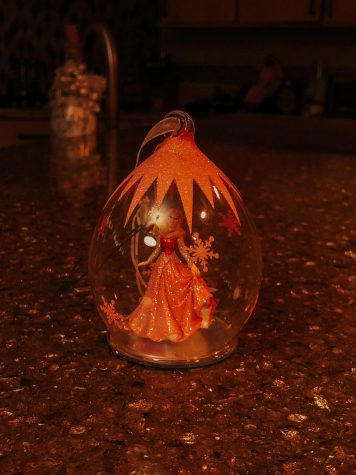 Sophomore Jillian Mazzola's Ornament
Sophomore Jillian Mazzola said that her favorite ornament is always "something I look forward to seeing on the tree."
"It reminds me of the time I went to Disney with my family," Mazzola said. "I remember having the best time ever getting to see some of my dad's family that live in Florida."
Mazzola is reminded of the "happiness, love and excitement" she felt when getting to see family when she sees the ornament hanging on the tree during the holidays. 
"It brings back a lot of good memories, and makes me think of being with my family," Mazzola said. 
Memories, the good and bad, are important aspects of the holiday season. They can give comfort, teach lessons, and overall, allow for growth and progression even in difficult times. And these memories and emotions can even be held in seemingly small objects, like ornaments that hang on Christmas trees. 
Leave a Comment
About the Contributor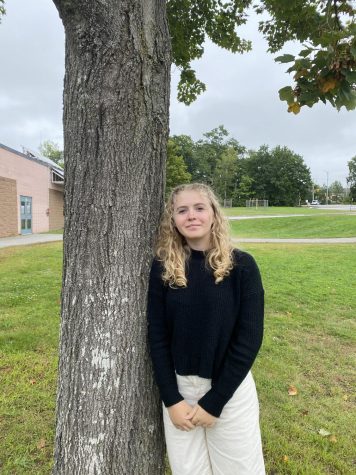 Catie Brown, Features Editor
Catie is a junior, and has been part of the Lancer Spirit Staff for two years. Her interests in writing and photography are what drove her to become features editor. She also plays volleyball, tennis, and rock climbs in her spare time.