Lancer Spirit becomes finalist for CSPA Crown Awards
When March rolls around, the Lancer Spirit staff will be wearing a crown.
Not an actual, physical crown, but one that is just as precious to the staff and adviser Mary DeWinkeleer. On December 15, the Lancer Spirit was announced as a Crown Awards finalist for Digital Media, an honor the Columbia Scholastic Press Association (CSPA) gives to the top publications in the country for the first time.
"I am so thrilled I can't even begin to explain it," Dewinkeleer said. "It has been a dream of mine to get a crown from CSPA for many years now." 
The staff will find out if they will receive a Gold or Silver Crown Award in March 2022, which is when the CSPA Journalism Convention normally takes place, but has been canceled for the last three years due to COVID-19.
"I'm sad not to be able to attend the conference again this year," DeWinkeleer said. "Especially because it'd be amazing to receive the Crown in person. But honestly? I don't care how we get it or if what we get is Silver or Gold. I'm just way too excited to be a finalist."
Dewinkeleer thinks of the Lancer Spirit staff as a "family" and is so grateful and proud of everything the current staff has accomplished, as well as the achievements of her previous staffs. 
"I have all of my staff pictures up on the wall for a reason because I want us to remember where we came from and how much work every single staff has done to get us to this point," Dewinkeleer said. "I know where a lot of my previous editors are right now, and I keep in touch with them, so to me this is a collective accolade for everybody because so many people have worked so hard for this." 
According to Columbia Scholastic Press Association (CSPA) website, the Columbia Crown awards "honor top student publications" chosen from CSPA's members throughout the country. Crown Finalists are "actual winners, not nominees. 
To become a Crown Finalist, where the standards are set by CSPA, a publication has to be deemed "excellent" in each of the categories being judged: design, photography, concept, coverage, and writing. There were a total of 817 publications that were eligible for judgment for the 2022 awards.
Class of 2019 graduate Nicholas Desrosiers, who was the Sports Chief of the 2018-19 Lancer Spirit staff, said the "publication's diversity and creativity make us stand out among competitors."
"The Lancer Spirit is a powerful publication that well encapsulates the culture of Lancer Nation," Desrosiers said. "The respect that we have garnered from the community shows how special we have grown to be." 
Senior Audrey DeAngelis, the Assistant Editor-in-Chief, believes the staff's hard work last year "paid off" and she is "incredibly proud" of the entire staff.  
"We overcame a lot last year," DeAngelis said. "It was difficult because we didn't get to really work together as a staff with hybrid learning and even when we came back, there was a lot of disconnect." 
Due to COVID-19 hardships, the Lancer Spirit only produced one magazine last year, so DeAngelis believes that "all of the staff members wanted to work really hard to make sure that the website was the best that it could be."
"It feels really nice to be part of a staff that was recognized this highly," DeAngelis said.
As the Sports Chief, senior Olivia Windisch experienced the difficulties COVID-19 brought to the publication as a whole, but especially the sports pages. 
"Last year there were no spectators at the games, so we couldn't really get the multimedia we wanted," Windisch said. "The whole atmosphere and excitement felt like it was drained from my section, so it's really exciting that all of our hard work has come out to this moment."
Windisch believes that improving the multimedia aspect of Lancer Spirit Online (LSO) publication was key in getting us to the finals.
"I know it's really exciting to see your face in a newspaper, so when people see that, they love to click on the stories and read them," Windisch said.
Windisch "has fun" in all aspects of her position as Sports Chief and believes that the idea of enjoying your work is what defines the Lancer Spirit. 
"I feel like everyone's passion for writing and producing the best work is what makes this publication what it is and what makes people want to read our stories," Windisch said.
Senior Courtney Clark, the Editor-in-Chief,  has been with the staff throughout her entire high school career and knows the dedication each member has towards the publication. 
"We were always working hard towards our goal and we were able to execute well," Clark said. "Our publication was always good, so it's really cool to see now how all our hard work has paid off." 
Clark said teamwork and "working hard" were what got the staff through last year. It's that "family feeling" that helped them "be able to achieve a goal that we wanted for so long."
"I think that sticking together and realizing each other's strengths and weaknesses really helped because when one person is lacking, the other person can help," Clark said. "I think our teamwork and understanding each other has helped us to be able to get to where we are and overcome those challenges that we had."
Senior Laura Haas, the Online Chief, has also been on staff since she was a freshman. Throughout her time at the Lancer Spirit, Haas has appreciated seeing the progress the staff has made over the years. 
 "Mrs. Dewinkeleer has been through the entire process along with [Courtney] and me," Haas said. "We are the only two that have been on the staff all four years and to see her progress as a writer and for her to see my progress I think is just really cool." 
By winning this spot in the awards, Haas believes that a sense of validation has had a positive impact on the staff.
"Finally getting recognized for all the hard work that we've put in every year is so incredible," Haas said. "I think this recognition definitely helped us all grow our confidence more and showed us that all our hard work was finally going to pay off. It's just a great feeling since watching it all happen from the beginning and being a part of it, it's unlike anything else."
Senior Kaylie Donahue, the Magazine Chief,  is excited by the honor of winning a Crown and feels that this award is something that they have deserved for quite some time.
"I am overjoyed," Donahue said. "I feel like [this award] was long overdue and something that we deserve as a staff from the last couple of years. What we've gone through feels like it finally symbolizes all of our hard work that we've been trying to get to." 
The growth in confidence is the main factor that Donahue believes contributed to us winning the crown.  
"We might've lost our groove a couple of times," Donahue said, "but overall we've stayed really close and learned to bond with each other."
From late nights spent working on the news magazine, to group chats discussing an ethical issue about an article, and bonding over a night of bowling, this staff is close in and out of school.
"I really love being a part of the staff," said Donahue, "and I don't think a lot of us would really know what to do with our lives without this publication."
Leave a Comment
About the Contributor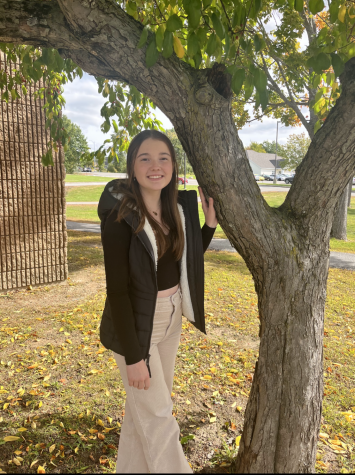 Emma Desrosiers, Executive Sports Editor
Junior Emma Desrosiers is cordially occupying the position of Executive Sports Editor for her first year on staff. In her free time, Emma enjoys playing field hockey on her club team, hanging out with her friends and family, and listening to music.