Which is better? Real vs. fake tree
December 23, 2021
Real tree
Fall has come to a close and the next thing on everyone's minds is Christmas. People can not wait to get into the Christmas spirit by baking gourmet treats, making hot drinks, and most importantly, decorating the house. A real Christmas tree not only brings joy to the heart, but to the Earth as well. 
Purchasing a real Christmas tree for the holidays will never fail to bring more Christmas spirit to the house than a fake tree ever could. Spending the day with the ones you love most while picking out the perfect tree and drinking hot chocolate is a far more memorable experience than going to any store to pick up a generic Christmas tree. 
The smiles, joy, and laughter all around you is unbeatable. The happiness in the air at a local farm with families shopping around for a tree, is indisputable.
Joy and happiness isn't the only thing in the air. The signature Christmas pine-tree smell also lingers, further spreading the holiday spirit. If you buy a real Christmas tree, Christmas would truly be in the air in your home. 
Purchasing a real tree not only helps local farmers, but also helps the environment. It is important to support local farmers in order to preserve the Earth.
"If farmers are not getting paid, then they are more likely to sell their land to developers, which would eventually lead to less trees being planted to then absorb excess carbon dioxide in the air," said LHS Green Council President Sean O'Mara.
The process of both importing and transporting fake etrees for consumers to purchase also weigns a heavy toll on Earth's atmosphere. 
"Almost 85% of fake trees come from China, which means that huge carbon waste results from the boats shipping them [fake trees] here, as well as from the trucks that ship the trees around the country," O'Mara said. 
Unlike fake trees, real trees can be recycled and repurposed. There are several programs which turn real Christmas trees into mulch, compost, or plant support. 
It is completely understandable that some consumers would gravitate towards purchasing a fake tree due to its simplicity as opposed to the time and effort involved in buying a real tree. Not everyone has the time to go out and choose a tree to then go through the process of recycling of a tree. If you have the time and desire, I say that a real Christmas tree is the better option.
About the Contributor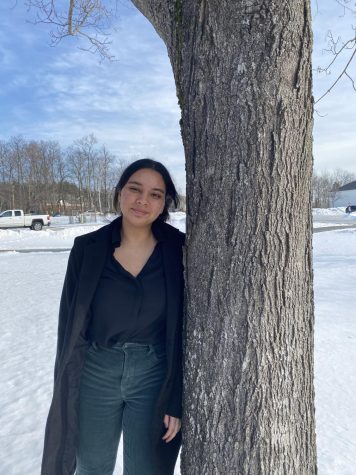 Alisha Khalil, News Editor
Junior Alisha Khalil has been on staff for 2 years. Starting as a reporter her sophomore year, she is now a News Editor as well as a Political Analyst. She started The Lancer Spirit's first Political news column. In her free time, Alisha enjoys making coffee and listening to music.
Leave a Comment
Fake tree
It's cold outside and November has come to an end; it's officially time for Christmas. So pour the hot chocolate and pull out the decorations because the whole house can't wait to get into the spirit.
And there's no need to wait or plan a day to set everything up, it can be in a complete spur of the moment because you have a fake tree. No need to stand out in the cold wandering aimlessly through a field of identical trees until you find the "perfect" one, because a fake tree takes away all of those inconveniences.
During the holiday season, I never had a real tree since my sister is allergic to pine. And honestly, I wouldn't want to have it any other way.
Real trees are a hassle, and at least in my family would cause a lot of fights. Whether it be not agreeing on the tree or the hassle of picking up the fallen needles, a fake tree just solves every and any problem.
For one, our tree is always perfect. The perfect height, the perfect width, the perfect structure, it always fits nicely and looks beautiful. There's just no aesthetic flaws on a fake tree.
Besides the functionality of a fake tree, it also just makes more sense for the safety of your home. When lights are strung on a tree, and pine needles start to dry out, it creates a potential fire hazard.
Also, when having pets, you have to constantly watch a real tree to make sure they don't ingest any pine needles or the water. And with my family being gone for the majority of the day, I just know we would have to take a trip to the vets: holiday edition.
And of course, I get that picking out a tree could make a great holiday tradition as well as helping local farmers. But the simplicity of a fake tree is hard to beat.
There's no care taking, no trips to the dump, or the need for multiple trees in one season. A fake tree requires a one-time assembly that you can forget about from the end of November all through December, or even January if you don't get around to taking it down. 
So all together, there is a clear conclusion to the annual real vs. fake debate: fake trees are simply just better. For the families with pets to the ones who are constantly on the move, fake trees just take away an unnecessary stress to the holidays.
And if you have a real tree, there's nothing wrong with it. Just don't judge my family for having a tree that works better with our needs.
About the Writer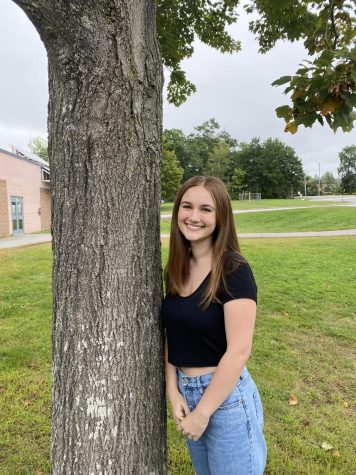 Courtney Clark, Editor-in-Chief
Senior Courtney Clark has been on staff for 4 years. Starting as a reporter in her freshman year, she then worked her way up to an Opinions Editor, then Assistant Editor-in-Chief, and now Editor-in-Chief. Next year she plans on being an Elementary Education Major at Keene State College.
Leave a Comment