Melody Mashups: Creating the perfect Christmas Morning playlist
As snow dusts the ground, bells are heard jingling in the distance. A feeling of peace falls over the crowds as smiles become brighter and hearts become warmer. The most wonderful time of the year is here: the holiday season has arrived. Whether you are out shopping, driving through the snowfall, or even while you spend time with your friends and family, a good set of songs is needed to make those moments this December just a little bit brighter. Here are some of the top songs to listen to this holiday season.
"All I Want For Christmas Is You" – Mariah Carey
The be-all-end-all of modern Christmas songs, no artist can scream the Christmas spirit like Mariah Carey can. The quiet opening of bells can immediately get any Christmas enthusiast in the mood. The build from a serenading ballet to a pop classic is a perfect mesh for Carey's powerhouse vocals. This song can always be heard on the radio, out shopping for presents, or at the top of any Christmas playlist.
"It's the Most Wonderful Time of the Year" – Andy Williams
If there's one constant to the Christmas season, it's Andy Williams' powerful voice ringing through speakers in every store, car, and house across the country. Although there are many interpretations and covers of this Christmas essential, no one quite does it like Williams. Accompanied by the iconic melody of trumpets, William's hearty, jazz-laced voice is an essential for Christmas.
"Christmas (Baby Please Come Home)" – Michael Bublé
The sounds of saxophones paired with Michael Bublé's hearty and warm vocal abilities makes his rendition of this Christmas classic one of the best there is. Even though many Christmas songs have a tie to love around the holidays, there is none like this song. Bublé's ability to jump from quick notes to a stunning belt in mere seconds is a standout feature of this holiday hit.
"Christmas In Hollis" – Run DMC (A Very Special Christmas)
Taken from the iconic 1987 album "A Very Special Christmas", Run DMC is a standout in this compilation of award winning artists. Fueling this song with their iconic and influential hip hop, they provide a well executed change of pace to the deemed "normal" Christmas songs, making it a top choice to listen to this season.
"Santa Looked a Lot Like Daddy" – Brad Paisley
Although country music may be deemed a "no" around the holidays, it is hard to deny that Brad Paisley is an exception to the rule. Taking his own spin on the classic song I Saw Mommy Kissing Santa Claus, Paisley is able to execute the childlike confusion and wonder of Christmas and Santa Claus while being accompanied by a standout guitar performance.
"Hallelujah" – Pentatonix
The record smashing acapella group gives it their all in their version of the 80s classic. Pentatonix has been a staple around the holiday season for years, and standouts for their unmatched vocal abilities. The five members standout in this particular song, being able to blend their voices to reach every high and low note scattered throughout the melodies. 
Underneath the Tree – Kelly Clarkson
If there's one standout about Kelly Clarkson's momentous career to note, it's her stellar Christmas songs. Underneath the Tree is a part of Clarkson's first Christmas album "Wrapped in Red". This featured song is the perfect hit to play this holiday. Clarkson's high notes come in the form of her perfectly executed riffs and the subtle hints to some of the original classic Christmas classic.
"Santa Tell Me" – Ariana Grande
When looking at one of the greatest pop stars to shine in this past decade, few would peg the actor turned vocal superstar Ariana Grande to produce a smashing Christmas EP. Proving everyone wrong, Grande has done it twice. "Santa Tell Me" is executed to show Grande's ability to hit ear-ringing high notes along with perfectly executed vibratos.
"Baby It's Cold Outside (feat. Louis Jordan & His Tympany Five)" – Ella Fitzgerald
No Christmas duet quite feels like the holiday season like "Baby It's Cold Outside". This iconic song has had many interpretations, and each one still brings that iconic holiday sing-along feeling. This duet is most well known for its appearance in the Christmas classic Elf. There isn't another Christmas song that brings people together. 
"(Everybody's Waitin' For) The Man With the Bag" – Seth MacFarlane
Although many associate Seth MacFarlane with his well known adult-animated show Family Guy, many don't know that MacFarlane doesn't just kill it on the comedy front: he has a powerhouse set of vocals. Even as a former presence at Carnegie Hall, MacFarlane truly shines in this jazz-based Christmas hit. With a voice paralleling the power of some of the greatest jazz vocalists of the 20th century, "(Everybody's Waiting' For) The Man With the Bag" is a Christmas playlist essential.
Leave a Comment
About the Contributor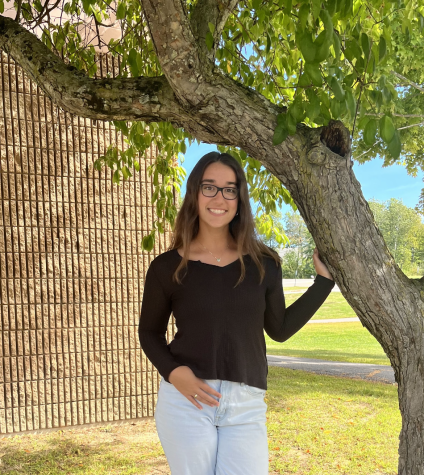 Makenna True, Editor in Chief
Heading into her third year on staff, Makenna is excited to take the reins as Editor in Chief of The Lancer Spirit. In her spare time, Makenna can be found playing competitive travel softball for the NH Prospects organization. She also is a part of NHS, the Green Council, and Senior Gators.