LHS Drama Club lights the stage with production of "Freaky Friday"
After two long years with the stage lights shut off, the LHS Drama Club is finally returning to the Derry Opera House to put on their performance of Freaky Friday: A New Musical this upcoming April 14 – 16. As her last show with the high school, senior Paige Boyon has mixed emotions for the performances.
 "It's very surreal," Boyon said. "I honestly can't really process it yet, since the last time I was at the Derry Opera House was my freshman year. I don't feel like I'm doing my senior show."
Freaky Friday was adapted into a musical in late 2016, and is spun from the novel and movie adaptations by the same name. The musical follows Ellie Blake and her mother Kathrine. Constantly in fights over their wants, the mother-daughter duo cannot seem to get on the same page regarding Ellie's future. Things take a turn when, on one fateful Friday, the pair swap bodies. Not only are they a day before Kathrine's wedding, but the two must, literally, spend a day in each other's shoes. Boyon plays Kathrine, while acting alongside senior Alyssa Beaulieu, who plays Ellie .
"For the most part, she's a prim and proper mom," Boyon said. "Then her and her daughter switch bodies, and it completely changes. After that point in the show, I feel like I'm just playing myself: a very awkward character with a lot of quick humor, which is my niche with acting."
Last year, the Drama Club put on a virtual performance of Little Shop of Horrors as their spring musical. Junior Rae Pizzi, who plays Torrey (Kathrine's hardworking assistant), finds the switch back to the regular stage very welcoming.
"Singing with everyone is the best part," Pizzi said. "When we did the virtual production we would record by ourselves, and mush it all together. Now being able to rehearse all together, and hear all the harmonies, it's so wonderful. There was not the same level of chemistry that there is this year."
Sophomore Hailey Karpinksi dons multiple characters, playing Officer Sitz, Mrs. Time, along with being a member of the ensemble. Although it's only Karpinksi's first year with the Drama Club, she has found a welcoming home on stage.
"The whole cast is amazing and accepting," Karpinksi said. "I was nervous at first because I had never done a show before. It sometimes is still overwhelming, but everyone is so kind and easy to talk to."
This year's production is not only the first performance of live theatre at the high school since the start of the pandemic, but it also marks the first directing appearance from a milestone from newly appointed director Molly Goldstein.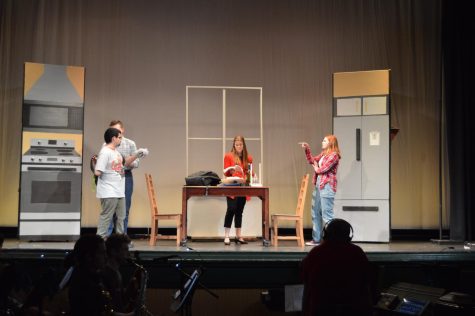 "Molly is by far one of the best directors I've ever had in my life," Pizzi said. "She came in when we were sitting at the beginning of the year without a director–we didn't know what to do. It's her first year teaching, and she just took it on and has been incredibly kind and supportive throughout the whole process."
The process of performing a musical is long and strenuous, taking many hours to plan every cue, movement, and note. Goldstein came in with a strong passion and drive, and was ready to tackle every challenge that came her way.
"[Goldstein] is such a talented person, and everything she does has a purpose and a reason," Boyon said. "She thinks all of her blocking and choreography through, and I think it's really reflective in our final product." 
The cast themselves have grown into a tight community throughout their time working together. With a strong group of seniors and juniors, paired with an engaged group of underclassmen, has created a dynamic unlike any other.
 "If the cast wasn't as amazing as they are I would never have the confidence to do this," Karpinksi said. "Sometimes it's hard to keep a straight face while performing."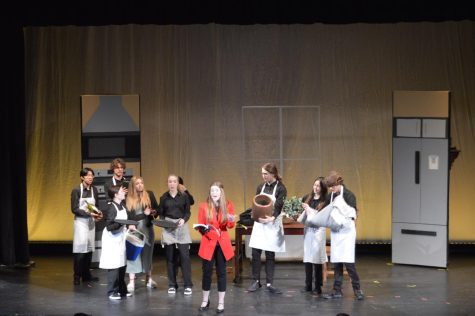 Freaky Friday is laced with moments of love, sadness, and a healthy dose of awkwardness. Boyon's favorite moment, in particular, comes while she acts alongside junior Frank Thomas (playing Kathrine's soon-to-be-husband Mike) in the song "Vows."
"At this point in the show I'm playing the daughter," Boyon said. "Frank and I have a really fun time playing with those dynamics, it's so much fun tackling that relationship aspect. It's just a lot of fun to play awkward across from him"
Coming off of two years without performing, the cast of Freaky Friday is more than ready to step back into the light. Pizzi feels that this performance has been long overdue, and that the magic of theatre is brought back by "who's a part of the experience with you".
"As cliché as it sounds, there's nothing like live theatre," Pizzi said. "Come check it out, you might enjoy it more than you think you will."
Leave a Comment
About the Contributors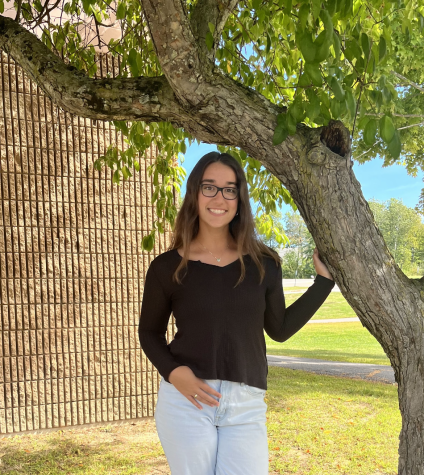 Makenna True, Editor in Chief
Heading into her third year on staff, Makenna is excited to take the reins as Editor in Chief of The Lancer Spirit. In her spare time, Makenna can be found playing competitive travel softball for the NH Prospects organization. She also is a part of NHS, the Green Council, and Senior Gators.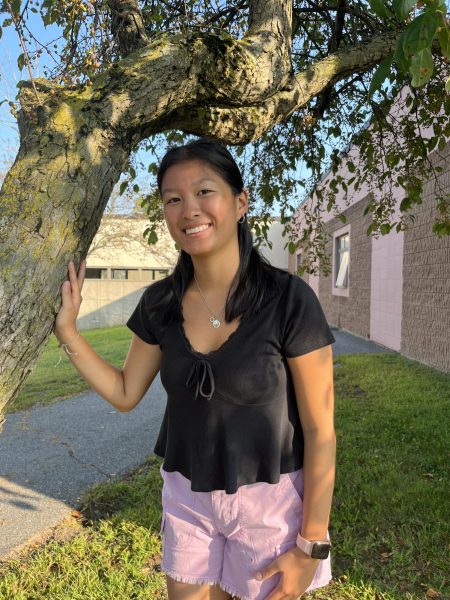 Jill Mazzola, Business Manager
Jill is a returning member of the Lancer Spirit Staff. Last year, she was features editor and this year she is business manager. She is excited to have a new role on staff and is looking forward to the year. In her free time, she enjoys playing tennis, competitive baton twirling, and spending time with her friends and family. She is a dog lover and has a Goldendoodle named Marlee.