Music Monday: Featuring the music of Mr. LHS 2022
Mr. LHS has finally returned after a long two year hiatus. This year's competition featured nine very talented boys. Each contestant picked a catwalk song and some featured music in their acts. This week's Music Monday features all of the music heard at the event.
Group Dance
Lady Marmalade- Christina Aguilera
Timber- Pitbull, Ke$ha
SexyBack- Justin Timberlake, Timbaland
Glamorous- Fergie, Ludacris
Applause- Lady Gaga
Circus- Britney Spears
Matt
Catwalk song:
Touch The Sky- Kanye West, Lupe Fiasco
Colby
Catwalk song:
Good Form- Nicki Minaj
Colby sang an adaptation of this for his act:
Can't Take My Eyes Off Of You- Maria Olympio
Danny
Catwalk song:
Cool For The Summer- Demi Lovato 
Danny performed a dance routine to this song:
Industry Baby- Lil Nas X, Jack Harlow
Jason
Catwalk song:
California Gurls- Katy Perry, Snoop Dogg
Jason danced to both these songs for his act:
Kiss Me More- Doja Cat, SZA
…Baby One More Time- Britney Spears
Liam
Catwalk song:
Single Ladies- Beyoncé 
Played in the back during Liam's performance:
My Heart Will Go On- Celine Dion
Aidan
Catwalk song:
Classic- MKTO
Aidan practiced some karate to this song:
Kung Fu Fighting- CeeLo Green
Aidan did yo-yo tricks to this song:
Levitating- Dua Lipa, DaBaby
Kyle
Catwalk song:
N***** in Paris- Jay-Z, Kanye West
Kyle performed an interpretive dance to this song:
Me and Your Momma- Childish Gambino
John
Catwalk song:
John- Lil Wayne, Rick Ross
John performed a dance to this song:
Umbrella- Rihanna, Jay-Z
Nate
Catwalk song:
Cellophane- FKA Twigs
Nate drank a gallon of milk with this playing:
Ave Maria- Franz Schubert
Leave a Comment
About the Contributor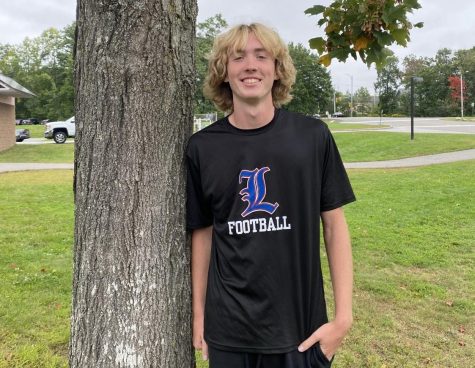 Grady Daron, Sports Multimedia Editor
Grady has been on staff since 2019, and has been a sports editor since 2020. He plays football, basketball, and baseball for the school, as well as being the class secretary for the Class of 2022. He likes sports and doesn't care who knows.