Netflix's "Do Revenge" is modern day cult classic
There are a couple things that Netflix is known for: canceling fantastic TV shows, creating some of the most influential media to date, and making an absurd amount of money off of their subscription. But there's one thing that this streaming behemoth loves more than anything: milking the overpriced, privileged, and woke high school storyline. They love this idea so much, they made a two hour long movie based off of it.
Starring Camila Mendes and Maya Hawke, Do Revenge is a twisted homage to the 80s and 90s teen comedies the world can never get enough of. It takes the cutthroat nature of high school to the next level; where pretentious rich teens sabotage each other to boost their own social standing and seemingly everyone can get into an Ivy League school (seriously, what faux standards do these colleges have in this world? Can I have them in place for my college application?).
The movie opens introducing the audience to Drea Torres (Camila Mendes), the resident queen bee of Rosehill Private School. Torres has climbed her way to the top of the school's social rankings as a poor woman of color and intends to carry this power all the way to Yale. However, this plan is foiled when a scandalous video of her is released by her boyfriend Max (Austin Abrams), or so she assumes.
As Drea falls from the social standings and becomes the school's pariah, she begins grappling with a newfound sense of loss and uncertainty of her future. Enter Eleanor (Maya Hawke), Rosehill's newest student. Eleanor is terrified because her ex girlfriend-turned-bully who outed her to everybody also attends Rosehill. The pair become unlikely friends, and make a plan to do each other's revenge: Eleanor will sabotage Max, while Drea ruins Eleanor's bully.
The movie, although a widely exaggerated tale of what high school students actually go through, is a glimpse into the true pettiness of teenagers and what they're willing to do to accomplish their goals. Mendes and Hawke give wonderful performances and truly steal the show throughout the film.
However, the real crowning achievement of this film is its soundtrack. Filled with the vocals of Billie Eilish, Tate McRae, and Olivia Rodrigo, there are absolutely zero skips. Every song is tied directly to the scene it overlays and it really deepens the viewers appreciation of what's unfolding in front of them.
Although some moments of the movie can be a little campy(seriously, what high school has enough students accepted into Ivy League schools that they can throw a party for it?), it is actually a fairly entertaining watch. Is it the best thing Netflix has put out? Not by a long shot. Does it deserve a watch for its strong acting and dedication? Absolutely.
Leave a Comment
About the Contributor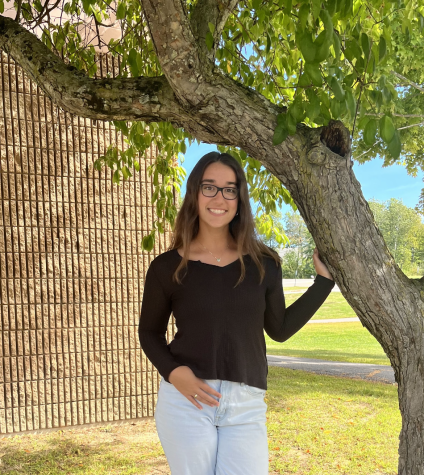 Makenna True, Editor in Chief
Heading into her third year on staff, Makenna is excited to take the reins as Editor in Chief of The Lancer Spirit. In her spare time, Makenna can be found playing competitive travel softball for the NH Prospects organization. She also is a part of NHS, the Green Council, and Senior Gators.