New Dining Service Director addresses concerns about scarcity of working vending machines
Staff and students alike regularly venture to the school vending machines for midday or afternoon snacks. However, for the past few weeks, their individual expeditions around the building have been taking twice as long, with some even forced to go back to their classrooms empty handed. 
Junior Amara Williams, a varsity cross country runner, likes to stop at school vending machines to grab snacks before practice. However, after school one afternoon, when she was looking for a Rice Krispy Treat to fuel her through training, Williams found nothing but "Out of Order" signs. 
"I went to three different vending machines," Williams said. "I couldn't find one. They were all broken, and I didn't have a snack." 
Sophomore Mackenzie Gainey said that "many people [she] knows," including herself, have been frustrated with the "lack of consistently working" vending machines. 
"If I forget a water bottle and need something to carry around with me to hydrate, I can't use the vending machines because they always seem to be broken," Gainey said.
Junior Rachel Hutchinson has had to take inconvenient routes to some of her classes in order to have time to grab snacks or beverages before class, because often, the vending machines close by aren't stocked and ready to go. 
"Sometimes I want to get something from the vending machine, but the things I want aren't there, so I don't go to those ones," Hutchinson said. 
As a result of the several complaints made throughout the school regarding the upkeep of vending machines, new Dining Services Director Krystle Connell offered insight into the situation. She believes that most of the issues people are having with vending machines have to do with the current understaffing of the cafeteria department. 
"I know it's not what people like to hear, but we are short staffed," Connell said. "We are working on a rotation to keep up with the machines."
Math teacher Cara Bound hasn't had any issues with finding working vending machines herself, as the staff has access to separate vending machines in the teacher's lounge, but she said that some of her students have voiced their own struggles to her. 
"I know the students have tried going from machine to machine around the building with little success," Bound said.
Case Manager Lori Painter also said that many of her students have been "very frustrated" because they "depend on the vending machines to eat."
"Many students have gone without food because they do not have a lunch throughout the day," Painter said. 
Connell said that a big reason for the scarcity of stocked vending has to do with the popularization of vending machines increasing significantly following the effects of COVID. 
"The kids love them," Connell said. "They empty them faster than we can fill them. The staffing issues means we prioritize the items and try to fill as much as we can with the people we have."
While there are no alternatives to the vending machines at this time, for anyone who is unable to find their preferred snacks at the vending machines, Connell recommends they come down to the cafe. 
"We know it's not ideal for students looking to use vending machines after cafe hours, so we are looking into items in the cafe that they could hold onto throughout the day if desired," Connell said. 
Another topic of confusion for both staff and students is the removal of the salad bar in the cafeteria. Painter said that she wasn't sure why it was removed in the first place. 
"We liked the salad bar because you could choose what and how much you wanted," Painter said. "I am very confused as to why they made the change."
Gainey was also disappointed to see the salad bar go; she liked having the salad bar as an option in the cafeteria, and knew many people who "also enjoyed it."
LHS re-joined the National School Lunch Program (NSLP), and part of this program's guidelines is price of ingredients and waste. The salad bar was not "cost effective," and was thus removed. 
"The salad bar was lovely," Connell said, "but with the price and quality of ingredients, it created waste." 
In order to continue providing students and staff with delicious greens, the cafeteria department is creating packaged salads that meet weight requirements, and have "everything ready to go." 
While Bound liked the salad bar, she felt like its removal was "not a huge bother," as in many ways, pre-made salads are far more convenient.
"I understand the germs and things that having an open salad bar can cause," Bound said. "It just feels like we're being cautious again. I like having my salad pre-made for me as well. I think if COVID taught me anything, it was to be more flexible."
Students and staff have also expressed their questions and concerns about the removal of free breakfast. In 2020, the U.S. Department of Agriculture issued a waiver that would reimburse schools for all meals so that students could eat for free. However, in 2022, U.S House/State Republicans opposed this program's continuation. To learn more, visit New Hampshire Bulletin.
The LHS Dining Department would like to "thank you for your patience" as they implement changes and work to address dining issues. 
"Dining services are going through a change," Connell said. "With that comes learning curves, so we apologize for anything that has fallen short lately."
Even with adjustments like "people leaving," and "new faces," the dining department staff is working to ensure that they provide e students and staff with quality dining. 
"No matter the situation, we strive to provide the students with meal options," Connell said. "We know it's not perfect, but we are working on our way there." 
Leave a Comment
About the Contributor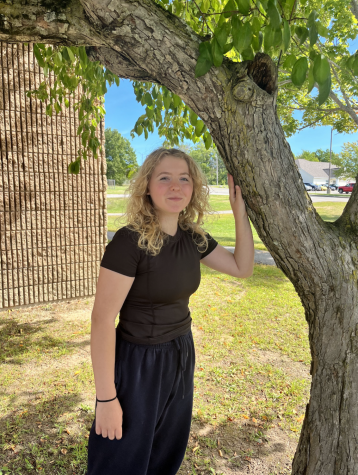 Catie Brown, Copy Chief
Catie is a senior, and has been part of the Lancer Spirit Staff for three years. Her interests in writing and photography are what drove her to begin. She also plays volleyball, tennis, and rock climbs in her spare time.