Lancer football ready to prove themselves in the playoffs
Close to being undefeated in their regular season, with a stunning record of 8-1 and their only loss being to Bishop Hendricken High School, the Lancers are amped up entering the playoffs. This team is ready to prove themselves to any possible doubters and show their opponents what they're capable of next Saturday, Nov. 12 at home.
Senior Jack Vannort is feeling "great" entering the upcoming postseason and ready to face the competition..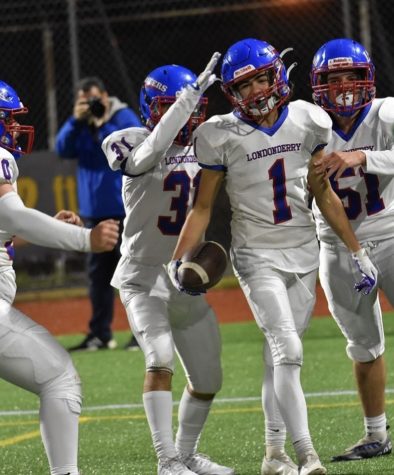 "We're going to fight to the end, you know, Vannort said. "We're trying to get that ring."
When reflecting on the 2022 season thus far, the team has had many successes, leading to what Vannort called an "amazing" performance. 
"We've proven almost everyone wrong this season," Vannort said. "We've always stuck to our gut and stuck with our team."
Being new to LHS his freshman year, Vannort has felt welcome in the school community through football, thanks to his teammates.
"My favorite thing about playing on this team is for sure the brotherhood," Vannort said. "I didn't know anyone, and then I met all my friends from football, and they're my brothers for life."
When Vannort needs motivation, whether it be before, during, or after a game or practice, he can always count on his teammates to hype him up.
"We're always pushing each other to do better for that final goal," Vannort said.
With the team approaching playoffs shortly and anticipations being high, Vannort wants to remind his teammates to "never give up and to not look down on themselves."
"It's a mind over matter type of ordeal," Vannort said.
With being the number one seed in their division, the players have high hopes coming into playoffs, one of these players being senior Ryan Pemberton.
"I'm feeling strong," Pemberton said. "We gotta keep [at it], and just keep going."
With hopes of making it to the championship, Pemberton is zoned in on making improvements along the way.
"We're focusing on getting better every day," Pemberton said.
With the team being together on the field often, the chemistry between the teammates is something that Pemberton feels "can't be beat."
As a senior, Pemberton is in his final year of being a Lancer football player. One thing that always motivates him to play to his full potential would be his teammates.
"With this being the last time I will ever be able to play with this group of kids, I hope we stay focused for the upcoming games," Pemberton said. "There's only a couple weeks left and everyone is going to miss it."
In addition to the seniors, some of the younger players like sophomore Paul Binder are confident the Lancers are ready for the playoffs.
"I think it's right to be a little nervous but I'm also feeling confident," Binder said. "We have been playing well so we hope to continue that."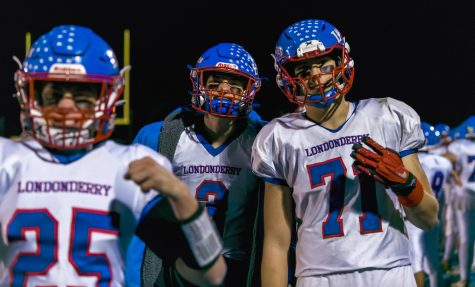 Binder has found this season exciting and is looking to head onto the next round.
"This season was fun," Binder said. "I never thought I'd start over some people and I'm just focusing on getting the win next weekend."
In Binder's eyes, this season has been different from what he had expected, but has been very successful.
"To this point it's been good," Binder said. "It's a lot different than how JV was and it's just really exciting to be where we are now." 
Binder's favorite part of this team is the support from the coaches and the people in town.
"One thing is that people hold you very high," Binder said. "The entire community is super accepting and the atmosphere and sportsmanship is very motivating."
Binder has faith in this team and he believes that they can reach their goal.
"It's not time to let off the gas," Binder said. "We need a three-game win streak to reach the ultimate goal."
Both the players and coaches are heading into the postseason with great confidence and their heads held up high. Coach Sam Carey, who works with the wide receivers, cornerbacks, safeties and all special teams, said he feels "pretty good heading into playoffs this year."
"Our team has worked hard all pre-season and in the regular season and have put ourselves in a good spot," Carey said. "We have earned the number one overall spot and have earned a first round bye. This gives us the luxury of working on the things we need to. Our goal is to keep getting better every week and hopefully we make it to the championship game and play our best football when that time comes."
Although Carey is confident regarding his players' abilities, he wants to make sure that his players strive to achieve their greatest potential. Carey wants the players to "never be satisfied" and to work on what they "need personally and as a team."
"My focus is to keep pushing our team to get better," Carey said. "[We've] got to stay motivated throughout this playoff run and realize how fortunate we are to be one of the teams still playing."
Carey is very passionate about his team this year and values the chemistry the team shares. 
"I love this team of players and coaches," Carey said. "We have a great bond and the camaraderie that this team has is amazing. We have been successful this year because all of our players have bought in. Our upperclassmen are great role models for the underclassmen and this is something that continues to improve our football program year after year."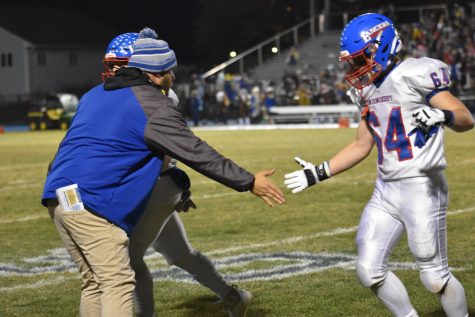 Carey finds a lot of joy and pride in coaching these kids. He said he lives for Friday Night Football and trusts the players' preparation.
"We prepare all week and get to go out there on game days and see if the hard work has paid off," Carey said. "I love to see the improvement from week to week and watch them compete. I think we have the best fans in the state, and they always bring the energy and enthusiasm, so that always makes our games fun."
Carey knows that for some kids this will be the last time they ever put on a Lancer jersey and wants them to have no regrets no matter what. 
"You always have to give it everything you got, every single time you get out there," Carey said. "[It] doesn't matter if it's one play or 60. Everything you got; no regrets. You never know if it's your last time playing this game, so leaving it all on the field, you'll have no regrets. Work as hard as you can during the week to improve and when it comes time for your chance, seize the opportunity."
Leave a Comment
About the Contributors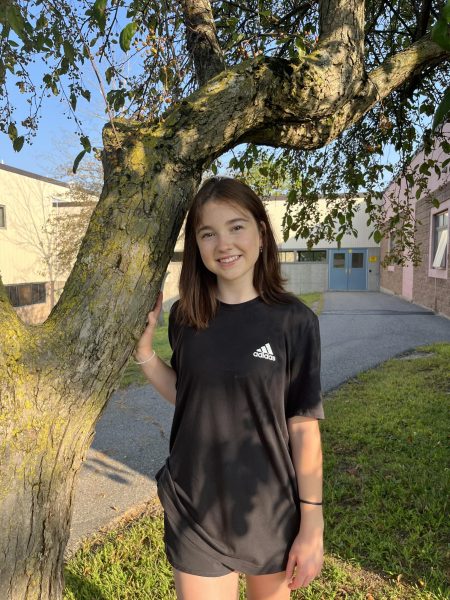 Emma Desrosiers, Assistant Editor-in-Chief
Senior Emma Desrosiers is cordially occupying the position of Assistant Editor-in-Chief for her second year on staff. In her free time, Emma enjoys playing field hockey on her club team, hanging out with her friends and family, and listening to music.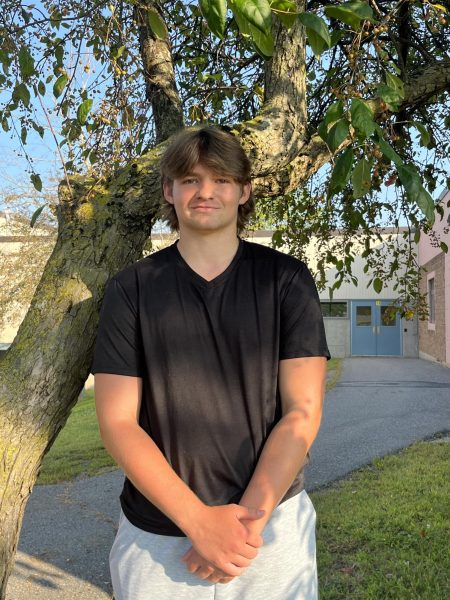 Dillon Tufts, Executive Sports Editor
Dillon Tufts has been on staff for two years. Last year he was a sports editor and this year is the Sports Executive. Dillon spends a lot of his free time hanging out with his friends or playing sports. He currently plays football and lacrosse for LHS.