Schools install new LED lights throughout all buildings
After decades of fluorescent lights being used throughout the Londonderry School District, new LED lights are being installed in all schools.
Over the past several years, the district had been considering this new transition in order to make all of its schools more cost and energy efficient. 
"The district has been looking at upgrading all of our lights from the old fluorescent for the past five or six years," Londonderry School Districts' Electrician Brian Costigan said. "It's all about trying to save energy and along with that, saving the school district money."
The total project cost was a little under $1.8 million for the whole district, however, the district will be receiving nearly $203,000 in rebate from Eversource. With the rebate money factored in, the net project cost is just under $1.6 million. 
This project will pay for itself through its resulting energy savings of nearly $243,000 a year. 
"It is estimated that it will pay for itself in 6.76 years," Costigan said. "The way that works out is that we are going to be saving almost $234,000 a year and that's combined with maintenance savings like changing all the fluorescent bulbs. We would spend about $10,000 a year just on four-foot bulbs, so yeah, there are a lot of savings." 
The district has contracted with Siemens Energy and its project management company, EMC, to upgrade the lighting in all schools and officially make the transition from fluorescent bulbs to LED.
"We [EMC and the district] did a survey of the schools lighting with them, walked all the schools, and EMC put together the whole package for us of lighting and controls," Costigan said. "EMC also has crews coming in and changing everything over. We then went back and forth about what the school district was really looking for in the lights and how much control we wanted while trying to keep costs down." 
All of the lights that are being installed are done by EMC's crew of electricians who come in after school at 2:30 p.m. and work until 2 a.m.
Great progress is being made throughout the district with regards to the installation of the new lights.
"As of today, I can tell you that the high school is 71% done and the district is over 50% done," Costigan said. "So far, the EMC crew has changed around 4,000 light fixtures." 
Every part of LHS will have the new LED lights with the exception of Phase One due to its old age.
"None of the lights in the 100's are controllable because of the age of the 100's and because they have weird oversized ceiling tiles that make putting fixtures like these next to impossible," Costigan said. "As such, we opted to not spend a lot of money on phase one, however, we still wanted to get energy saving out of it, so we installed LED bar kits and drivers. We are getting the energy savings and didn't have to spend a ton of money on it."
As District Electrician, Costigan has been facilitating the installation process by "helping EMC with scheduling" , as well as helping EMC's programmer in calibrating the newly installed lights in each room. 
"I am just trying to help everything go smoothly," Costigan said. "During the installation process, I am helping the management company with scheduling. Once the lights have been installed and commissioned, EMC has a programmer that comes in, commissions all the lights, and gets them all onto an app; what I've been doing the past few days is going around with the tablet and fine tuning everybody's rooms."
This large-scale upgrade is a grand project and comes with its share of stress for those involved. 
"I am going to love the end results," Costigan said. "Being in the midst of the project, it's a lot of stress, because anytime we make any changes in the schools, the more people that are affected by those changes the worse it gets. When the middle school's installations first started, the crew wasn't putting in any of the dimmers so the lights were very very bright, leading to several complaints of headaches and all kinds of stuff. I was like 'Oh my god'  how are we going to do this? 
Costigan notes that the stress is worth it, "because once the lights are in and programmed, everybody seems to love them."
"I love the new lights," LHS Social Studies teacher Mike Miller said. "This was money well spent."
Prior to the new lights being programmed, there were several complaints of the lights being "too bright", however, after reprogramming, many teachers have responded positively. 
"I really do love the lights now," LHS English teacher and Journalism adviser, Mary Dewinkeleer said. "I'm not going to lie, at first I was shocked at how bright the lights were and was a little disappointed about no longer having control over the first two rows of lights for my projector, but I emailed Head Custodian Charlie and he cc'd Costigan. The same day, Costigan came up with his little tablet, he programmed things and voila, I suddenly had control of the lights! I am so impressed with Costigan and how on it he was and how nice he was about it too."
Leave a Comment
About the Contributor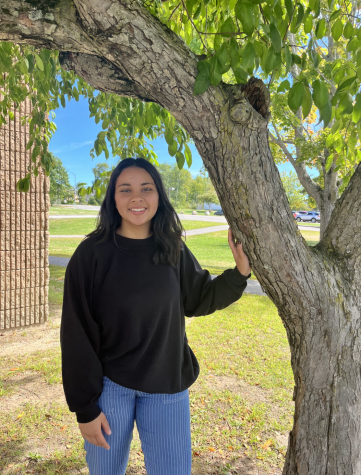 Alisha Khalil, Online Chief
Senior Alisha Khalil has been on staff for 3 years. Starting as a reporter her sophomore year, she is now The Lancer Spirit's Online Chief, Political Analyst, and News Editor. She started The Lancer Spirit's first Political news column. In her free time, Alisha enjoys making coffee and listening to music.