Seniors place top three for D1 Cross Country Championships
After placing second and third in the Cross Country D1 Championships, seniors Ryan Fortin  and Sean Clegg capped off their last high school season. These seniors began running cross country in middle school, with Clegg's first year being sixth grade and Fortin's being eighth grade. Their experience and hard work over the years has led to outstanding results for these athletes throughout the season, especially in the D1 Championships.
Clegg, placing third, expressed that he was "happy" with where he placed at the end of the race. 
"That's where I was seated going into the race and throughout it I held my position well," Clegg said. "I was pretty happy with the results." 
Having been placed on varsity his freshman year, Clegg felt that he got "thrown into the mix" very quickly, and had to really focus on devoting himself to finding the things that would improve and maintain his performance.
"Over the four years, I definitely started to take [the sport] more seriously and dedicate myself to all the workouts and training," Clegg said. "By doing a lot of little things like getting better sleep and nutrition, I definitely saw a lot of improvements." 
From freshman to senior year, Clegg's role on the team significantly changed.
"As a freshman, I was the one sitting back, listening to the seniors and upperclassmen," Clegg said. "This year I noticed that I had younger guys look up to me so I knew I had to play a better role as a leader and lead by example."
Clegg finds that the sense of accomplishment is his favorite aspect of cross country. He notes that running upwards of eight miles at practices and consistent strenuous workouts are all worth it. 
"The feeling after having a good race and placing well and knowing that all the work you put in paid off is definitely the best part," Clegg said.
Knowing that his coaches will always be one hundred percent honest with him, is something that Clegg greatly admires. 
"My favorite thing about my coaches is especially that they'll be real with me," Clegg said. "They won't sugarcoat anything – if I should have done better they'll let me know."
Looking towards the future of LHS Cross Country, Clegg believes the team will be in good hands.
"You can definitely see that the guys, the younger guys especially, were really close to each other and them having that camaraderie will be good for the future," Clegg said.
Clegg recently committed to Coastal Carolina University to further his academic and athletic career, running Cross Country and Track and Field at the NCAA Division One Level.
The state championship race takes Clegg's top spot from this past school season. 
"Ryan and I came in fourth and fifth and we ran a great race together," Clegg said. "[We] have done all of our training together and he's been my best teammate since as long as I can remember, so it was nice for us to have a great race together and share that out there."
Placing second in the D1 championship, Fortin felt "pretty good" about his standing after shaking off his initial disappointment with his performance. 
"I mean, I kind of felt defeated at first," Fortin said. "But it was good. Sean and I had perfect tactics throughout the race, so we definitely felt accomplished."
Running cross country for several years resulted in Fortin seeing significant improvements in his time after races.
"After, when I saw the clock I was like 'holy moly,'" Fortin said. "I did not expect to run that quick. It was way over thirty seconds faster than last year['s time], and then compared to previous years, it was like a minute."
Although he wished he could have placed better, Fortin was "definitely happy" with his time. 
"We definitely put it all out there so I think we did a good job after D1's," Fortin said.
Fortin believes that the key to his success at State and D1 Championships was trying various exercises and drills to determine what worked best for him.
"I focused on training in different ways and seeing how that would impact my performances," Fortin said. "This year I did it a little bit differently and ended up with a better mileage than I had in the summer."
Beginning his cross country career in eighth grade, Fortin described it as "fun, but scary at first."
"It was like being a small fish in a giant sea," Fortin said. 
The sense of community within the entire sport is what Fortin feels is his favorite part about cross country. 
"You know that everyone will have your back, despite the competition," Fortin said. 
While the team has a community around them at LHS, they are able to connect with athletes from schools all over New England.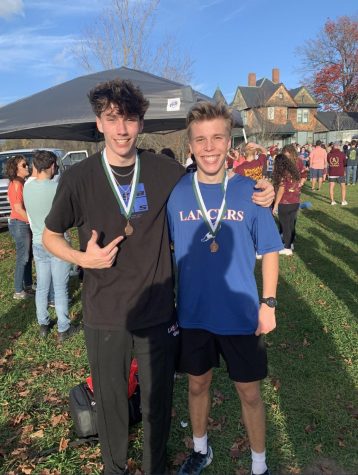 "I would talk to other guys on other teams down in Mass., and see what their training is," Fortin said. "It definitely helps to see what other athletes in different states do to help their performance."
Even as early as his freshman and sophomore year, Fortin felt that the team had "really good camaraderie." Progressing onto this year, that relationship the team shares has only gotten stronger.
"They're definitely a good bunch of guys and are definitely close with one another," Fortin said. "I like the mindset they tend to have, especially the four freshmen on varsity and the guys who may have been beat a few times. I think they have what it takes and have that mental battle where they'll go out and put in the work and I really like that about them."
Along with his teammates, Fortin's coaches support that sense of community.
"[The coaches] especially support that mindset and the training they provide is also pretty good," Fortin said.
Fortin is in agreement with Clegg in the sense that the moment from the past season that takes the top place on the pedestal would be the state meet.
"It was huge," Fortin said. "We were in the best packed race we had ever run before and we finished within two seconds of each other. I think that it was just a huge moment for knowing that we could both run strong and as a team and definitely show New Hampshire what we're about."
Fortin has not yet made the decision to commit to a college, but says he "definitely plans on it." 
Clegg and Fortin have created a lasting impression on LHS XC and will continue to inspire future teams for years to come.
Leave a Comment
About the Contributor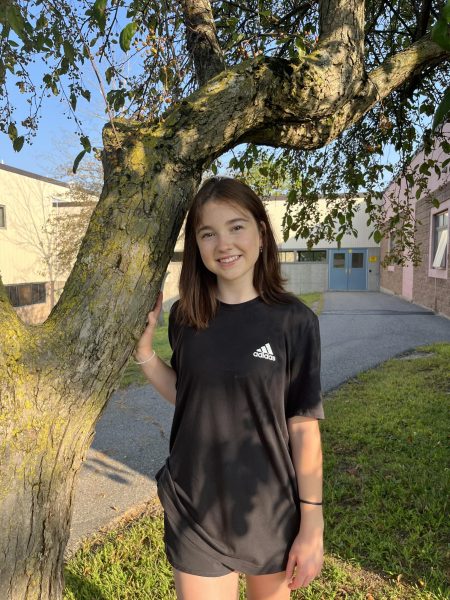 Emma Desrosiers, Assistant Editor-in-Chief
Senior Emma Desrosiers is cordially occupying the position of Assistant Editor-in-Chief for her second year on staff. In her free time, Emma enjoys playing field hockey on her club team, hanging out with her friends and family, and listening to music.