Only soldiers—not citizens—need semi-automatic weapons.
Americans woke up on the fifth anniversary of the Marjory Stoneman Douglas High School shooting to learn the horrific news that 3 more students became victims of a school shooting. On the eve of Valentine's Day, a gunman opened fire at Michigan State University, killing 3 students and injuring another 5. Nearly 3 hours after firing off the first shot, he was caught and detained.
Some MSU students were already too familiar with this terrifying reality. A freshman had survived the Oxford High School shooting fourteen months prior, and another survived the Sandy Hook shooting at just 11 years old. 
This simple connection of four different school shootings does more than prove things need to change. Thoughts and prayers don't work when kids are staring at the end of a gun. Politicians say we need action now but then do nothing.
In New Zealand, a month after a mass shooting left 51 people dead and 50 wounded, the country's parliament voted nearly unanimously to ban semi-automatic weapons and assault rifles. 
Just like that.
To purchase a gun in New Zealand is now a feat in and of itself. You must first prove to police you are a "fit and proper person to possess firearms". You must then prove you have a safe place to store the weapon and ammunition, which will then be approved by the police. You'll then have to have an approved criminal history check.
The guidelines to purchasing and owning a gun in America differs from state to state. In some states, people can't openly carry a firearm in public, while in other states it's only a handgun or long gun. In N.H., citizens are allowed an open and concealed carry without a permit.
Good citizens should have the right to arm themselves for protection, hunting, or a safe and genuine reason. But do you need a weapon of war to kill a turkey? 
The most recognizable gun for everyday citizens is the AR-15. Named after its original manufacturer Armalite, the design was sold in 1959 to the Colt company, who began production of an AR-15 style weapon for the Vietnam War. After the war, the gun was changed to be a semi-automatic weapon, and targeted towards civilians and law enforcement. 
While only one bullet will be fired with each trigger pull, the gun will automatically reload if it is designed as a semi-automatic. Semi-automatic rifles were used at Uvalde, Parkland, Sandy Hook, and many more mass shootings across America. A weapon conceived to fight in war now resides in the halls where students walk everyday.
How long until a massacre happens in our home state? Until our town is on national news with images of crying families? Will thoughts and prayers work then?
We're the land of the free and the home of the brave. The freedom for civilians to use weapons of war, and the brave who have survived mass shootings 
American's do not need assault weapons. When our Constitution was written, the founding fathers had single shot muskets and dueling pistols, not an AR-15. Our country has grown and prospered in our 250 years, yet we're the country with the most school shootings. 
It is the duty of our leaders to protect the people. It's been their duty. They need to show up and be there for the next generation of our country.
View Comments (3)
About the Writer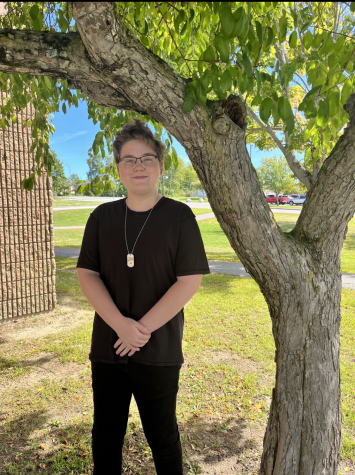 Andrew Macpherson, Opinion Editor
Senior Andrew Macpherson has written for The Lancer Spirit for three years, but this will be his first year as Opinion Editor. He is an avid activist for mental health and LGBTQ+ issues. In New Hampshire, he has spoken at the statehouse against harmful bills to the LGBTQ+ community. In his spare time, he enjoys riding his horse Whiskey.