Senior Susan Kim Awarded Good Citizens Award
As the final bell rings, students rush out of the building as fast as they can. The seven long hours of school are over, and no one wants to stay any longer. For lots of students, the end of the school day is the end of their day. However, for Senior Susan Kim, it's only the beginning. Being involved in the school is something that Kim says "teaches [me] how to communicate with people."
Through her communication skills, Kim has been able to work with others. By using these skills all through high school, she had a new interest in becoming an involved student. What sparked Kim's interest in extracurricular activities were her peers. She believes that "the people who [I] surround myself [with] also [are a] representation of [me]." 
Kim came to LHS her freshman year of high school, and quickly realized that other students had their own connections and networks. 
"When I looked at the students who were really involved in class reps or class officers and in clubs I really wanted to be them," Kim said. 
Through her friends, Kim was able to receive opportunities to get more involved in clubs. 
"Spring of junior year I got a lot of board positions and stuff like that. Junior year was a good year that showed the result [and] the outcome of all the hard work that I put in for the past couple years," Kim said.
Kim's dedication to her involvement did not go unnoticed. Through an application process, she was recognized by the Daughters of the American Revolution (DAR) and won the Good Citizens award. However, the application came out during a busy time in Kim's life. 
"That was when the college [applications] were due, so I was like 'oh my gosh I really want to get this in, but I also have to finish my college aps,'" Kim said. 
Although she was "stressing" to get her DAR award application, Kim managed to finish it on time. After submitting her application and receiving the award, she was recognized at the home of General John Stark in Manchester, NH.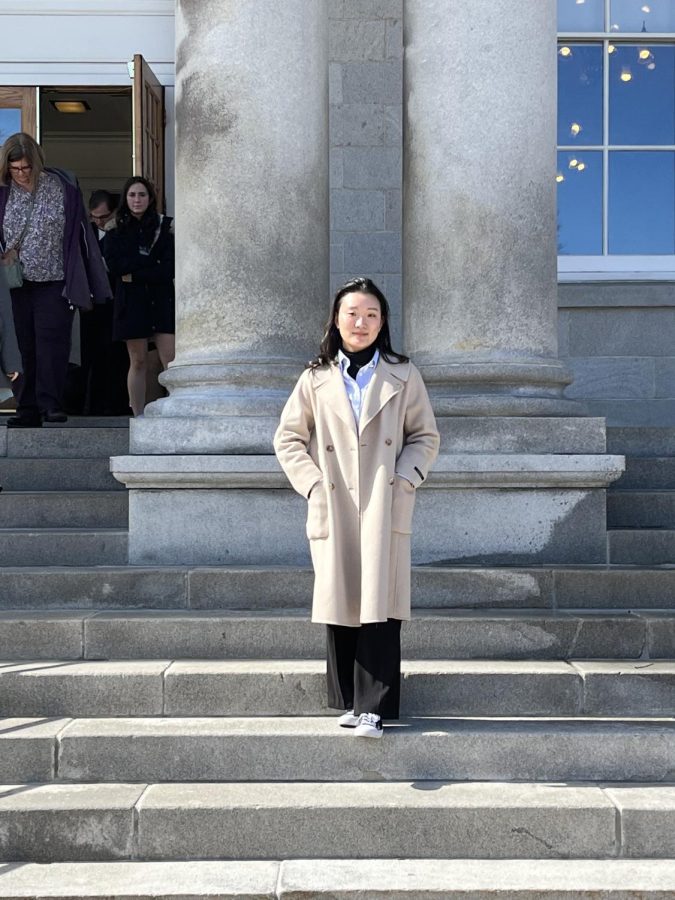 "When I look at the DAR good citizen scholarship about leadership, character, and stuff like that, 
I think I really get that from my parents," Kim said.
The first people that she told about her award were her parents. Kim expressed that they're a big part of [her]life.
"I think my parents really taught me that, how to treat people, how to be wise when communicating with people, so I would say my parents are really wise people and they're my role models," Kim said.
Kim also said that "[her] parents [are] really hard working people, [and] they're very wise people."
Thanks to her parents,  Kim learned how she wants to be "a good [representative] " for her friends.
"My friends are all super hard working and they're my motivation because I see them everyday," Kim said."When I slack off I always look at how hard they work."
One of Kim's closest friends, senior Isabel Schickler, said that Kim was "deserving" of her award. Schickler also said that Kim has been a "positive influence" in her life. 
"[Kim] has been an incredible inspiration in so many ways," Schickler said. "Especially her dedication to making sure Lancers Speak Up Day is a success this year. I am amazed by how hard she works." 
Schickler said that she "wasn't surprised" when Kim won her DAR award. 
"She deserves the recognition more than anyone," Schickler said. "She is kind, intelligent, driven, and so much more. She is also the most humble person I know." 
Leave a Comment
About the Writer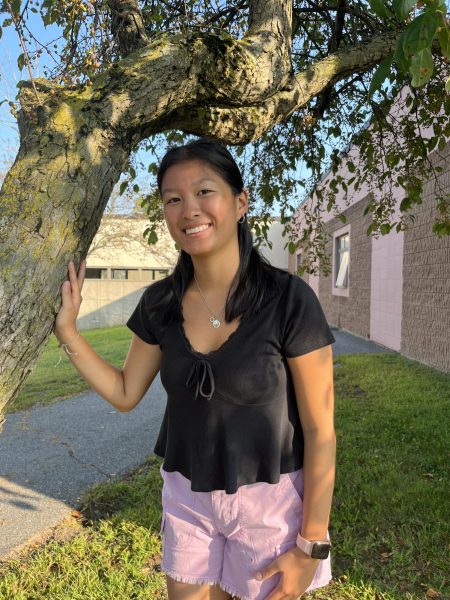 Jill Mazzola, Business Manager
Jill is a returning member of the Lancer Spirit Staff. Last year, she was features editor and this year she is business manager. She is excited to have a new role on staff and is looking forward to the year. In her free time, she enjoys playing tennis, competitive baton twirling, and spending time with her friends and family. She is a dog lover and has a Goldendoodle named Marlee.