Baseball's family-like atmosphere promises success in the 2023 season
With a record of 17-6 concluding their 2021-2022 season, the intent of the boys baseball team is to remain focused on repeating their previous successes. The energy is optimistic on the diamond as well as in the dugout, and one player who has vocalized his desire to repeat the winning culture the team achieved last season is senior Kevin Rourke.
"I am very excited for this season and looking forward to every day," Rourke said.
With one of Rourke's primary concerns being to start this season off "better than last year," he believes that with the close bond the team possesses, that they will be able to accomplish whatever they set their minds to. 
 "I feel like this team has as much of a family-like atmosphere as I've been a part of, overall a great bond," Rourke said. "I'm excited to see what we can do, the expectations are high and we look forward to meeting them."
With 12 of the 2022 varsity team's members returning for another season, Rourke feels that with their previous experience, the team will be off to a "good start."

"We look to win the first week as we did last year when we started with a record of  0-3," Rourke said.
While there is a certain level of pressure that weighs in the boys' minds as they progress through the season, keeping the energy hopeful by believing in themselves and one another, while also having some fun, has proven to be a successful factor for the team.
 "We like to keep it loose and positive in the dugout and I feel that helps us," Rourke said.
With this season being the last hurrah for senior Connor Fennell, he reflects on his years playing baseball with appreciation in his heart for his teammates that have been there for him throughout his entire journey.
"I'm feeling excited and a little sad too I guess because this is my last year playing with my best friends that I played with growing up," Fennell said. 
While nostalgia has hit this senior, Fennell is focused on the present with optimism regarding the condition of the team and is expecting the team to achieve in all aspects.
 "I'm excited because we have a very strong team this year and the hopes are high," Fennell said. "Our hopes are definitely to make a run, hopefully be the one seed going into playoffs and our overall goal is to win the state championship."
It seems like maintaining positivity is of paramount importance to these Lancers and to succeed in doing so, keeping any pessimism away from the playing field and their lives outside the sport  to promote character will be necessary.
 "We definitely hope to leave behind any negative comments on and off the field by everyone on the team, to each other, and other teams and we definitely hope to keep winning," Fennell said.
Fennel feels that with the "very close group" on this year's roster, "the energy and bond of the team this season is definitely great."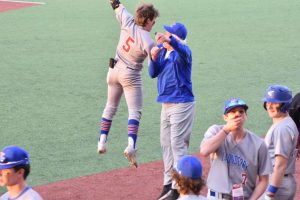 While there are many facets to the season worth anticipating, the first and last pitch of the regular season are predominant for Fennell.
"I'm just most excited for the season to start and playoffs," Fennell said. 
Senior Liam Scott considers senior year to be a "big year" and is hoping to enjoy every minute while motivating the team to perform at the highest level with the chance of them making a run back to state championships. 
When asking Scott what he is striving for this season, he replied with, "a ring, honestly."
"We fell short last year and that's always the goal here at Londonderry," Scott said. 
Taking into consideration what the team's strengths were last season, Scott hopes to experience the magic that is created on the pitcher's mound that has been a key factor to the team's success in previous years. He also emphasizes the overall dedication the boys have, and their capacity to focus on the game in front of them at all times.
 "I hope our pitching stays as dominant as it has been and that we try to leave out any distractions and just focus on ourselves as a team," Scott said.
Circling back to the tight-knit culture of the team in which all three seniors have faith in, the support they have for one another has the team destined for a season of a lifetime.
" We're super close this year, we are each other's brothers and we have each other's backs," Scott said. "For my senior year, I am most excited for the last ride with the kids I've played with my whole life."
Leave a Comment
About the Contributor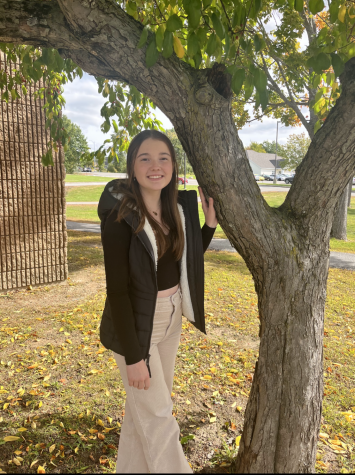 Emma Desrosiers, Executive Sports Editor
Junior Emma Desrosiers is cordially occupying the position of Executive Sports Editor for her first year on staff. In her free time, Emma enjoys playing field hockey on her club team, hanging out with her friends and family, and listening to music.