This past weekend the 1-0 Lancers went to battle with the Chelmsford Lions. This game was expected to be a very close game, but Cam Brutus, Sam Ogden, and the rest of the Lancers had a point to prove and won in Chelmsford 41-0. 
Going into the game versus Chelmsford, senior quarterback Cam Brutus believed that Chelmsford would be a tough opponent.
"I expected them to be very physical and have a very competitive game," Brutus said.
In only the opening quarter of the game, a rain delay occurred and paused the game for an hour. Brutus felt that the delay "helped" them.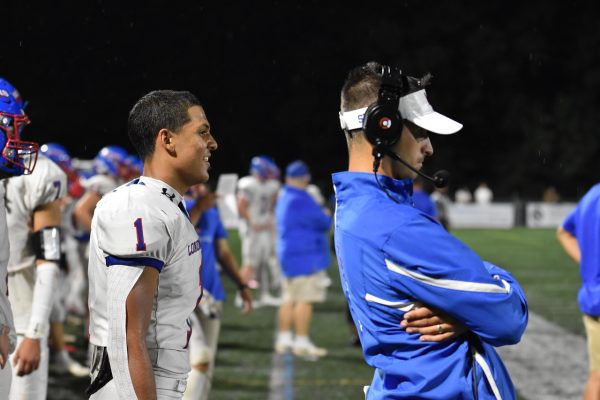 "We came back out with a lot of energy and that gave us momentum," Brutus said.
In the shutout victory, Brutus felt that the defensive play was what made the game so one-sided.
"I think we were dominant on defense and executed offensively," Brutus said. 
Brutus feels this victory "proved [Londonderry] can play with the best."
"I think this win said a lot about our team," Brutus said. "Chelmsford is a very well-coached team, so this was a big win for us." 
Junior quarterback Sam Ogden also felt that Chelmsford would be a "tough and athletic team."
"We knew that we would have to focus on the little details and pay attention to the preparation," Ogden said. 
When the game delay occurred, Ogden, along with Brutus, felt that the delay gave the Lancers the advantage.
"It helped us reflect on our mistakes and adjust to their style of play on the field rather than on film," Ogden said.
Whether it was early or late in the game, Ogden felt that the Lancers' energy was the most crucial factor in the win.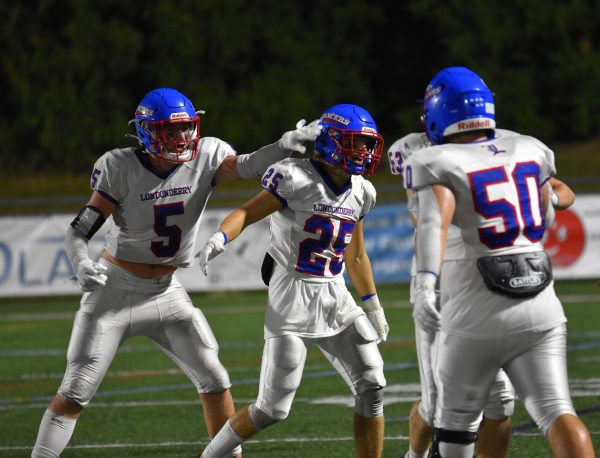 "One of the best attributes of our team is the energy and aggressiveness we have," said Ogden. "Energy is contagious, and it gives us so much adrenaline and confidence."
Ogden feels that this win gave the Lancers an increase in confidence, and feels optimistic moving forward this season. 
"We were the underdogs going into this one against one of the better teams in Massachusetts," Ogden said. "After all the hype they got, and for us to win like that, it leads us to believe that we are going to do well this season."