In a battle between two of the top teams in the state, boys' soccer heads to Hanover to try and defeat the Hanover Bears, who are currently 10-1 this year. The  Lancers have finally gotten back in the win column, and juniors Parker Lewis and Brett McKinnon are hoping to get another win on Friday. 
Junior wingback Parker Lewis is coming into this game feeling that it will be "challenging."
"As a team, we're expecting this game to be one of our most challenging games of the season by far," Lewis said. "Hanover is a very talented team and we can't go in unprepared."
The team has played with a "very strong focal point on speed and intensity," Lewis said, and hopes that they can continue playing with that drive when they face  Hanover.
"We've focused on keeping the pace of the game high and bringing strong intensity," Lewis said. 
The soccer team has had trouble controlling their temper in the past, but Lewis hopes this won't be an issue on Friday. 
"Our [team's] challenges for this game will be keeping our composure and also playing far away on turf," Lewis said. 
Lewis believes that they can keep up with Hanover, and he has "strong faith" in the defense which has held many teams to shutouts. 
"Our biggest advantage will be that we have plenty of players to match talent," Lewis said. "We've recently played very strong defensively across the field as well." 
Along with Lewis, junior winger Brett McKinnon feels Hanover will be a tough matchup.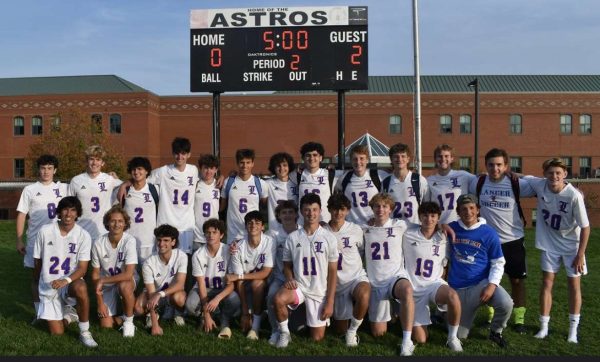 "My expectations going into the Hanover game tomorrow are for our team to play hard and compete for the full 80-minute game," McKinnon said. 
McKinnon has taken his preparation very seriously, and hopes to use his speed to "help the team win."
"I personally have been watching Hanover's game film to take notes on their defense and how I can use my speed to create goals or scoring opportunities for my teammates and myself," McKinnon said. 
The ride to Hanover is an hour and a half from Londonderry, and McKinnon feels that has the potential to shake the team prior to the match. 
"As a team, we need to stay focused and mentally prepare the whole bus ride," McKinnon said. "I believe if we want to compete and put in 110% effort, we can come out of Hanover with a win."
McKinnon feels that the team matches up well against Hanover and their biggest advantage is that they just came off a win to 'put [them] back in the winning side."
"A huge advantage is that we have a roster that contributes in any sort of way to help our team compete," McKinnon said.