Through tough competition and elite driving and operating, the LHS robotics team took home the overall event win at the Mayhem competition in Merrimack, NH alongside two other teams.
"It felt truly amazing to win the event," senior and team captain Brendon Saranich said.
Being the team's operator, Saranich sees the field up close and takes his job of operating the robotic arms and claws very seriously. Without him, a win for the team would not be possible.
"I've been on this team for over three years, and I've seen how hard these guys have worked, so the feeling of seeing our work finally pay off was fantastic," Saranich said. "It was honestly very surreal, and felt impossible."
Winning two out of their five qualifying matches, the team was selected to join in alliance with Team 78 of Newport, Rhode Island and Team 238 of Manchester, New Hampshire in a last-round alliance selection. This type of selection is made when high-ranking teams form alliances with the others in order to remain competitive in the finals.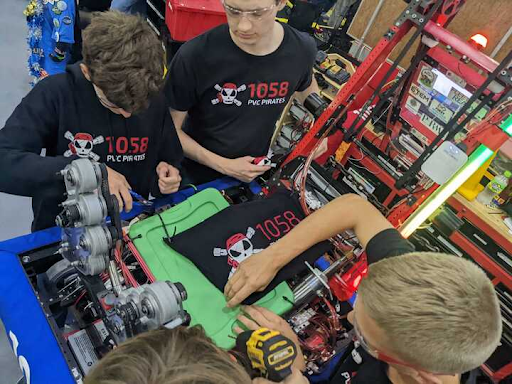 "I was terrified that any moment we could get knocked out of the playoffs," Saranich said. "Alliance selection was really worrisome, since we were picked so late, but ending up where we did was great."
Coming into the finals, the pirates pushed through and won both matches, claiming their first win in six years.
"It was an exciting win," said sophomore Parker Girard. "Each competition often has between 24 to 48 teams, so being the one to win is exciting."
With that successful ending to the competition, the team geared up to compete at last weekend's Governor's Cup in Plymouth, coming in 15th place with an unfortunate knockout in the 10th match of the semifinals.
The LHS robotics team looks forward to developing their skills further for the next competition season starting in January.
"I'm hoping for the best," Saranich said. "If everyone gives it their all, we have a chance."