The girls' volleyball team is competing in their last regular season game on Friday, Oct. 20. They will compete against Exeter in the LHS gym at 6:30 p.m. Though this is their last regular season game, the event itself differs from their previous games. 
The Bring Change 2 Mind (BC2M) club is collaborating with the team in hopes of raising money for a speaker to talk to Lancer Nation on the annual Lancer Speak Up Day.
"After the success of our student vs. teacher basketball game last year, the BC2M board started to brainstorm similar ideas," senior and BC2M Activities Coordinator Kira Collins said. "We settled on another one of our school's sporting events and got the volleyball team on board."
The fundraiser involves a "green-out" game where half of the money raised for concessions at the game goes towards paying for this speaker. Senior and president of BC2M Amanda Robinson feels that this is a great way to raise money for a guest speaker, which she feels is "very important" for our school.
"We want a suicide prevention speaker because we think it could help many people in the school," Robinson said. "If people relate, it might gain more awareness of mental illnesses like depression and might inspire people to be kinder or help a struggling friend."
Bring Change 2 Mind's membership coordinator and senior Abby Harrington, is the captain of the volleyball team. This gave the club the opportunity to collaborate with the team and create the fundraiser. Harrington feels this is a game that "you won't want to miss."
"As a board, we were brainstorming fundraising ideas for a speaker for Lancer Speak Up day in the spring and I saw other schools do a mental health awareness game," Harrington said. "We thought it would be a great opportunity to start our fundraising efforts."
Harrington feels that having a speaker come to the school on Lancer Speak Up Day is one of the "most integral parts" of the whole day.
"We as a club hope the experiences and the advice of the speaker will raise awareness and encourage understanding and compassion in our school and community," Harrington said.
Collins also feels that having a speaker at Lancer Speak Up Day is "very important" and it could "give students a new perspective on mental health."
"This will help lancer nation apply what they heard from the speaker and support each other during harder times," Collins said. "The goal is to unify our school upon the topic of mental health and create a positive and supportive environment to learn in."
The other half of the proceeds will go towards the Girls' Volleyball Booster Club, who works all season to "support and celebrate the volleyball program."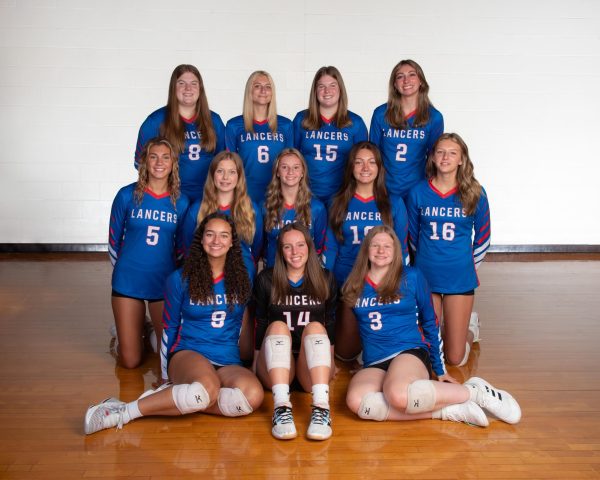 "Our volleyball team is fun to watch people should go support them even if we didn't have a fundraiser," Robinson said. 
The game will be "very exciting to watch" according to Collins. She encourages all to attend as it will "be fun for all in attendance," as it is a " great way" for BC2M to help raise more awareness.
"The game will be very exciting to watch," Collins said. "Not only will spectators be actively raising money for our speaker, but they'll also be supporting their classmates by watching them participate in a sport that's meaningful to them."