For one last time, the class of '24 will take the field under the lights at Lancer Park tonight. 
All together, this class has lost just three games in the past two years and the winning culture has continued because of them. Coming into senior night, Londonderry is currently 7-1 and  are facing the Salem Blue Devils, who are at a record of 6-2. 
This year's team is led by many seniors, such as captain Jaydon Navarro and defensive back Seth Doyon.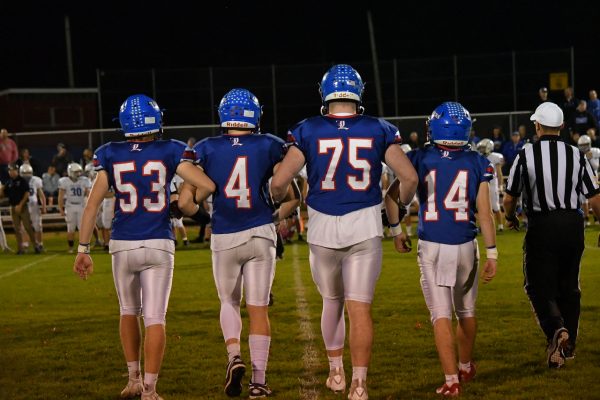 Doyon has been starting varsity for two years, but to him, time has flown by as he looks back on his high school career.
"It's crazy," Doyon said. "I'm definitely going to miss it a lot." 
Doyon's favorite moment playing at Lancer Park came last year in the playoffs, as the game that would send the Lancers back to the state championship for the  second time in a row. 
"My favorite moment was beating Pinkerton Academy last year in the playoffs," Doyon said. 
While playing at Londonderry, Doyon has learned the importance of dedicating himself to the sport. 
"The most valuable lesson I learned was to always work hard, " Doyon said.
Like Doyon, this will be Navarro's second year on varsity, and he thinks it feels "surreal." 
"It feels like yesterday playing as a sophomore/junior and being excited for my senior year,"  Navarro said, "and now it's here."
For Navarro, his favorite moment also involves playing against Pinkerton.
"My favorite memory at Lancer Park was probably getting my first varsity start at Mac Plaque during my junior year with thousands of people there," Navarro said. 
Along with Doyon, Navarro has also been taught lessons through the sport.
"The most valuable lesson I've learned from football is to never take your opportunity for granted," Navarro said. "Playing for the Lancers and Coach Lauzon is a gift that I will remember for many years."
For the whole senior class, it will be sad when it's over, but Head Coach James Lauzon brings a more positive outlook on the growth this class has had over the past four  years. 
"I loved watching the growth of the class," Lauzon said. "I've witnessed them grow and mature incredibly over the last four years. Their dedication and commitment to the program has increased dramatically and watching that transformation and growth is one of my favorite things about them. 
For Lauzon, he feels he can relate to the class on a more personal level.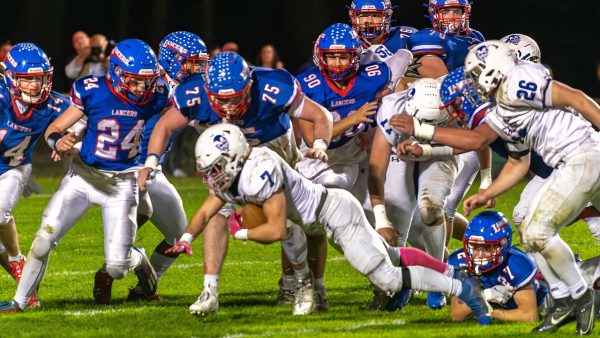 " A large portion of this group has gone through some real adversity in their lives at a young age and I can relate to that," Lauzon said, " It's helped us create a bond over the last four years. We have a close player to coach relationship because I think they know I'm here for them if they ever need anything and that I can relate to them." 
The seniors on the team have a winning mentality and are full of personality, and Lauzon feels that's what he will miss most about this group. 
"They're a fun group to be around," Lauzon said. "They've won a lot of games in this program and they're confident going into every game we have. There's a fine line between confidence and cockiness, but I believe this group is confident and that's a good thing in my opinion. You can't fake confidence and I'm going to miss that about this group."