As the season comes to a close, the varsity cross country team takes their running to the next level, preparing for the division one finals this weekend. 
"The season has been pretty solid so far," sophomore Jack Dibuono said. "We've seen a lot of improvement and placed well at a couple of smaller meets."
The team has done well this year, with high hopes coming into this weekend's competition.
"I feel like we have passed all of our expectations," sophomore Josh Twomey said. "I feel like the team has gotten closer and faster over the season."
Although the team has been speeding through the season, there were still a few trips along the way.
"Last year we had two seniors, both New England Elite champions, graduate to college," Dibuono said. "We knew it would be a little bit of a struggle to regain our footing this year. We have also had a couple guys struggling with injuris in the early season but luckily everyone is healthy now."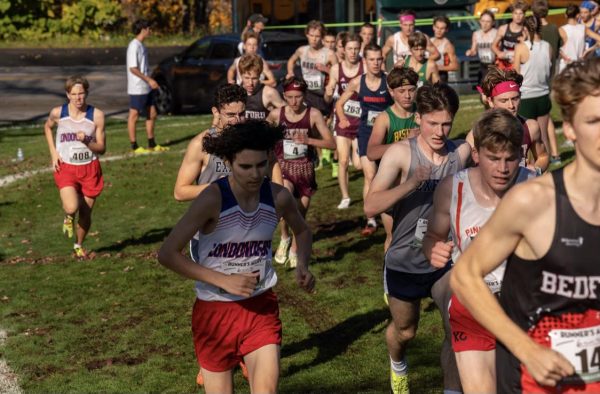 Coming into the competition, there are many thoughts on this weekend's results flying through the team.
"I think this weekend at Derryfield park is going to go great since the weather is supposed to be nice," Twomey said. "I'm expecting there to be some fast times from everyone on the team."
After a hard-fought battle with the opposing teams at the meet on Saturday, the Lancers came out with a fifth-place result in the end, qualifying for the state meet in the process.
"Even though the course had been lengthened and it was very hot, we ended up doing a lot better than we thought," Dibuono said. "We qualified for the state meet and believe there is a chance we could make it to regionals in Maine."
As a final statement, team member Josh Twomey would like to give thanks to both each other and to those who were there for them along the way.
"Lastly, I would like to thank the coaches who have helped the team and I  throughout the season," Twomey said. "Thank you to Coach Smith and Coach French."