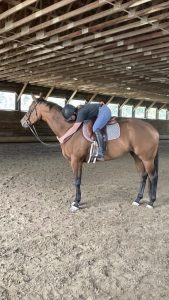 High school can produce many hurdles students have to overcome on a daily basis. Junior Meara Horan is an experienced horseback rider of seven years so she is familiar with hurdles. She is preparing for one of her IEA (Interscholastic Equestrian Association) shows this coming Saturday. She is currently competing in the second half of her show season. 
"I show up to the show and there's a bunch of horses," Horan said. "I pull a name out of a hat and I have a couple minutes to warm up and then jump a course where I get placed depending on my performance."
Horan does not get to know her horse before her shows and has to trust and have a mutual bond with the horse she competes with. 
"It makes you more experienced because if you had a perfectly behaved horse at home, then it would be easier to ride," Horan said.
Future plans for Horan consist of riding while continuing her education at a local school, potentially the University of New Hampshire. Horan also hopes to continue riding even after college and hopefully buy her own horse when she finishes her academics.
"In college, I want to be able to go somewhere that has a riding team," Horan said. "I would like to go somewhere that's not far and UNH has a pretty good team. I know some people who have done it."
Horan has always been interested in horseback riding, but an outside source ultimately influenced her decision to begin lessons.
"I started because I had a friend who did it and I had always wanted to do it," Horan said. "My mom also finally gave in because I was annoying and wouldn't shut up about it," Horan joked.
The danger aspect didn't seem to be the biggest concern for Horan's parents, most likely because they weren't aware of the roadblocks that exist in the equestrian world.
"I don't think [my mom] really knew how dangerous it was when I started," Horan said. "I think she has started to realize that now that I've done some things that have caused emergency doctor visits."
The 'emergency doctor visits' that Horan experienced were mostly caused when riding one of her horses that was 'a little crazy.'
"In the beginning of the summer, I had a really bad fall and was immobile for a little while," Horan said. "I went to the ER and found out I had displaced vertebrae. I had to go to physical therapy but I got better really fast which was good."
As soon as Horan recovered from that accident, she was ready to "get up and go," despite the fear of that memory holding a part of her brain hostage.
"I still am a little scared," Horan said. "It really sticks with me. I went back to riding and my trainer said, 'do you want to try riding this horse?' and I said no because I literally just needed to go back to the basics. It's so hard to come back from something like that."
Horan evidently had to build her skills back all the way from the beginning to regain her skills to the level she currently rides. It was not a frictionless process, especially when her subconscious did not let her forget about her injury.
"Mentally I really wanted to get back into it but there was always just that part in my brain that was replaying the moment, even now" Horan said. " I had a horse show recently and it went kind of poorly. I had a PTSD response because the horse I was on was a little crazy so I had a really tough time with that."
This was, unfortunately, not the first injury Horan experienced in her sport. 
"Earlier in the spring, on that same horse, I dislocated my shoulder and I went to urgent care, and over COVID I didn't break my ankle but I definitely tweaked it," Horan said.
Although Horan has ridden multiple different horses a week, she is only riding one right now by the name of Jack. 
"I need a good horse that I'm going to be able to build confidence on," Horan said. "I am leasing him right now. He's really sweet and I think he is really good to have after that crazy horse I rode. He's going to be able to teach me without me being scared."
While Horan expresses that her entire family supports her when it comes to horseback riding, her mom, Michelle Horan, is her "greatest supporter."
"My mom is at almost every one of my lessons every week and both of my parents come to all my shows," Horan said. "My dad shows up for the shows and sometimes comes to watch me when I'm alone."
Her mom, Michelle Horan, has made the most influential impact on her performance horseback riding when it comes to helping Horan manage her anxiety and support her through shaky moments before she goes into the ring.
"Anxiety is a huge part of my riding, especially after some traumatic experiences, and just regular anxiety added on top of the trauma," Horan said. "My mom really helps with that before shows. I get really nervous sometimes and I used to have bad habits with my anxiety before shows so that's a lot better because of her help."
The community at the barn she rides and works at has been like a 'second family' to Horan. They 'help her at every chance and give her advice when she doesn't know what to do.'
"The community is amazing," Horan said. "Everyone is really supportive. If I need anything last minute, like if I'm about to go into the show ring and my boots are dirty, I always have a friend I can call over to help me. I have had friends that come to just watch me even if they're not riding that day." 
The excitement Horan's friends have for her is mutual. Horan returns the kind act to her friends when she has a free moment away from the ring.
"If I am at a show and I have free time when I am in between classes, which are the divisions I do, I definitely go out to the in-gate and  watch my friends," Horan said.
Horan is currently riding anywhere from four days to seven days a week, mostly after school. A balance between her personal life and her life at the barn has been one challenge Horan has had to work through this school year.
"It is a little difficult with motivation, as well as school, especially when it turns to winter with the time change and it getting darker earlier," Horan said. "I'm really light motivated, so it's hard when it turns dark and I just want to go home and get school done. On the other hand, even when I don't want to go to the barn and ride one day, I'm always happy that I do because I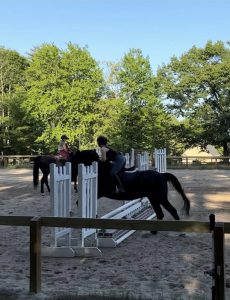 always end up having fun."
Horan's favorite time to ride is the fall due to the weather and scenery that the season brings. 
"I love riding in the fall because I love wearing a good hoodie and a vest, it's my favorite thing," Horan said. "Riding through the leaves with the crisp air and the foliage is so fun." 
The highlight of horseback riding for Horan has to be the jumps.
"I like to jump because it makes me feel like I'm flying," Horan said.
When she watches her sister ride, senior Michaela Horan feels "very proud." Given the types of accidents Horan has experienced throughout her horseback riding career, it can be "a little scary" but inspirational for [Michaela] Horan to watch.
"I think that makes it even more impressive the way that she's able to handle herself when she's riding and also just the fact that she's had some
of those scary moments and injuries and still manages to be able to get back up and ride with confidence," Horan said. "It's just really impressive and very inspiring."
When Horan experienced her scariest moments while riding, her sister was not present, but heard the details of what Horan endured. 
"She fell off her horse one time and did almost a full front flip in the air and that was pretty scary," [Michaela] Horan said. "That was probably the worst fall that she's had."
According to [Michaela] Horan, Horan is at the barn "most days of the week" and "practices a lot." When she is at the barn, Horan is either spending time with her horse at practice or working.
"She's put so much time and effort and energy into getting better," [Michaela] Horan said. "She's very passionate about it so I think that's probably where she gets her confidence from."
Horan's bond with her horses has been so strong that it's been noticed by those around her, including her sister.
"She's ridden a couple over the years that she's had a really good bond with," [Michaela] Horan said. "One of them was named Sweet Pea, one was named Cecil, and the other was named Kohl."
When she is not busy riding, Horan will make videos with her horses to share with her friends and family.
"I love seeing [Meara's] Tik Toks she makes with her horses," [Michaela] Horan said.
Horan has been interested in horseback riding for as long as she can remember. Her sister remembers the day when she could finally begin to pursue her passion.
"Since it's a pretty dangerous and random hobby, it wasn't until there was a random week-long horse camp in town that our parents were like, 'yeah, you can do that,'" [Michaela] Horan said. "Then she did, and she instantly loved it. I don't think there's really anywhere she got it from, she's just kind of always been interested in it and it just happened that when she finally got a chance to do it, she did love it as much as she assumed she would."
Despite her sister's love for the sport, horseback riding is not something [Michaela] Horan would ever be interested in. However, [Michaela] Horan admires "how strong" her sister is due to her hard work everyday at and away from the barn.
"She is genuinely ripped," [Michaela] Horan said. "I would never be able to do that."
The aspect of horseback riding that never fails to marvel [Michaela] Horan is the level of control one must have to be successful. With the second-hand account she has been able to acquire thanks to her sister, [Michaela] Horan does not overlook her sister's talent.
"You see people riding horses in movies and you assume that they just hop right on; incorrect," [Michaela] Horan said. "The amount of work, strength and control that goes into it is crazy so it is really admirable to watch."
[Michaela] Horan has been there for the entire ride, literally, and has enjoyed watching her sister participate and compete in a sport she has so much passion for. The jumps would have to be the most exhilarating for [Michaela] to watch.
"It's cool when she gets to jump," [Michaela] Horan said. "I especially like watching over the years how she's started jumping higher and higher over obstacles. I know she knows the difference between what she's doing but I can't really tell the difference between a canter, a trot and a gallop like, 'you go in a circle!' But watching her jump is actually really cool because you can see the progress there."
After witnessing her multiple injuries, Horan's father, Brendan Horan, remarks that she has 'quite literally gotten back up on her horse.'
"I am very proud of her," [Brendan] Horan said. "She's put a lot of effort into [horseback riding] ever since she was very little."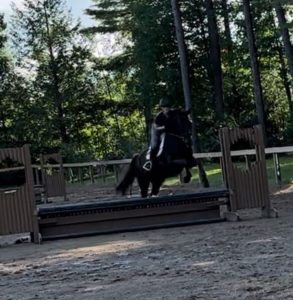 Horan 'truly loves' her sport and according to her father, 'doesn't care about the weather or the conditions.' Horan can always be found at the barn, rain or shine, snow or sleet, because she's 'just excited.'
"It is very inspiring to watch because she just loves it," [Brendan] Horan said. "She's at the barn right now; it's freezing and she's just excited."
Along with [Brendan] Horan's amazement for his daughter's horseback riding skills, he also holds amazement for the animals themselves. 
"She looks so royal when riding these horses," [Brendan] Horan said. "They're just very beautiful animals but at the same time, they're huge. Sometimes she gets on and the horses dwarf her. It's just impressive to see the control she has. I wouldn't be able to do it, I would be terrified."
'The confidence that she has' brings [Brendan] Horan pride.
"If I got thrown from the horse that she got thrown from, which was a big dude, it would take quite a long time before I would work up the nerve to get back on and ride again and she did it," [Brendan] Horan said.
In accordance with his oldest daughter, [Michaela] Horan [Brendan] Horan's favorite event of Horan's horseback riding competitions are the jumps, despite the nerves they shake. Horan's father claims he is more scared about the horse's performance on the course than his daughter's.
"They always make me a little nervous," [Brendan] Horan said. "Right before the horse gets up, it always looks like the horse gets so close to the jump and then they always clear it. There's always that moment where you're like, 'oh my god the thing's going to run right into the bar and she's going to go flying.'"
[Brendan] Horan believes that because Meara began horseback riding at such an early age, she can get on a horse with confidence and ride because she never had that initial fear that adults experience when trying something new. 
"Let's take something comparative; I started skiing when I was in my twenties and I was super cautious and nervous about it," [Brendan] Horan said. "I just moved slowly down the slopes and at the same time, you would see these little three year old kids barreling down with no fear. It's kind of the same thing. Since she started riding so young, I don't think she knew to be afraid of it."
On top of the instinctive confidence instilled from Horan's curiosity for the sport when she was younger, 'family confidence' has been implemented into Horan's life.
"I think we've supported her and given her some family confidence," [Brendan] Horan said. "We pushed her to get back up and keep riding after her accident. Even though we were nervous, we knew that there's nothing good that can come out of sitting and dwelling on it."
[Brendan] Horan shares a love for the sport and art of horseback riding along with his daughter and never realized the obstacles one faces who is a part of that scene
"It's a fascinating world that we never knew anything about before she got into it," [Brendan] Horan said. "I took for granted how challenging and tough it is."