Queens of comedy reign in 'Sisters'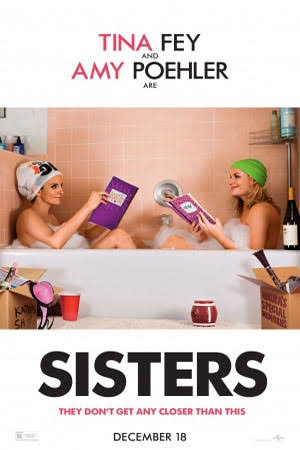 When a movie comes out starring the screenplay writer of Mean Girls and Leslie Knope from Parks and Recreation, you don't miss it. Tina Fey and Amy Poehler once again show us the power of female comedy in their newest film Sisters.
The movie stars a well-rounded cast, with half of them from Saturday Night Live including Fey and Poehler, as well as Maya Rudolph, Bobby Moynihan, and Rachel Dratch. Other big names in the movie include actor James Brolin, actress Dianne Wiest, and wrestling champ John Cena.
A little lesser known, actor Ike Barinholtz plays Poehler's love interest and does a fantastic job playing some rather uncomfortable roles including a scene in which he gets impaled by a ballerina box.
The movie focuses on two middle aged sisters Maura and Kate Ellis played by Fey and Poehler respectively. Maura and Kate are both dissatisfied with their lives as they remain single and with unsteady jobs. When their senior-aged parents decide to sell their childhood home in Orlando, Maura and Kate make it their mission to relive their days of glory one last time in the home.
Kate, the wild child who happens to have a teenage daughter, switches places with Maura for the night and plays the role of the responsible "mom of the party". As expected, things don't go as planned and the house may or may not be left in absolute ruin by the end of the night.
The movie starts off slow on the jokes but picks up as the party begins. The profanity and crudity hits the extremes and may go a little far at times. Some harmless jokes about Korean girls working in a salon may come across a little racist for some viewers, but all is presented in good humor.
Both Fey and Poehler have retired from their days on SNL, but continue to reign in the realm of comedy both on television and in film. The duo hosted SNL recently and continued their impeccable impressions of politicians Hillary Clinton and Sarah Palin.
The women of SNL know how to create amazing comedy movies that viewers will want to watch over and over again. Memorable films like Mean Girls, Bridesmaids, and now Sisters prove that the women-in-comedy take over has been successful.
Fey and Poehler also have their own New York Times bestselling autobiographies that are titled Bossypants and Yes, Please respectively that are worth a read.
For all lovers of Fey and Poehler, these comedy queens have created a movie that is actually worth paying the extra money for seats and popcorn in a theater.
---
7/10