Kamasi Washington takes jazz through time on The Epic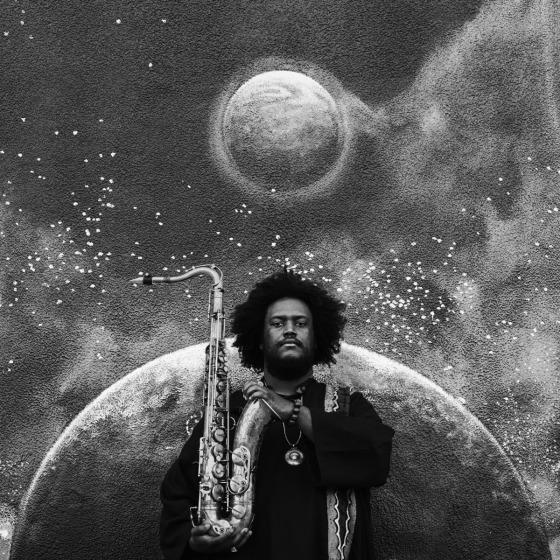 Conor Battles, Editor-in-Chief, Arts & Entertainments Editor
July 27, 2015
Let's get the obvious out of the way: Kamasi Washington's The Epic is three hours long. With that said, no other album this year passes by so quickly.
The Inglewood-born saxophonist blew his way into the public eye earlier this year as part of the quartet behind several different tracks on Kendrick Lamar's superb To Pimp a Butterfly, and has assembled on The Epic a soundscape unlike anything else this year.
It's nigh-impossible to listen to The Epic in its entirety in one go; I found myself having to set an early alarm one weekend morning and set aside some time to listen to the whole thing through, something few have the time or patience to do. In that regard, the album suffers simply by virtue of being too long to really appreciate. Fortunately, the LP is split into three separate "volumes," each about an hour or so in length. The fact that The Epic essentially crams three albums' worth of content into one release without ever sounding stale should serve as a testament to its quality.
Washington himself solos with the grace of a true virtuoso, venturing far enough off the beaten path of the rhythm section to come off as avant-garde, while remaining not quite so dissonant as to alienate the listener. His tenor work is from the school of traditional bebop, channeling Dexter Gordon's habit of paraphrasing the rhythm without coming off as boring.
As a bandleader, Washington commands impeccable performances from genre heavyweights like percussionists Ronald Bruner Jr. and Tony Austin, keyboardist Brandon Coleman, and bass savant Thundercat. Additionally, excellent vocal arrangements from Dwight Trible and Patrice Quinn, particularly on tracks "Askim" and "Henrietta Our Hero," add a melodic overtone that is a welcome break from the rest of the album's frantic instrumentation.
Perhaps the most endearing thing about The Epic  is its accessibility. Those totally unfamiliar with jazz can find in The Epic a solid introduction to the genre that gives much more than a requisite crash course in bop and modal jazz over its mammoth length. That being said, there is plenty here for longtime jazz aficionados to appreciate as well. It seems Washington has put together the best crowd-pleaser of a jazz album possible in 2015.
While grounded in the trappings of classic bebop and West Coast smooth jazz, Washington manages to break new ground on the album, blending the traditional with the subversive. Funky, Parliament-esque bass work, reggae-tinged drumlines, and spacey organ work find their way all over The Epic, giving a classic-sounding album a fascinating futuristic feel that gives jazz a much-needed breath of fresh air.
Over its indelible three hours, The Epic manages to live up to its name in both sheer scope and quality. Kamasi Washington has strung together an unforgettable LP that serves a staunch reminder that not only is jazz not dead; it's evolving.
---
8/10