Top Music of 2015
10. I Don't Like S**t, I Don't Go Outside
Earl Sweatshirt
____________________________
In a year full of albums focused on social change and global, universal concepts, Earl Sweatshirt kept the door locked and the shutters closed.
The Odd Future expat followed up 2013's acclaimed Doris with a moody, atmospheric collection of lo-fi beats and grimy, distortedly grotesque verses; a warped funhouse mirror's view of the artist rather than outright introspection. I Don't Like S**t, I Don't Go Outside is a sparse, focused effort that distills the pathos of the 21-year-old through moody, atmospheric production and intensely personal bars. IDLSIDGO is a snapshot of a subculture in disarray; twentysomethings everywhere can wake up and smell the smoke.
---
9. Summertime '06
Vince Staples
____________________________
"I need to fight the power but I need that new Ferrari," spits Vince Staples on "Lift Me Up," the opening screed of his incendiary debut, Summertime '06. It's a line that captures the sum total of its album, not unlike Nas bemoaning, "I never sleep because sleep is the cousin of Death" on "New York State of Mind" twenty-two years ago to open Illmatic. Staples flirts with the contrast between his modern rap career and his turbulent adolescence pushing dope on Long Beach. Survivor's guilt permeates Summertime '06's indelible 59 minutes, as Vince grapples with the mounting pressure of success in the face of the brutality of his youth. Like Raskolnikov in Jordans, Staples struggles to face his actions, simultaneously indignant and resplendent, fighting to find the light at the end of the harsh tunnel of gang culture.
The pulsing throb of Clams Casino's and No I.D.'s and DJ Dahi's production, as well as sublime features from Future, Kilo Kish, and a slew of others, helps Staples' intensely personal and transcendental concept album deliver from start to finish.
---
8. Garden of Delete
Oneohtrix Point Never
____________________________
Daniel Lopatin has dedicated his career to blending the old and the new to create something lightyears ahead of its time. His latest release, Garden of Delete, merges hair metal with frightening undertones of dark ambient and drone. The warped, Vocoded lyrics fade in and out of the mix, writhing against Lopatin's vibrant, busy soundscapes while feeling coolly distant. Garden of Delete is not for everyone, but those who grew up on Kraftwerk as much as Ratt will find an ethereal dissonant experience that not so much connects with its audience as it abducts them.
Garden of Delete is an album that benefits from inattention. It's best suited for background noise, pulsing and receding in the distance. Just like its teenage alien protagonist, Ezra, Garden of Delete is squarely placed on the outside looking in, trying to make sense of it all before the sun comes up.
---
7. Vega INTL. Night School
Neon Indian
____________________________
Neon Indian's music has been on a continuous trend towards accessibility. From the abstract chillwave of Psychic Chasms to the pouty goth-glam of Era Extrana, Alan Palomo has slowly taken his unique synthpop stylings from the stratosphere to the dancefloor. Vega INTL Night School is a jubilant, sleazy ode to the nightlife that never relents in its raw danceability.
Tracks like "Annie," "The Glitzy Hive," and "Dear Skorpio Magazine" take retrofuturism to its natural conclusion, sounding effortlessly cool and timeless in spite of its influences. Palomo squeezes every drop of gloriously cheesy '80s pastiche into the tracks on Vega, and the end result is a wonderfully poppy, relentlessly enjoyable trip through time.
---
6. Sometimes I Sit and Think, And Sometimes I Just Sit
Courtney Barnett
____________________________
Courtney Barnett's raucous, hilarious debut blends Mac Demarco-esque pop-rock with a heaping portion of the Dead Milkmen's goofy punk to make one of the most endearing records in years.
The Australian singer-songwriter merges quirky humor with sad introspection with aplomb, going from affable (the riotously funny story of an aspiring doorman on "Elevator Operator") to bittersweet (the somber tale of suburban alienation on "Depreston") with equal tenacity. If this is Courtney Barnett's first offering, there's nowhere to go but up.
---
5. Depression Cherry
Beach House
____________________________
On their latest release, Depression Cherry, Beach House hardly innovates. That much can be said off the top. Its greatest criticism is that it sounds too much like a Beach House album. With that said, Depression Cherry might be the best Beach House album yet.
Ultimately, Beach House doesn't need to innovate to stay fresh. Few other artists today make music that is so consistently textured and compelling. The complexity of some of these tracks, from the evocative drum machine loops to the dual attack of Legrand's icy, isolated keyboard arrangements and Scally's warm guitar work, demands at least a couple full listens to really take in. This should be pretty easy to accomplish, as Depression Cherry is solidly replayable, and the perfect accompaniment to lingering summer nights and predawn roadtrips.
---
4. Carrie & Lowell
Sufjan Stevens
____________________________
Sufjan Stevens is an artist characterized by his melancholy. From the tragic undertones of tracks like "Casimir Pulaski Day" on Illinoise to the somber folk of Seven Swans, Stevens weaves stories that are as relatable as they are gutwrenching. On Carrie & Lowell, he turns the tragedy up in spades, exploring the dynamic between himself and his eponymous father and stepmother.
Often accompanied by little more than a soft guitar and his own ethereal whisper, Sufjan manages to come off as intensely personal and high-concept, tying his own heartache, pain and loss into a more universal, accessible rumination on life and death. Few albums manage to be so mired in sadness yet so ultimately enjoyable, but Carrie & Lowell is as tragically endearing as anything else Sufjan Stevens has ever done.
---
3. The Epic
Kamasi Washington
____________________________
    To extoll the virtues of a three-hour jazz album screams pretension in a way just about nothing else can, but Inglewood, California's premier saxophonist Kamasi Washington has put together an indellible collection that, regardless of length, demands your attention the whole way through.
Washington had a terrific run in 2015, swiftly entering the public eye as part of the jazz quartet that underpinned several tracks on Kendrick Lamar's To Pimp a Butterfly before releasing The Epic later in the year.
Morphing from the electrifying hard bop of "Change of the Guard" to the quasi-showtune pomp of "Henrietta our Hero," The Epic weaves an intricate, masterful thread of jazz, kept firmly grounded in tradition through excellent arrangements from Washington and his collaborators. Miles Mosley, Ronald Bruner Junior, Tony Austin, and even Thundercat turn in impeccable performances over the entire record.
The Epic rejuvenates jazz unlike anything in years, and anyone from longtime heads to recent converts will find something to pique their ears over its mammoth runtime. Jazz music has rarely felt so, well, epic.
---
2. I Love You, Honeybear
Father John Misty
____________________________
    Cynicism, by itself, is exhausting. Josh Tillman knows this, and breaks up his veneer of bitterness and apathy with humor and insight. He takes the persona of presumptuous indie-hipster guru to its natural limit, imbued with a level of meta self-awareness that makes it endearing in spite of itself. I Love You, Honeybear is a look at love, sex, life and the meaning of it all through the warped lens of Father John Misty, world-class louse and sometimes mystic.
    Tillman's songwriting is laudable, merging folk, pop, punk and world music into a blend entirely unlike anyone else in indie music. His lyrics are sidesplitting and solemn, reflective yet earnest, but wholly free of the cheesy cliches that plague so many of his singer-songwriter contemporaries. The barroom lament of "Bored in the U.S.A.," the feverish wail of "Strange Encounter," and the earnest folk of "I Went to the Store One Day" all coexist over the album's eleven tracks. Few albums this year were so simultaneously far-reaching with their thematic content yet intensely personal in their execution. I Love You, Honeybear doesn't bring anything new to the musical world: as varied as the sounds and styles on this record are, they all come from somewhere else. But Tillman has impeccable taste in what he chooses to emulate, making I Love You, Honeybear one of the year's most universally enjoyable and endlessly replayable LPs.
---
1. To Pimp a Butterfly
Kendrick Lamar
____________________________
The connotations of race and identity are as muddled and mired in anger and frustration in the 21st century as they were in 1860. 2015 saw conversations about race and racism at the forefront of our culture. It was the year where Black Lives Mattered, where rioters and killers and pundits converged on one key question: what does it mean to be black in America today? No one captured 2015's zeitgeist of racial turmoil quite like Kendrick Lamar.
To Pimp a Butterfly is not the polarizing genre-bender we had anticipated it to be when it dropped in March. It has been lauded by publication after publication for its eclectic blend of jazz, spoken-word, Afrofunk and conventional hip-hop. Its message resonates deeply with just about anyone who takes the time to soak it in. Kendrick followed up the sublime good kid, m.A.A.d. city with an album that defies classification in the regimented, organized music environment of today. Hip-hop fans love it for the tight production and killer verses; jazz heads relish Kamasi Washington's and Robert Glasper's and Thundercat's deft accompaniment.
What makes To Pimp a Butterfly as vital and confrontational in 2016 as it did when it came out is its ability to transcend in-the-moment talking points and become, in its own way, timeless. Trayvon Martin is namedropped on "The Blacker the Berry," but sub that line with one about Mike Brown or Eric Garner and it's still as fresh and relevant. The unfortunate reality of race politics in America is that there will always be a divide. But there will always be To Pimp a Butterfly.
Leave a Comment
About the Contributor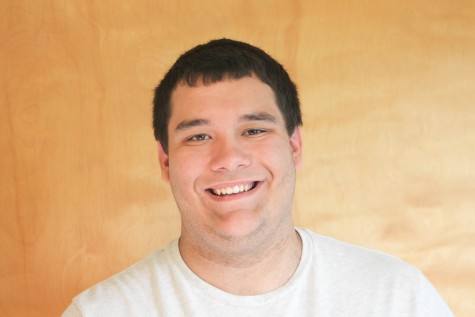 Conor Battles, Editor-in-Chief, Arts & Entertainments Editor
By day, Editor-in-Chief Conor oversees the Lancer Spirit in all its forms, from print to online to social media.

By night, A&E editor Conor hates things for fun and profit.