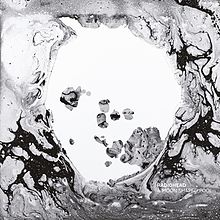 A new Radiohead album always manages to feel like history in the making.
Whether it was the experiment in viral marketing that was Hail to the Thief's launch campaign in 2003 or the audacious pay-what-you-want release of 2007's In Rainbows, the world seems to stop to see whatever Thom Yorke and co. have cooked up this time.
A Moon Shaped Pool, the long-awaited ninth LP from the British experimental rock quintet, traces its roots through the band's thirty-year history: "Burn the Witch," its lead single and manic, bubbling beating heart, was first worked on during the 2000 sessions for that year's acclaimed Kid A. The mournful post-rock balladry of closer "True Love Waits" was debuted as a tender, folk-flavored dirge in 1995.
On A Moon Shaped Pool, Radiohead remains as staunchly undefinable as ever. The sound morphs and writhes, feeling as organic as it does starkly mechanical. Jonny Greenwood applies the same cinematic arrangements he used to score films like There Will Be Blood and Inherent Vice to the sweeping string work on songs like "Burn the Witch" and "Glass Eyes."
First and foremost, though, Radiohead is a rock band. The straightforward, bassy punch of tracks like "Decks Dark" and "Ful Stop" recall a stripped-back interpretation of Radiohead's OK Computer period. Deft guitar work from Greenwood and Ed O'Brien, Phil Selway's tight drumming, and Colin Greenwood's simple, hypnotic bass are all present and solid.
At times, A Moon Shaped Pool feels like a study in contrasts. Vocally, Yorke delivers melancholy like no one else, and the frighteningly surreal and endlessly sad lyrics of this album make the rest of the band's catalog seem relatively upbeat in comparison, especially when contrasted by some of their most serene, blissful arrangements ever. The sparse acoustics of "Desert Island Disk" are a fitting foil to the pulsing, ambient throb of songs like "Daydreaming" and "Tinker Tailor Soldier Sailor Rich Man Poor Man Beggar Man Thief."
Above all, it's best to describe A Moon Shaped Pool as scattered. Whether it's the wildly varied and suitably avant-garde production or the simple scaling-back and crystallization of the signature Radiohead sound, this album manages to mix everything that made Radiohead last all these years into a single, cohesive collage of sound and vision. One can revel in the cinematic ecstasy of Yorke's strained vocal peaks on "The Numbers," or wallow in despair with the solemn, rain-soaked mood of "Daydreaming." After thirty years of raising the bar exponentially higher, A Moon Shaped Pool manages to do it again.
---
9/10