Mental health matters: So let's start talking about it.
May might be Mental Health Awareness Month throughout the country, but N.H. community members and legislators are recently making some changes, so people will feel comfortable discussing mental health issues all twelve months of the year.
According to a May 24 article on NHPR, "State leaders recently joined the medical and mental health community to launch  'Change Direction NH,' part of a national initiative to raise awareness of mental health disorders and eliminate the stigma around these issues."
One specific purpose of Change Direction NH is to educate the public on the five signs of mental illness, so people who are suffering can get help more quickly.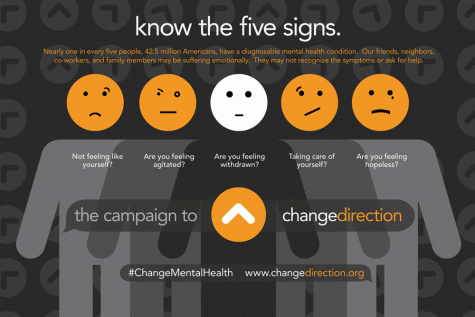 John Broderick, co-chair of the Campaign to Change Direction NH said on the Change Direction NH website that the group is "thrilled to be the first state to launch an effort like this. This is a conversation we, as a state, must have. Imagine a future where people can ask for help for mental disorders as easily as they seek treatment for a physical illness or injury."
According to the National Alliance of Mental Illness (NAMI), 1 in 5 children ages 13-18 have or will have a serious mental illness.  That means in a classroom of 25 students, five of them may currently have or may someday have a mental health issue.  
More statistics from NAMI are listed below:


---
LHS students tell their stories
To help start this conversation more locally in Londonderry, two LHS students have shared their own experiences with mental health issues like depression and anxiety.
Click on each girl's story below:
---
Help is one click or call away
Londonderry's school to community counselor Tiffany Considine invites any student who may be struggling with depression, anxiety or another mental health issues  to contact her to get help.
Read her letter to students by clicking below:

If you have questions or concerns regarding mental health issues you or a loved one may be experiencing, resources and help are available. 
Click on the links listed below to find factual information on mental health issues as well as places to find professional services you might need.