Single hydration station just not enough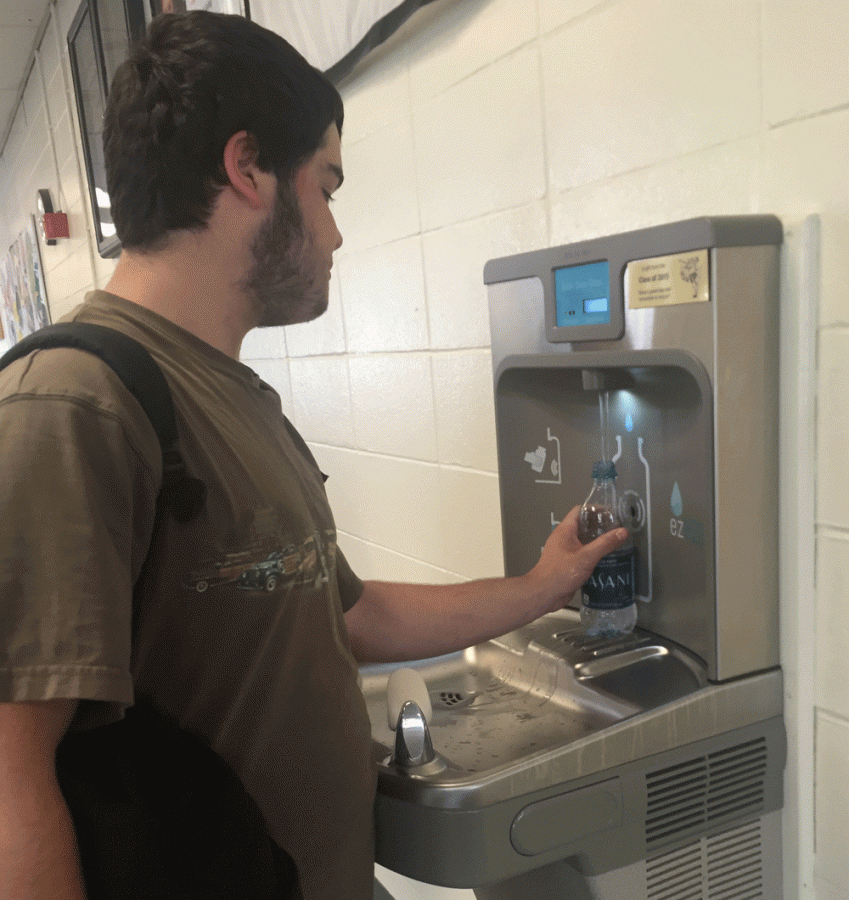 Having to refill an empty water bottle while at school often proves to be a daunting task.
A choice needs to be made: You could go to the nearest water fountain to fill the bottle incompletely because you have to orient your bottle in a way so as not to touch the fountain.
Or you could go to the hydration station for an easy refill of your entire bottle.
Why make the extra effort to get to the hydration station rather than just using the water fountain?  Because it's cleaner and the water just tastes better.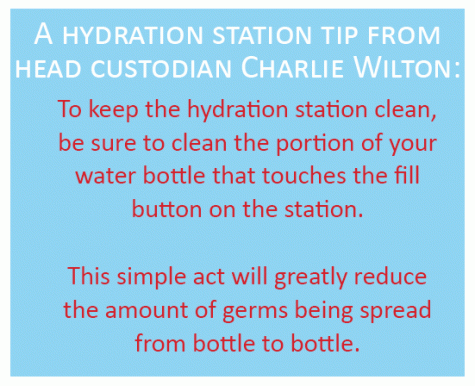 In fact, for all you germaphobes, the hydration station altogether eliminates the possibility of mixing saliva/bacteria like a normal fountain because it is a bottle filler, not something that people cover with their mouth to enjoy a full sip of water.
With all of the benefits that the station offers, it seems clear we should have another hydration station in the halls.
Presented by the Class of 2015 to the halls of Londonderry High School, the current hydration station provides filtered, cold water to members of the school community. Whether you are an athlete, a student on the way to their next class or a teacher, anyone can stop to fill their bottles in a way that is cleaner and better for the environment.
The gift idea arose from Class of 2015 members Emily Casey and Matt Kennedy while on college tours. The idea was brought to adviser Mr. Vaughn who wanted to do something unique for the class gift and also wanted it to benefit the school.
"It's one of the best class gifts I've seen," Vaughn said. "I'm thrilled it's used daily and provides a way for kids to save money. It is a nice healthy alternative and has kids now thinking water versus soda."
You would think with the evident success of the station, dozens more would be installed in the hallways by now, right? While ideal, it's not practical. Each unit is priced between $1700-$1900 and the immediate purchase of another station would cripple the budget.
Even though principal Mr. Parent thinks that another hydration in the school would be great, he is not sure if it can be done through the school's budget.
"We rely on the class gifts for something like this, but having another station would be terrific," Parent said. "We could use another one on the other end of the school by the 600s and gym."
So seniors, here's a thought…why not be the class that solves this dilemma? Why not be the heroes of everyone who desires water from the hydration station versus the typical water bubbler? In other words, if you are stumped on a class gift, another hydration station is a sure fire way to please the population of LHS.
Think cleaner, colder, fresher, efficient. Another hydration station will be just that.