LHS welcomes new STEM Curriculum Coordinator Mr. Flynn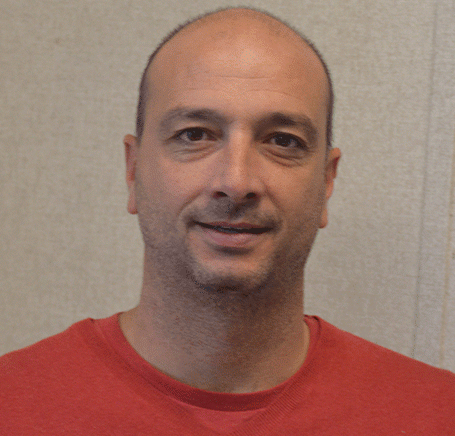 ---
---
---
Tucked into a small room in the curriculum office next to the library lies a door facing a wooden desk. Adjacent to the desk hanging on the wall are pictures of a smiling 7-year-old girl alongside images of picturesque golf courses and other sports memorabilia.
The office belongs to the new STEM (Science, Technology, Engineering and Math) Curriculum Coordinator Mr. Flynn.
Flynn, an avid golfer and CrossFit participant, always looks for ways to stay in shape. His activities range from playing basketball or football with his daughter at home to participating in Spartan Races, Tough Mudders, and Bone Frog Challenges, which are Navy SEAL obstacle challenges that are 12 mile races with 54 obstacles.
"I do it because I like the discipline the activity gives me," Flynn said. "I could go to the gym to get a smoothie, but doing these activities provides a better motivation for completing the task at hand."
Along with golf and CrossFit, Flynn also coaches all of his daughter's sports from basketball and soccer to softball. Flynn, who coached a number of sports at Campbell High School prior to coming to LHS, said that this was the part of his new job that he misses.
"I definitely miss the coaching aspect and being involved with athletics," Flynn said. "I miss being able to walk into class talking about last night's game or hearing that the team looked good out there on the field."
However, Flynn said he is glad to be at LHS and enjoys his new position.
"There is no least favorite part to my job," Flynn said. "I look forward to coming to school each day and look forward to the new challenges that each new day brings."
As the STEM Curriculum Coordinator, there is no shortage of things to do. Flynn is tasked with leading health, PE, science, math, tech ed., business, and computer classes. Flynn, a "math guy," said that was one of the underlying reasons that enticed him to take this new position.
"The funny thing is that as much as I enjoy science and math," Flynn said, "I also enjoy the other parts of my job like computers and technology, and I can apply experiences from home to help me."
Now that Flynn has adjusted to being at LHS, he said now he can focus on what he considers to be one of the best aspects of what he does, which is working with teachers and students.
"One of my favorite parts of the job now is meeting new teachers and seeing how they interact with students through their teaching," Flynn said.
Outside of school, Flynn frequents golf courses across New Hampshire.
If he finds a course that is open and he has his clubs with him, he will go there. As a "superstitious golfer," he carried his high school golfing cleats in his bag until recently.  And if he finds a golf ball?  He won't pick it up in fear of its bad luck.
Paying attention to his superstitions has paid off for Flynn though because once at the Brookstone Country Club, he achieved the feat of scoring a hole-in-one. A while later, he even received a certificate for accomplishing this since all people who get a hole-in-one are registered with US Golf.
"I was very happy and ended up running around the marsh," Flynn said. "Now I can't even come close to getting [a Hole-In-One] again."
Although his job as STEM Curriculum Coordinator has gotten in the way of his golfing career for now, Flynn is "very happy he came here and loves the entire experience of LHS as a whole."