Woodman's Widlife: With pen & paintbrush, Woodman
This article was previously published in the December issue of The Lancer Spirit magazine. The following version has some additional information and photographs.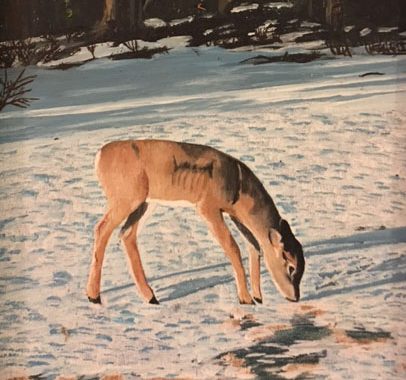 Hang on for a minute...we're trying to find some more stories you might like.
LHS knows Ms. Woodman as a friendly face who writes passes for students during their lunch periods and for running the annual Flower Fund. However, Woodman is quite the adventurer. She has come face to face with a wild black bear, has picked up a poisonous fish, and even ran her own cake decorating business.      
Prior to working at LHS, Woodman was a wild life journalist and worked at Nature's Classroom in Potter Place NH, the Nature Center in Connecticut, and wrote for the N.H. Fish and Game's and Duck's Unlimited Magazines.
Woodman's father was a biologist who studied the deer fields in northern New Hampshire and he would often take his daughter to explore the woods with him. It was on these adventures that Woodman's love for the wild was initially forged.  
During one of their trips through the dear fields, Woodman heard a snapping from off in the trees and her father told her "I'm going to show you what that is". Her father led her over to the sound where she saw a black bear sitting half way up a tree bending back the branches to access nuts.
"My father knew what the sound was just by hearing it," Woodman said, "and I wasn't afraid because my dad was with me, he would protect me. I'm not afraid of animals."
Experiences like this are what drove Woodman to create her own major in wildlife journalism while attending college at UNH.
Woodman recalls one marine biology course at UNH where her and her classmates would go to the shore line everyday and collect samples to bring back to the lab. One day, Woodman and her partner saw a small fish with spines on it near the shore line. Knowing they shouldn't touch the fish, they scooped a fish in a sample bag and brought it back to the lab and brought it back to the lab.   
"The professor freaked out," Woodman said, "he asked us where we got it and we said 'from the shallows.' He told us 'that's a stonefish, and it's a good things you didn't touch it because it could have killed you'".
After college, Woodman worked at Nature's Classroom and the Nature Center in Connecticut before starting her writing career by working for N.H. Fish and Game's, Natural Resources Magazine. While working for the magazine Woodmen specialized in Turkeys.
"They had just started the restocking program back then, you get Turkeys all over the place now but they were rare back then," Woodman said.
After working on Natural Resources magazine for two years, Woodman moved to Chicago to work for the Ducks Unlimited magazine. She had her own section of the magazine for children titled For Green Wings Only.
After working for Ducks Unlimited for several years, Woodman started her family and decide to leave the journalism behind.
"Writing is very stressful. It's stressful to work on a magazine where every single thing you do is on a deadline, and I really wanted to focus on my family," Woodman.
While at home with her kids, Woodmen started her own cake decorating business from her home. Woodmen enjoyed cake decorating, but unfortunately the business was not very profitable.
"People didn't pay for the cakes," Ms. Woodman said. "They would order a cake, but they wouldn't come get it, and then you'd have to eat it and there's your 25 dollars spent on ingredients."    
Woodman began working at LHS when her children first started school, and she has been working here for sixteen years. Although Woodman's children are in their twenties and have graduated, Woodmen made the decision to stay at LHS.
"I love the kids. They are the reason I'm here," Woodman said. "I have a framed poem that one girl gave me thanking me for showing her how to be strong and for being there for her."
Despite having been at LHS for so long Woodman never left the wilderness. In her free time Woodman still takes a great enjoyment in being outside. She draws and paints pictures of wild animals, a majority of which she visualizes without the assistance of a picture. Occasionally, she uses photographs from her journalism career as references.