Girls soccer defeats Timberlane, advances to Quarterfinals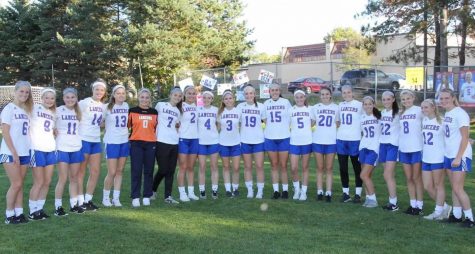 Updated @7:00pm on Friday, October 27 after playoff game against Timberlane.
Girls soccer defeats Timberlane 7-1 to advance to Quarters in NHIAA DI Tournament .
The girls will play Exeter on Sunday, October 29.
---
Going into the playoff game with a 10-6 record, the girls' soccer team will fight to keep their season alive in the game against Timberlane tonight at home at 4 pm.
"I don't think we are doing as well as we had hoped, or thought we would this year," said senior captain Erin Barnes. "This team has their ups and downs just as any team does, but we're very close now."
Junior captain Sammy LeClair said although they "don't have a good record right now, that doesn't represent the team."
"We will do well in playoffs, and surprise teams for sure," LeClair said.
Senior captain Halle Hamilton also thinks the team will do well in the playoffs .
"But we're not a dark horse," Hamilton said.  "We are a revenge tour looking to make an impressive comeback in playoffs."