Senior
The year is winding down, but student life at LHS is not. There are only a few more weeks of school, but there are still plenty of activities to partake in before school's out for summer.
Senior Events wilbur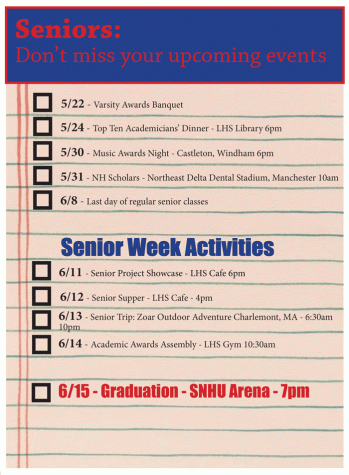 Senior Week Activities
What: Seniors will be graduating at the SNHU Arena on June 15 and will have the opportunity to participate in senior events before graduation.
5/30 – Music Awards Night – Castleton Banquet Facility, Windham – 6 p.m.
5/31 – NH Scholars – Northeast Delta Dental Stadium, Manchester – 10 a.m.
6/8 – Last day of regular senior classes
6/11 – Senior Project Showcase – LHS Cafeteria – 6 p.m.
6/12 – Senior Supper – LHS Cafeteria – 4 p.m.
6/13 – Senior Trip – Zoar Outdoor Adventure, Charlemont, MA – 6:30 a.m. – 10 p.m.
6/14 – Academic Awards Assembly – LHS Gym – 10:30 a.m.
6/15 – Graduation – SNHU Arena – 7 p.m.
Jazz on the Common
What: LHS jazz students perform a free concert for the community.
Where: Londonderry Town Commons
When: 7 p.m. – 9 p.m.
Step-Up Day
What: LMS 8th grade students will walk to the high school and visit the gym, then they will have a quick tour of the school.
Where: LHS
When: June 7
Fall Sport Sign Ups
Fall sports sign ups are now open online! http://lhs.londonderry.org/cms/One.aspx?portalId=123583&pageId=1621395
Leave a Comment
About the Contributor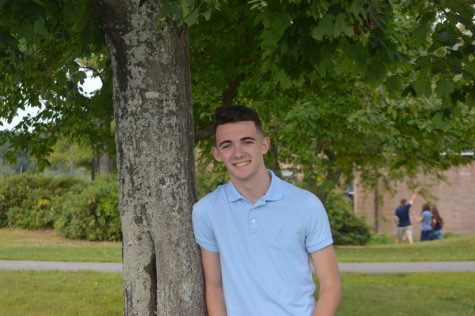 Tyler Wilbur, Executive Sports Editor
Big Sports Guy. Retired youth football and baseball player. Pro-gamer. Tyler is a sports guy's guy. Vivid outdoorsman. He's met more professional athletes than you.