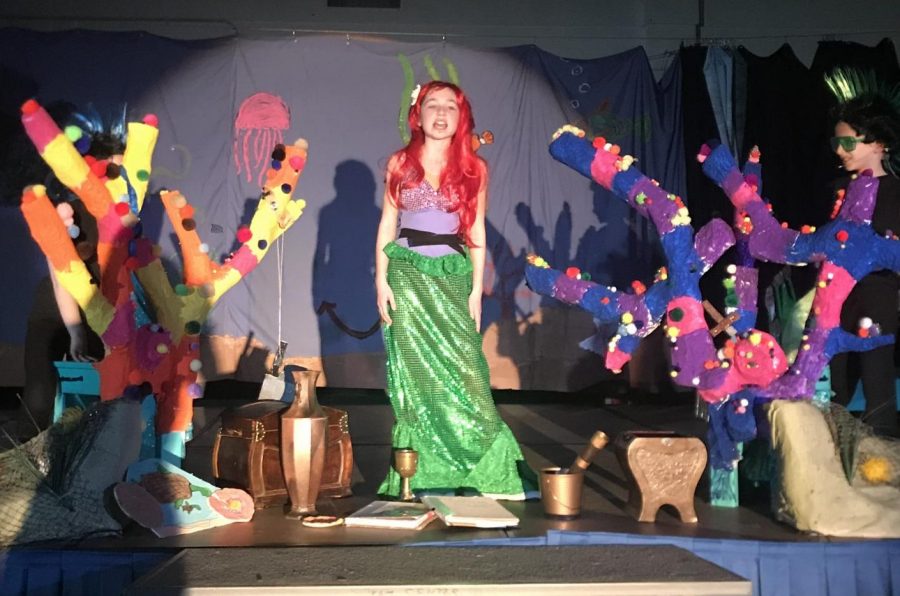 South School goes "under the sea" in their recent performance of "The Little Mermaid"
Photo by Isabella McCutcheon
South School goes "under the sea" in their recent performance of "The Little Mermaid"
April 2, 2019
Fourth Grader Andrew Pizzi joined Drama Club at South School this year, walking into the audition room with a love for singing and a family background of being musically inclined.
"My entire family is musical," Pizzi said. "I like getting to sing. I [sing] every day, so I like it."
Pizzi made his debut as the character Scuttle on March 28 and 29 during South School's performance of The Little Mermaid Jr. The school has been putting on plays for years for the staff, students and families. With the help of 32 parent volunteers and teachers, students are able to fulfill their dreams of being in the stage lights.
Second grade teacher Melanie Smith has been working with the program for years. Like many other volunteers, Smith's position isn't limited to just one task.
"I've done the stage lights the past two years which is nice because I get to see the whole play," Smith said. "We also break down the kids into groups for choreography, so I taught the dances to the Sailors and the Chefs."
Along with the reward of seeing the dances come together and the stage lit up perfectly, Smith said her gratification comes from what the actors get out of the experience.
"The entire thing [the experience] is awesome. It's a great way for the kids to get out their energy in a different way," Smith said. "Some kids never thought they would like Drama Club, and they end up really shining."
The club is open to fourth and fifth graders, each grade having bunches of kids eager to join for their own reasons. In years past, the play has been a hit amongst both the actors performing and the students watching.
"The kids love watching the play," Smith said. "They get to see their friends up there, which I think is cool for them."
The play had several daytime and nighttime showings, with students coming to support their friends during the day, and parents cheering on their kids at night.
For students like Andrew Pizzi, the experience of being apart of the team makes him glad that he joined drama club.
"I loved Drama Club this year," Pizzi said. "I made new friends and can't wait to come back next year."